Q&A: Arianna Mesrobian '20, a Third-Year Medical Student at the Temple/St. Luke's School of Medicine in Bethlehem
The New Jersey native, who completed the St. Luke's Premed Observer Program as a junior, appreciates the tight-knit quality of the Lehigh Valley community.
By: Keanna Peña '25 Tuesday, March 28, 2023 10:31 AM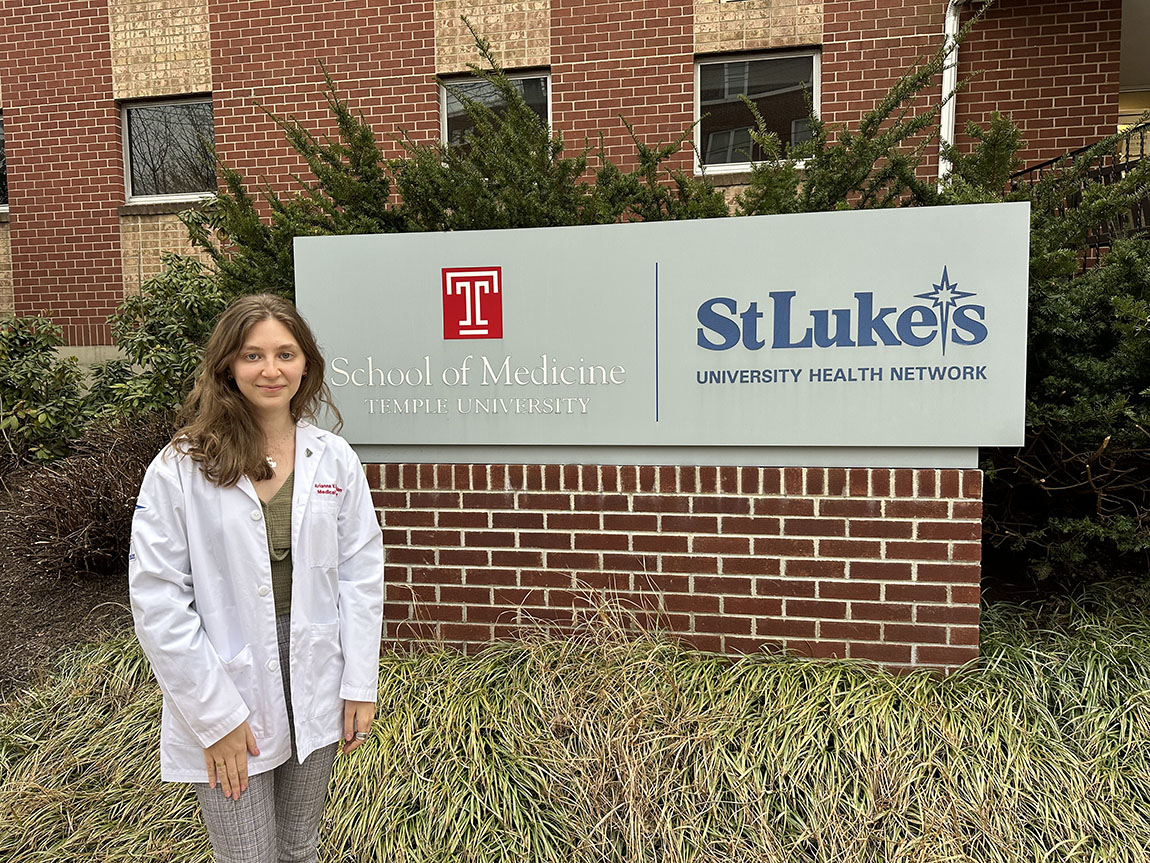 Arianna Mesrobian '20
After graduating from Muhlenberg, Arianna Mesrobian '20 chose to remain in the Lehigh Valley to continue her education. The New Jersey native began medical school at the Temple/St. Luke's School of Medicine in Bethlehem, which offers small class sizes in an environment familiar to many premed Muhlenberg students. As a junior, Mesrobian participated in St. Luke's Premed Observer Program, which invites six premed students from Muhlenberg per semester to spend at least 60 hours rotating through various departments at St. Luke's, getting shadowing experience and internship credit. That experience is one among many reasons the premed neuroscience and music double major and philosophy minor chose to attend Temple/St. Luke's.
Why did you want to stay in the area for medical school?
The Lehigh Valley, although home for only the last seven years of my life, has been the place of greatest growth for me. As an Armenian-American, I grew up in a very tight-knit community in which each member had, and continues to have, a role in shaping who I am. Soon after moving to the Lehigh Valley, I felt the same sense of involvement from others in my growth. It would have been hard to leave such a special charm behind.
What support did you receive at Muhlenberg as a prehealth student?
[Muhlenberg faculty and staff] helped me decide that I wanted to apply to medical school and helped me believe that I could, both of which are arguably just as difficult as the process itself! I can really thank [Director of Health Professions Advising] Cailín Cordon-Waldman and every single one of my professors for that. They all met me with patience and thoughtful input as I went through the process of facing any self-doubt.
How did Muhlenberg prepare you for med school?
Muhlenberg prepared me to make time for everything that is important to me. Something I will always be grateful to Muhlenberg for is that I was able to pursue neuroscience and premed while continuing to pursue music and even picking up a new interest in philosophy. As I reflect on my now completed preclinical phase of medical school, I can appreciate how [my Muhlenberg background] helped me juggle my course load while also making time to pursue research, tutor peers and spend time with my friends and family.
What have your first years of medical school been like?
My experience in a class of about 40 students at Temple/St. Luke's feels like a natural extension of all that the Muhlenberg community is. I have likewise been met with peers and faculty that have become an integral part of my journey and life as a whole. Having the ability to catch up with a friend or professor while walking through campus is something I particularly sought out when applying to both college and medical school, but I still feel just as grateful every time I am able to do so.