How Sweet It Is
Emily Bain '15, a French and business administration double major, puts her Muhlenberg education to use every day in her role as the marketing manager for a French chocolatier.
By: Meghan Kita Thursday, March 9, 2023 07:50 AM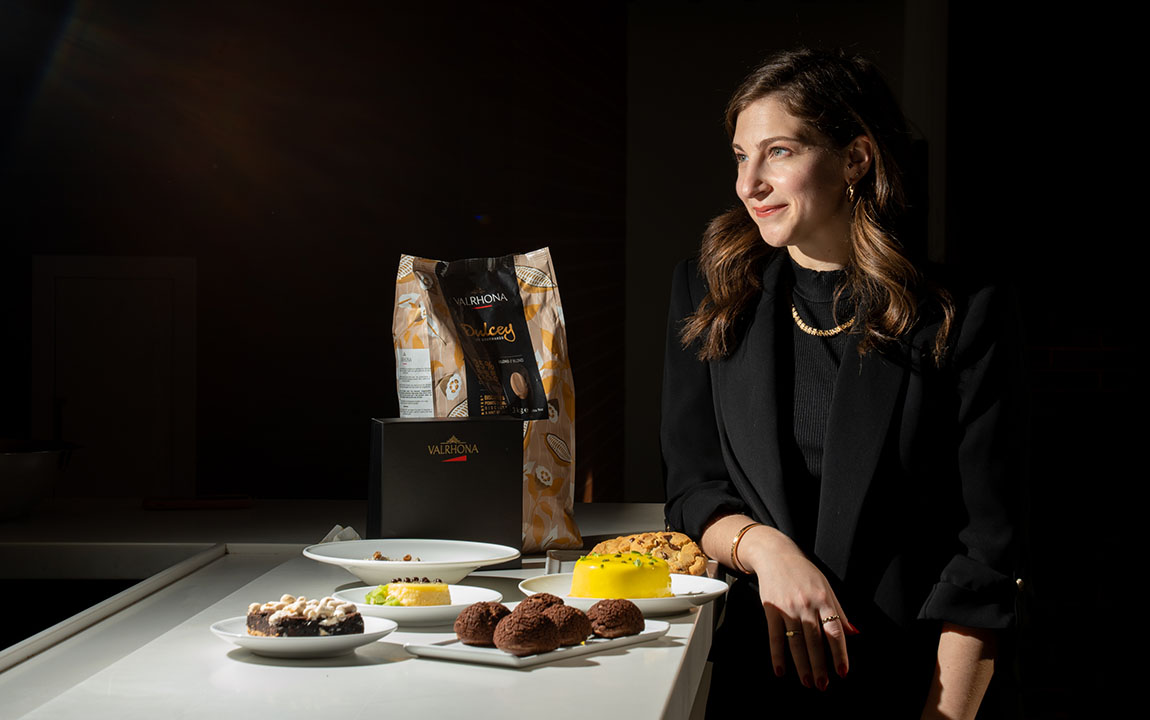 Emily Bain '15 is the marketing manager for the French chocolate company VALRHONA. Photos by Margo Reed
When Emily Bain '15 was in high school in New Jersey, she had a passion for the French language. She dreamed of someday finding a job "that would send me to France for a little bit of time here and there."
Now, as the marketing manager for the French chocolate company VALRHONA, she travels to Tain-l'Hermitage, France, where the company is headquartered, once a year. The rest of the time, she works remotely from Philadelphia, utilizing what she learned at Muhlenberg as a French and business administration double major every day.
"My boss is French. My COO is French. My coworkers are French. I'm speaking French all the time," Bain says. "I'm valued for my French there, in addition to my marketing experience and skills."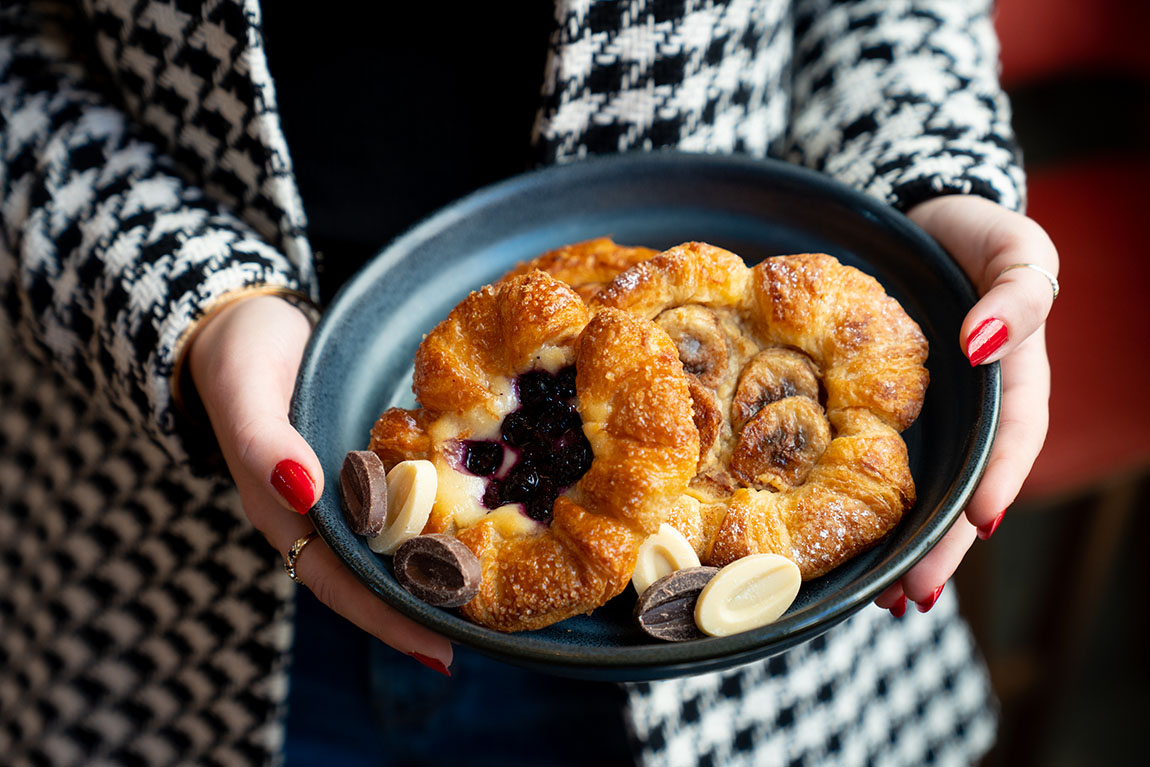 A seventh-grade French teacher inspired Bain's interest in the language, and she studied French throughout high school. She knew she wanted to continue in college and become fluent. When she took her placement exam for Muhlenberg, she tested out of the beginner class. She was so excited that she emailed her first-year instructor, Professor of French Eileen McEwan — "in very broken French," Bain recalls — to express her enthusiasm. Bain then learned from her advisor that most French majors would be testing into 400-level classes.
"I came into Muhlenberg pretty naive, which worked to my benefit," Bain says. "My high school didn't have really great language programs. If I knew how far off-base I was, maybe it would've prevented me from trying to pursue [French]."
McEwan, who appreciated Bain's passion and drive, became her advisor: "I owe my career and French fluency to her completely," Bain says. Under McEwan's direction, Bain doubled up on French classes every semester and took summer courses. She was also studying business with a concentration in marketing, playing on the soccer team as a student-athlete and holding down a work-study job. She built time management skills while juggling it all, with her love of French fueling the fire.
One summer, Bain accompanied McEwan to Montreal for four weeks. She took an immersion course at a local university by day and watched McEwan's children at night: "She would require me to speak French at the dinner table, which was probably so painful for her, but it was my first immersion experience," Bain says. "I worked my tail off trying to catch up to my peers who were already at a certain level. And I did."
Bain also studied abroad in Nantes, France, the spring of her junior year. She chose that program over others because she'd be living with a French host family in a region with few English speakers and taking her classes in French. This experience made Bain fluent, and by the time she was a senior, she was working with her professors, in business and French, to try to determine how she could use French in a career in marketing, her concentration.
Again, it was McEwan who helped make the connection: She told her students about an internship Erin O'Connor '08 was offering at Robert Kacher Selections, an importer of French wines. Bain applied, was selected and spent the first few months after graduation interning with the company in New York City.
"I discovered the world of wine," Bain says. "It really was a perfect marriage of French and marketing. It was a complete dream come true. The entire portfolio was French. I learned a lot about wine and I learned a lot about marketing."
Bain spent the next nearly seven years in the wine industry at Frederick Wildman and Sons, a New York City-based importer and distributor. She began as a public relations and marketing coordinator and was a brand manager by the time she left. She "outgrew the company," she says, and was put on portfolios that weren't French, limiting her use of the language. She worked with an agency in New York City that specifically caters to job seekers looking for French-speaking jobs, and that's how she found VALRHONA.
VALRHONA primarily sells its chocolate to pastry chefs, and Bain is responsible for communicating with headquarters in France, creating and executing brand strategy, creating marketing materials, organizing events and managing the company's customer loyalty program. Every day, she uses the skills she worked so hard to build during her time at Muhlenberg.
"Learning another language is like a bridge into another world," Bain says. "I'm able to communicate and create relationships with people I otherwise never would've been able to. I think that is so valuable."