Muhlenberg College Investment Society Opens Door to Wider Array of Students
The student-run club manages an investment of nearly $1 million and is open to all students, not just those studying finance.
By: Sarah Wojcik Wednesday, January 4, 2023 03:43 PM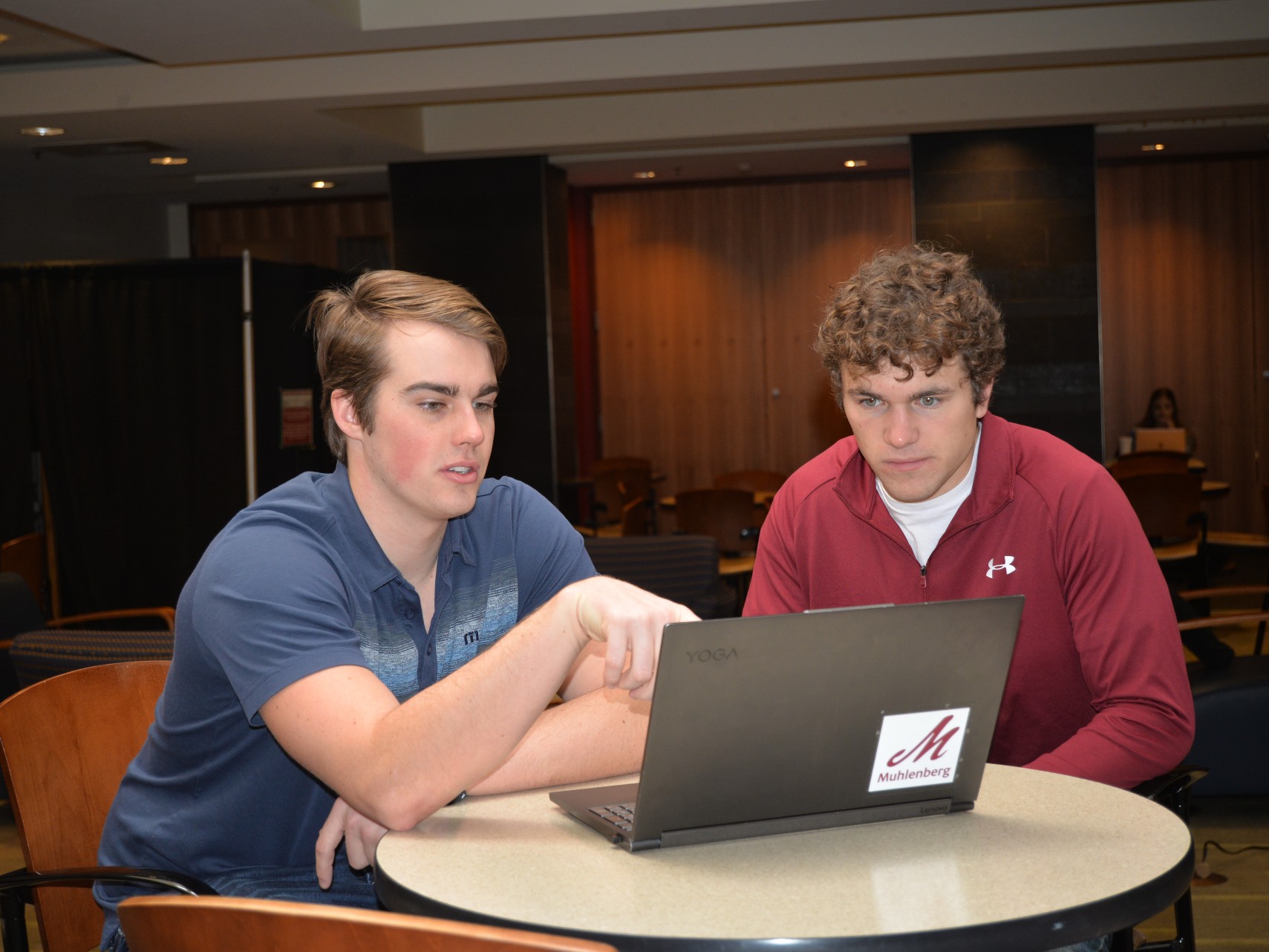 Brett Confer '24, left, and Jack Machita '24, are two new student leaders heading up the Investment Society, which is looking to expand its membership.
When Lecturer of Economics and Finance Roger Slane spotted Brett Confer '24 peeking at his stock portfolio in class, he could only summon so much disappointment.
"His friends always joke that Brett can't get through a day without looking at his stocks. And this was not because it was assigned," Slane explained, laughing. "But how mad do I get that as a finance teacher that he's looking at all this finance stuff on his own?"
Slane has helped Confer find a new, productive outlet for the finance major and business administration minor's investment obsession as president of Muhlenberg's Investment Society.
This student-run organization, founded in 2008, has a unique charge for the College: helping to manage an investment portfolio in a role where the organization functions like a fiduciary managing an endowment for a college.
"I think anyone can use the tools of investing. This is knowledge that you can use for the rest of your life. It's relevant to anyone."
- Jack Machita '24
Members of the club spend the school year exploring companies and stocks that could financially benefit the College, drilling down into the pros and cons of these pitches with research and robust internal debate. In April, a group of representatives from the Investment Society will take their vetted recommendations to the Muhlenberg College Board of Trustees to report on the portfolio performance and investment decisions.
"You've got to know it. And you've got to believe in it as well," Confer said of investment advice he and others will take to the board in the spring.
Confer takes over the Investment Society in a student club landscape that was rocked by the pandemic as well as during a particularly turbulent year on Wall Street. But the newcomer and his vice president, finance major and business administration minor Jack Machita '24, another fresh face to the organization, are enthusiastic about the future — building back the club's membership and finding new places to invest funds.
Unlike in years past, the Investment Society is open to anyone with interest — not just those who've taken specific finance courses. Bringing in a diverse group of students with an array of majors and passions can lead to much more creative investment ideas and opportunities, Slane says.
"Everyone's majors are probably related to an industry sector out there," Slane said. "They can bring a new focus to a new area we've never thought about."
And while this work is meant to benefit the College's endowment specifically, Machita said students should consider how developing an understanding for the strategy and research behind investing can help them personally.
"I think anyone can use the tools of investing," Machita said. "This is knowledge you can use for the rest of your life. It's relevant to anyone."
During a club meeting in December to drum up support for next semester, Confer reviewed a spreadsheet of the College's investments with the half a dozen students who showed up to learn more. He tasked them with bringing a friend to the first meeting in the new semester.
"This might start out a little daunting, but getting to understand it all is a great part of our club," Confer said.
Slane pointed out that there was a significant amount of money within the account that wasn't actively invested, posing an exciting opportunity for the club this spring.
"The College is going to be looking at you to make these recommendations," he told the group. "This is your club, your money to guide. It's not often that you get to be in charge of $900,000."
Another remarkable part of the organization will be students' chance to network with alumni in finance, many of whom Slane said have expressed an interest in visiting campus and sharing their experience with the students.
In his first year as advisor to the Investment Society, Slane is already a strong believer in the invaluable hands-on experience the club can provide. He noted that a classroom simply cannot deliver the same kind of opportunity that is tangible with a real exploration of risk and reward.
And now, in his 29th year teaching (nine as a full-time academic at Muhlenberg), Slane said he's more excited than ever about the passion and insight that students can bring to finance.
"Things that would go right past me, they shine a light on," Slane said. "It's very fun. They bring so many different ideas."