Kevan Shah '22 Named Knight-Hennessy Scholar at Stanford University
The largest fully endowed scholars program in the world, Knight-Hennessy's goal is to tackle society's most intractable problems with a multidisciplinary, multicultural community of future leaders.
By: Kristine Yahna Todaro Tuesday, May 9, 2023 09:14 AM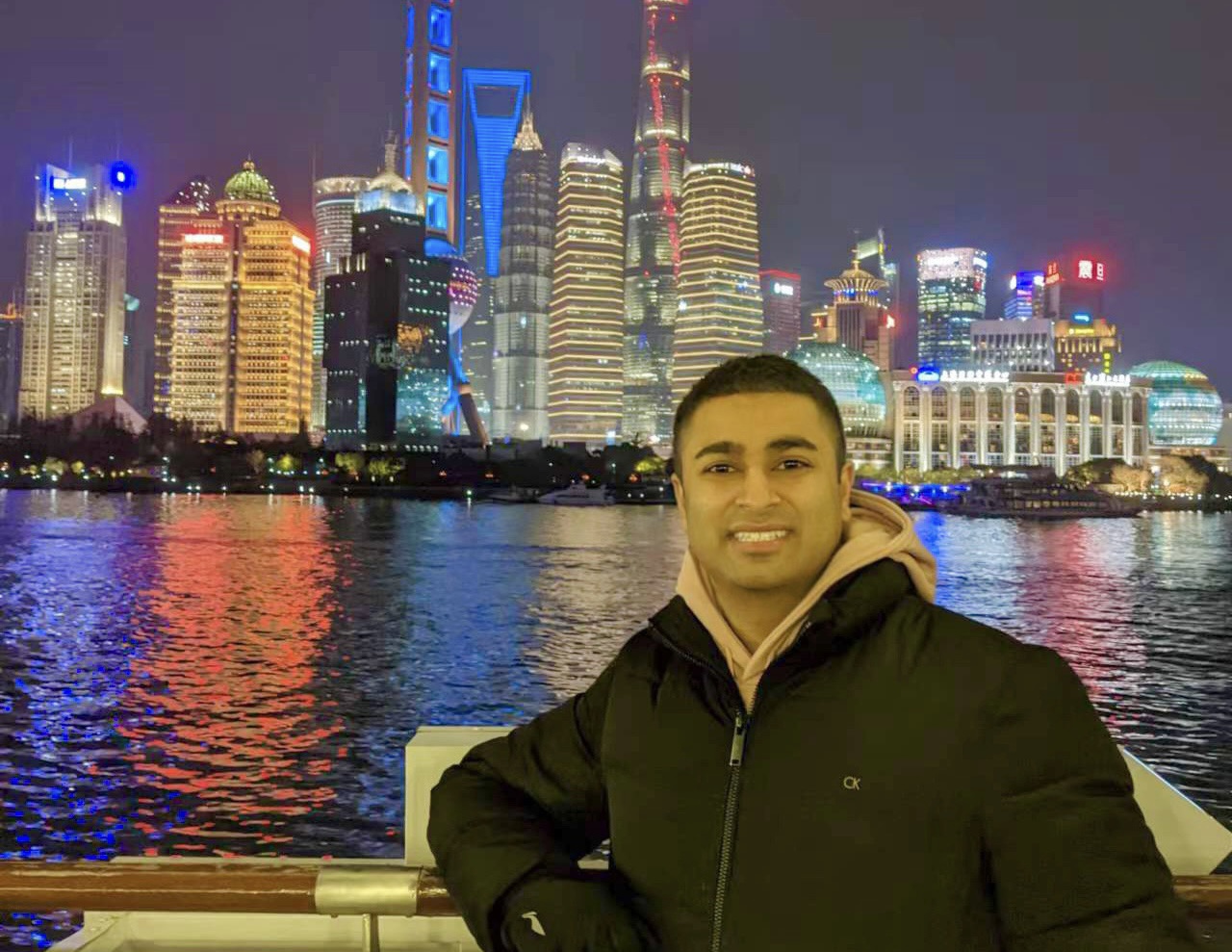 During his time in China, Shah traveled to The Bund, a historical waterfront on the bank of the Huangpu River in Shanghai.
This fall, Kevan Shah '22 will be trading one coastal city for another, halfway around the world.
He spent this academic year in Beijing through the Schwarzman Scholars program, earning his one-year master's in global affairs degree at Tsinghua University. Shah was the first Muhlenberg student to receive the award, which is one of the most prestigious in the world.
He is also now the first Muhlenberg student — and one of only 85 students from 29 countries — to be awarded a 2023 Knight-Hennessy Scholarship.
Through the program, scholars strengthen their multicultural and multidisciplinary perspectives and develop leadership skills, including creative problem solving, decision making during uncertainty, effective collaboration and how to communicate ideas in a compelling way.
In addition to leadership development, scholars receive full funding for one of Stanford University's seven graduate schools. Shah will be pursuing a master's degree in community health and prevention research at the Stanford School of Medicine before his plans to matriculate in medical school.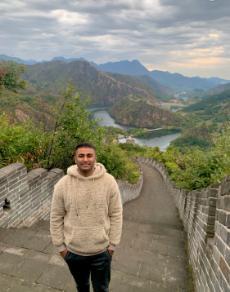 Shah, shown here at the Great Wall of China, says the opportunity to study in Beijing, especially during the pandemic, has given him an extraordinary breadth of experience. "It's never been more important to have these bridges between the U.S. and China," he says. "From conversations with locals to month-long travels across different provinces, I have been able to explore and immerse myself in the culture."
In the next chapter of his life, Shah says he's looking for greater depth in his field. "I'm looking to deepen my passion for health and my ability to innovate and problem-solve on the issues that I care about most, which are based in community health and medicine," he says. "Stanford belongs to a larger ecosystem of innovation and entrepreneurship, and Knight-Hennessy brings together scholars with diverse backgrounds from around the world. I'm looking forward to learning and engaging with these different perspectives."
Shah, from Cliffside Park, New Jersey, graduated from Muhlenberg with a bachelor's degree in public health in 2022. While on campus, he founded End Overdose Together, a nonprofit that recruits, trains and mobilizes students to lead workshops on overdose prevention, and he still serves as its executive director. With his mentor Chrysan Cronin, associate professor and director of public health, Shah secured a $100,000 grant to train Muhlenberg students and community members on the administration of naloxone, an emergency nasal spray that can reverse the life-threatening symptoms of an opioid overdose.
His work has helped shape policies and programs to combat the overdose crisis at Integrity House, New Jersey Reentry Corporation, Opioid Overdose Prevention Network and St. Luke's Sacred Heart Hospital. His research and recommendations have been championed by former governors and become the basis of legislation.