This Externship Host Knows the Transformative Power of Hands-On, In-Person Career Exploration
Esther Schlossberg '20, a project coordinator in a Yale lab focused on opioid-use disorder and infectious diseases, landed that job after shadowing there as a student. Now, she's hosting current students through the Career Center's Externship Program.
By: Meghan Kita Wednesday, January 25, 2023 03:32 PM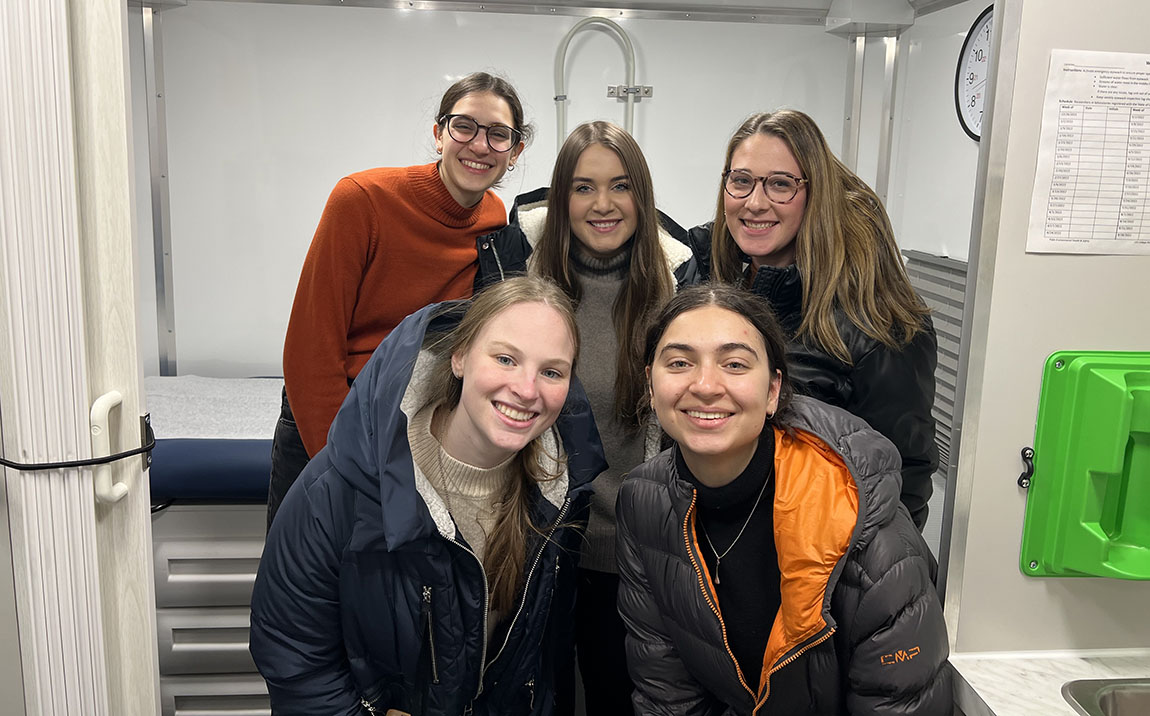 Clockwise from top left: Or-El Ankori '25, E. Stazja Stuccio '20, Esther Schlossberg '20, Esther Klinger '25 and Melissa Borker '22 inside the InSTRIDE mobile health unit during the students' externship experience
As a sophomore, Esther Schlossberg '20 had the opportunity to shadow an alum, Breanne Biondi '13, who was working in a research lab at the Yale University School of Medicine. That same lab hired Schlossberg when she graduated. And this month, Schlossberg hosted three current students as part of the Career Center's Externship Program, which has replaced the former shadow program.
"I really wanted to be a host because I wouldn't be where I am if I hadn't taken advantage of Muhlenberg's shadowing program," says Schlossberg, who was a public health and Jewish studies double major at Muhlenberg. "For me, [shadowing] was an eye-opening experience. When you think of research, you might think of a wet lab and people mixing chemicals together. Here, we are a clinical and social science lab, helping people with opioid-use disorder, getting them on treatment and making personal connections with a very vulnerable population."
Schlossberg developed an interest in the opioid crisis after seeing a faculty panel on opioid addiction at Muhlenberg in Fall 2017. The opportunity to shadow at Yale's InSTRIDE (Integrating Substance Use Treatment Research with Infectious Disease for Everyone) lab came up shortly after. She gained experience and knowledge through internships with the Connecticut Department of Public Health and St. Luke's University Health Network and work with the student-founded nonprofit End Overdose Together. She reached out to her network after the fall semester of her senior year, asking to be notified of any job opportunities. She heard from Yale, applied and was hired as a postgraduate research associate.
Last March, Schlossberg was promoted to a project coordinator. She helps manage study implementation and regulatory requirements and perform study procedures across multiple protocols. She also helped bring two fellow alumni on board: E. Stazja Stuccio '20, a community health worker, and Melissa Borker '22, a postgraduate research associate.
All three alumni participated when Or-El Ankori '25, Larissa Davidowitz '23 and Esther Klinger '25 visited for their externships. The students were able to meet people affiliated with the lab in a variety of positions, tour the InSTRIDE mobile health unit, visit the hospital and sit in on meetings with other research partners involved in InSTRIDE's studies.
"One of the things that struck me the most about this externship experience was how tethered in reality it was," says Ankori, a biochemistry major. "Their research is tied to connecting patients with treatment and other resources, which leaves patients better than they started …All three alumni with whom I interacted throughout the day were able to give me advice about my future career path with the perspective of a Muhlenberg student, which helped them tailor their advice specifically to me."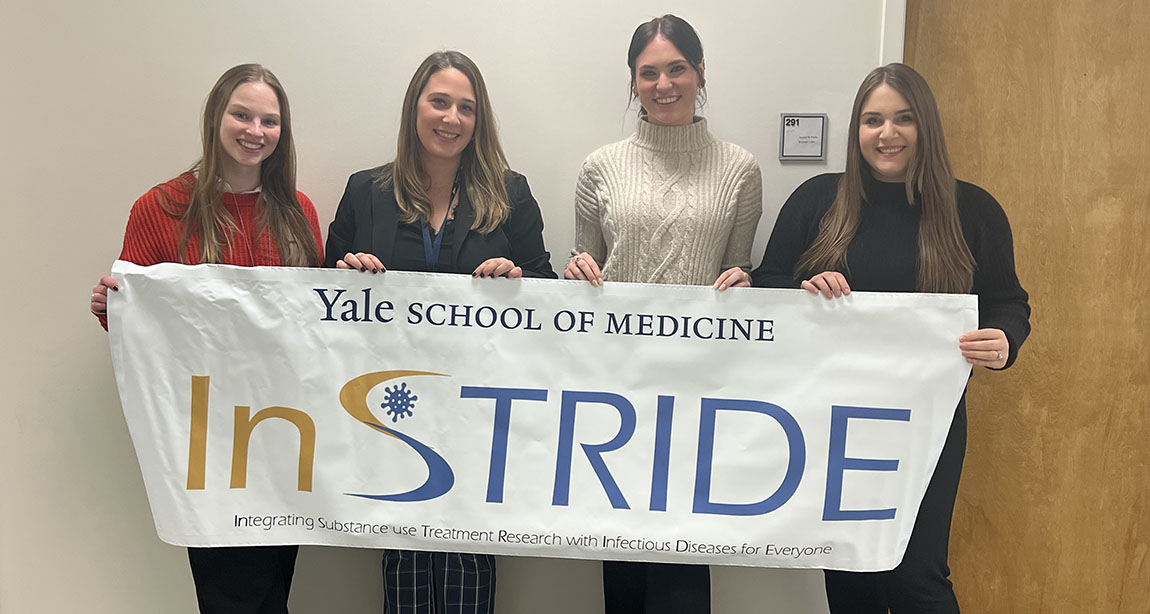 Borker, Schlossberg, Davidowitz and Stuccio in the inSTRIDE lab