Student-Founded Nonprofit Trains More Than 1,000 People to Respond to Opioid Overdoses
End Overdose Together had to change its training model when the COVID-19 pandemic hit, but its pivot to virtual will allow it to continue expanding its reach.
By: Meghan Kita Tuesday, August 17, 2021 02:56 PM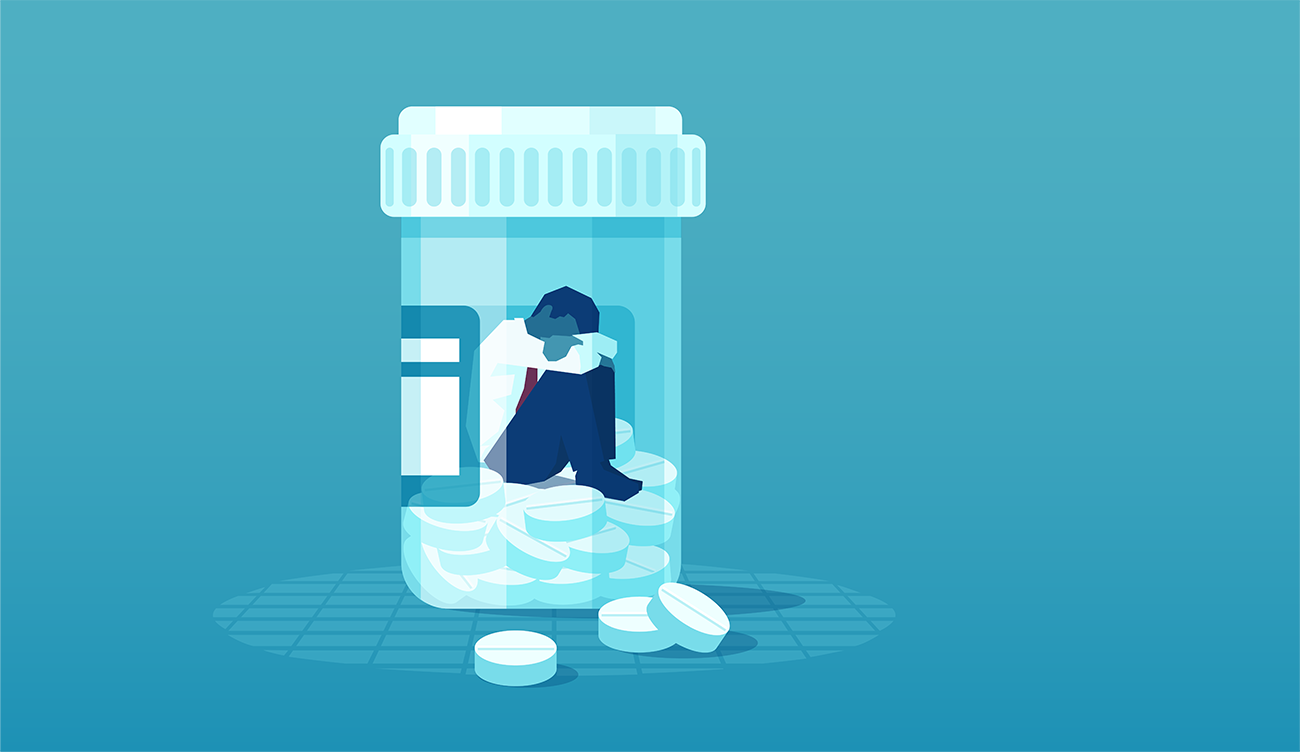 Illustration by iStock
In January 2020, the nonprofit End Overdose Together (EOT) received a $100,000 grant from the state to train students to host workshops on how to administer Narcan, a nasal spray that can save the life of a person who has overdosed on opioids. The following month, sixty Muhlenberg students underwent the training. Those students were scheduled to begin going out into the community to share their knowledge and distribute Narcan kits the week after spring break, in early March. That's when the College sent students home due to the COVID-19 pandemic.
"We were quickly forced to halt all our in-person activities," says Kevan Shah '22, the premed public health major who founded EOT and serves as its executive director. "We weren't sure how we could sustain our training model given the uncertainty. It sent our team back to the drawing board."
That summer, EOT devised an alternate plan. With the pandemic continuing and no end in sight, a virtual training model seemed the only viable option. The EOT team created a 20-minute instructional video and posted it to its website. Any individual could register to undergo the training and be mailed a free Narcan kit. Groups could schedule a virtual training with an EOT trainer, who would be available during the session to answer questions.
Rashida Haye '20, a public health major and sustainability studies minor, stayed on as a community outreach coordinator as she prepared to start a master's program at the Boston University School of Public Health. She and Roshni Patel '21, a neuroscience major and public health minor, shared the work of contacting local organizations—libraries, police and fire departments, schools, social service providers and others—to make them aware of the virtual training opportunities. Director of Training Brynn Cardonick '21, a neuroscience major and public health minor, arranged for EOT trainers to work the group training sessions.
This model enabled EOT to meet the goal it set forth in the original grant proposal of training at least 1,000 Pennsylvanians to administer Narcan. EOT hit that milestone in early May, according to Sophia Copeland '23, a theatre and business administration double major and film studies minor who serves as EOT's administrative director.
"More than 93,000 people died of opioid overdoses in the past year in the United States," says Associate Professor and Director of Public Health Chrysan Cronin, who is EOT's director of programs. "Just because we have a global pandemic doesn't negate the fact that we also have an opioid crisis. Unfortunately, a lot of public health issues, including addiction and opioid use, kind of took a backseat to COVID, and we lost a lot of people because of that. It's really important that we be vigilant in maintaining this training and making sure that people are aware of the problem and the solution to the problem, or at least an antidote to an overdose."
EOT is planning to continue its virtual training model this fall. Training on how to recognize an opioid overdose and administer Narcan will be part of Orientation this year, and EOT is working with the Department of Campus Safety and Police to make Narcan available in various locations on campus. Shah says statistics show that overdoses occur frequently on college campuses, especially those in cities. So, EOT is planning to focus its outreach efforts toward middle and high school students in Pennsylvania and beyond in order to prepare them to recognize and respond to an overdose as college students. EOT ran a pilot program for this type of training this spring in the Baltimore City Public Schools, which Patel facilitated via alum Taj Singh '19, a Teach for America teacher there.
"We found a great amount of interest, not only from those students in high school but also the family members of those students," Shah says. "Reaching out to the younger generation, reaching out to middle schools and high schools, becoming a part of the health or physical education curriculum is an avenue that we're thinking of exploring this year."