Former Muhlenberg Wrestler and Psychology Major Supports Duke University Student-Athletes' Mental Health
Shawn Zeplin '04, assistant director of athletics for behavioral health at the Division I institution, makes an impact in a dynamic field that barely existed when he was an undergraduate.
By: Meghan Kita Thursday, May 4, 2023 02:48 PM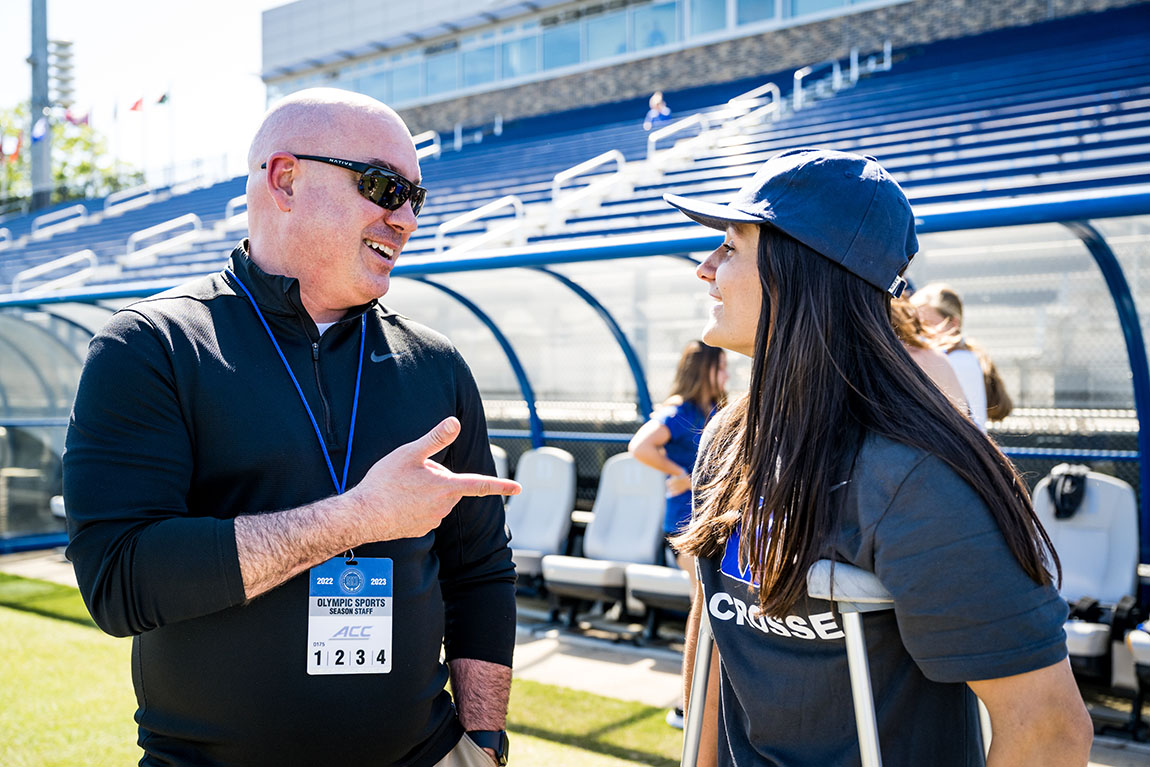 Shawn Zeplin '04 (left) speaks with Duke student-athlete Anna Callahan.
During the height of the pandemic, Shawn Zeplin '04, assistant director of athletics for behavioral health at Duke University, spoke to student-athletes from his alma mater over Zoom. The event was organized by Head in the Game, a mental health support group for Muhlenberg student-athletes.
When Zeplin was an undergraduate student-athlete studying psychology, he heard almost nothing about mental health outside the classroom. Still, his Muhlenberg education helped prepare him for a career in a field that barely existed when he graduated.
"There were less than 50 people doing [jobs like mine] in college athletics while I was in grad school [starting in 2007]," says Zeplin, a wrestler at Muhlenberg who also minored in economics. "I just got back from our annual conference and there are more than 200 people doing this job now. It's exploded."
His interest in psychology blossomed at Muhlenberg, through faculty coaching and undergraduate research, but as graduation approached, he wasn't sure whether he wanted to pursue teaching or a clinical role. As he worked to figure that out, he took on sales and marketing positions with minor league sports teams for a few years.
"I really enjoyed the sport piece and wanted to keep going with that, but I always knew I wanted to come back to psychology," he says. "That's what led me to the [master's in sport and performance psychology] at the University of Denver, just putting those two things together."
He remained at Denver to earn a doctorate in clinical psychology and completed his predoctoral internship and postdoctoral fellowship in the University of Oklahoma's athletics department between 2012 and 2014. That was right around the time the NCAA put out its first blueprint for what institutions should be providing in terms of mental health care for athletes. He went on to build programs at Illinois State University and Auburn University before landing at Duke in 2018.
When he started there, he was the only mental health provider for student-athletes, and he was tasked with building the program. Today, he oversees a team that provides both mental health and nutrition services for student-athletes, a team that includes three full-time providers plus a part-time intern. He draws upon his own undergraduate experiences in addition to his sport psychology expertise as he works with Duke's student-athletes.
"Yes, there are differences between Division III and Division I in terms of level of competition and things like that, but a lot of the stuff that [the Duke student-athletes] are struggling with is just the day-to-day balancing act, being at a place where the academic load is high and you still want to be committed to your workouts and getting better as an athlete," Zeplin says. "I don't ever want to say that I've lived the life they live, but I understand it … I think it does help a little bit more with that buy-in, like, 'Okay, on some level, you've experienced the things that I'm going through.'