Muhlenberg Announces New Academic Partnership with Villanova Nursing
Students wishing to pursue a nursing degree now have a clear pathway, thanks to an affiliation agreement with the Villanova University M. Louise Fitzpatrick College of Nursing.
Wednesday, April 12, 2023 10:38 AM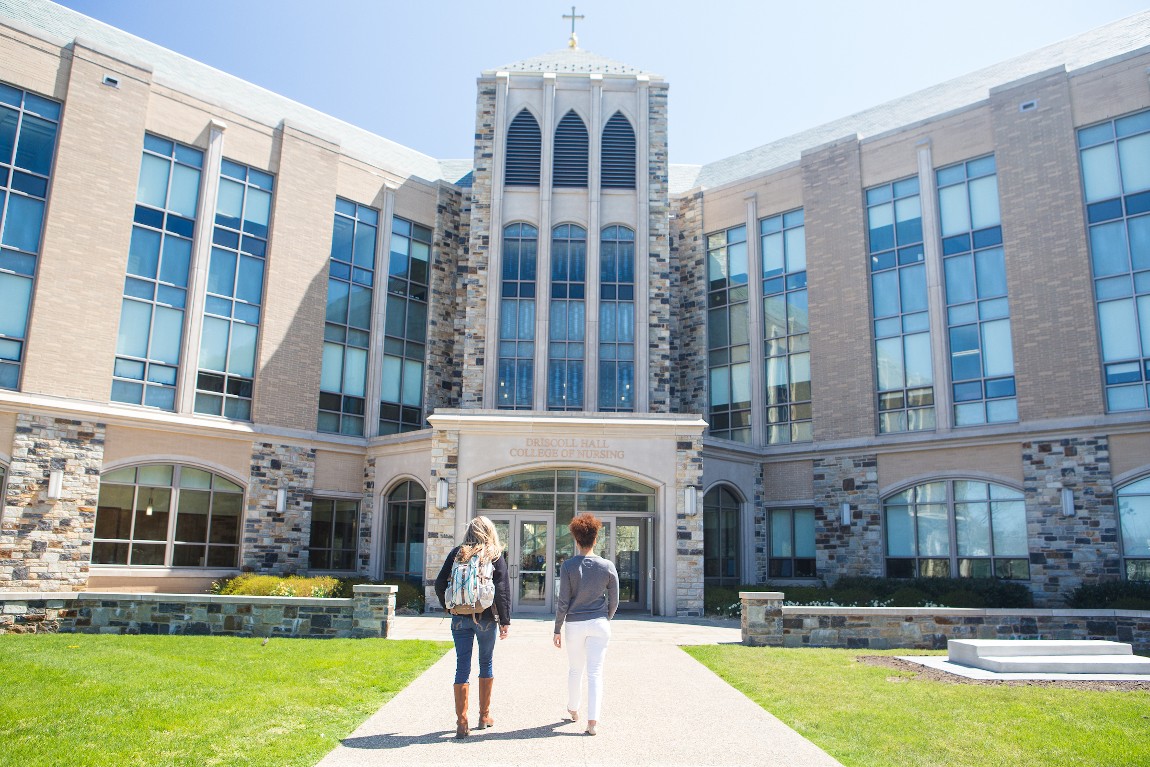 Villanova University Fitzpatrick College of Nursing Photo credit: Villanova University
Prehealth students at Muhlenberg now can transition seamlessly to Villanova's Second Degree Accelerated BSN Program for college graduates. This academic partnership presents a direct route to the nursing profession and new opportunities for students seeking careers in health care.
Muhlenberg students can pursue either the full-time 14-month Express Degree Program or the 23-month Flex Degree Program. Both incorporate all of the standard components of Villanova's nursing program in a concentrated timeframe. Villanova has agreed to accept at least five Muhlenberg students each year.
"Prehealth has long been an exceptionally robust program at Muhlenberg," says President Kathleen Harring. "Our students acquire strong critical thinking, problem-solving and communication skills, which make them valued candidates for these vitally important fields. We take seriously our commitment to guide each of our students as they move toward their personalized career goals. This new agreement with Villanova Nursing offers an excellent opportunity for our students interested in this essential profession."
In order to be accepted into the program, students must first successfully complete their four-year undergraduate degree at Muhlenberg, as well as the prerequisite courses (or equivalencies) and admission requirements for the Villanova BSN program.
The Fitzpatrick College of Nursing is approved by the State Board of Nursing of the Commonwealth of Pennsylvania and, upon completion of the undergraduate program, graduates are eligible to take the licensing examination (NCLEX) for professional registered nurses. The bachelor's degree program in nursing is accredited by the Commission on Collegiate Nursing Education, as are the master's degree program in nursing, Doctor of Nursing Practice program and post-graduate APRN certificate program.
"This agreement with Muhlenberg College represents an important relationship to meet our mutual goal of helping students achieve their dream career as well as prepare the next generation of nurses for our nation's health-care system," says Donna S. Havens, Ph.D., RN, FAAN, Connelly Endowed Dean and Professor, Fitzpatrick College of Nursing.
This is Muhlenberg's second academic partnership with Villanova University, following the 2019 agreement with the Villanova University Charles Widger School of Law. The College now offers 16 such programs in the fields of health, public health, business and finance, engineering, law, and more.
For more information about the Villanova Nursing partnership or the Prehealth Program at Muhlenberg, please contact the Office of Health Professions Advising at [email protected].
Founded in 1848, Muhlenberg is a highly selective, private, residential, liberal arts college offering baccalaureate and graduate programs. With an enrollment of nearly 2,000 students, Muhlenberg College is dedicated to shaping creative, compassionate, collaborative leaders through rigorous academic programs in the arts, humanities, natural sciences and social sciences; selected preprofessional programs, including accounting, business, education and public health; and progressive workforce-focused post-baccalaureate certificates and master's degrees. Located in Allentown, Pennsylvania, approximately 90 miles west of New York City, Muhlenberg is a member of the Centennial Conference, competing in 22 varsity sports. Muhlenberg is affiliated with the Evangelical Lutheran Church in America.
About the Villanova University M. Louise Fitzpatrick College of Nursing
The Villanova University M. Louise Fitzpatrick College of Nursing is a nationally recognized, premier nursing program, committed to its Augustinian Catholic values and the tireless pursuit of academic and clinical excellence in nursing and nursing education. Founded in 1953, the College is designated a Center of Excellence in Nursing Education by the National League for Nursing. It is home to a growing research and innovation enterprise with internationally known scholars, and two centers Global and Public Health as well as the MacDonald Center for Obesity Prevention and Education, and houses the Mid-Atlantic Center for Children's Health and the Environment (PEHSU Region 3). The College is committed to a teacher-clinician scholar model, offering undergraduate, continuing education, graduate, and doctoral programs that prepare students to assume positions as compassionate, productive, ethical, and socially responsible practitioners and leaders at the forefront of modern health care. Visit villanova.edu/nursing.