About Kathleen Harring, Ph.D.
Kathleen E. Harring was named president of Muhlenberg College in June 2020 after serving as interim president since 2019. As the college's 13th president and the first woman to hold the role, Dr. Harring is setting the direction for the College's future through strategic planning efforts designed to enhance the student experience, strengthen student enrollment and retention, and ensure the College's financial health.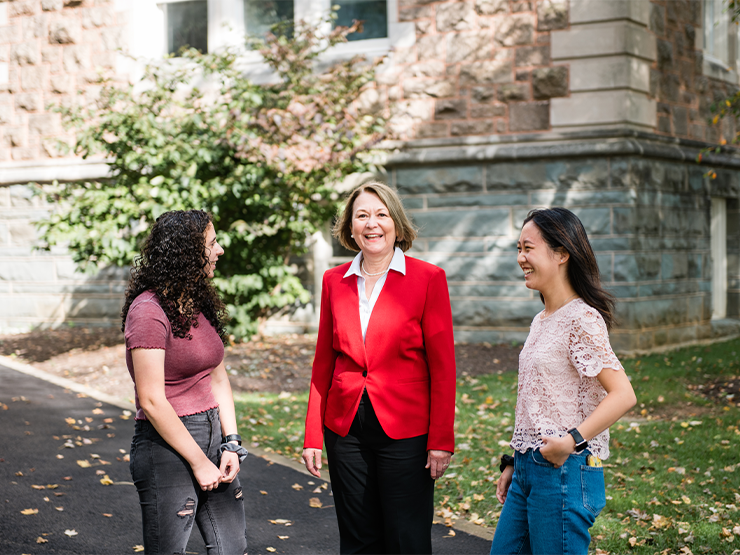 In 2021, Harring led the launch of the public phase of the $111 million Boundless campaign, the College's most ambitious capital campaign to date, committed to leading a renaissance in liberal arts education. As part of the campaign, the College secured the largest private pledge in its history, a $7.5 million gift to build the new Fahy Commons, opening in January 2023 and the first new academic building to open on campus since 2005, as well as the future expansion and enhancement of The J. Conrad and Hazel J. Seegers Union, the College's student center.
A strong advocate for diversity, equity and inclusion, Harring appointed Dr. Brooke Vick as the College's first chief diversity officer and associate provost for equity and inclusion in 2022. That year she also announced the expansion of the Emerging Leaders program to offer more students from historically underrepresented and marginalized groups an opportunity to belong to a community of future leaders throughout their time at Muhlenberg.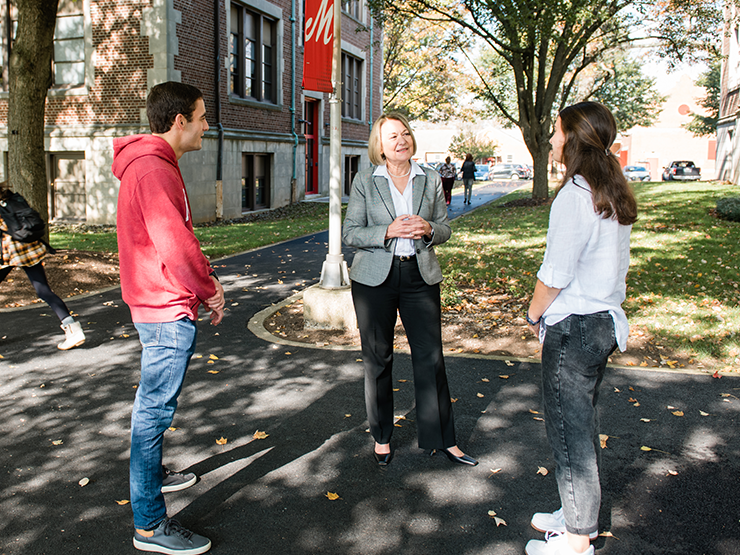 In 2022, Harring joined the presidents and chancellors of Princeton University, Wellesley College, the University of Illinois at Urbana-Champaign, the University of California-Merced, and the University of Dayton on the steering committee of the American Talent Initiative, a nationwide consortium of 128 colleges and universities committed to expanding higher education access for low- and moderate-income students.
Harring has led the growth and expansion of the college's graduate and continuing education degree programs serving young and mid-career professionals in the Lehigh Valley, including a master's in medical leadership launched in 2022, master's programs in organizational leadership and applied analytics, and a new accelerated bachelor's degree completion program in project management. In addition, Harring and her leadership team have forged new partnerships with area community colleges to provide guaranteed pathways for students to a
bachelor's degree at Muhlenberg.
President Harring served in numerous leadership roles at Muhlenberg since joining the psychology department faculty in 1984, including provost, vice president and dean of institutional effectiveness and planning, and dean of institutional assessment and academic Planning.
A distinguished social psychologist and higher education leader, President Harring presents on topics as diverse as alumni engagement, shared governance, strategic planning and professional development in higher education.
President Harring earned her B.A. in psychology from Franklin and Marshall College, and her M.A. and Ph.D. in social psychology with a minor in quantitative psychology from The University of North Carolina at Chapel Hill.