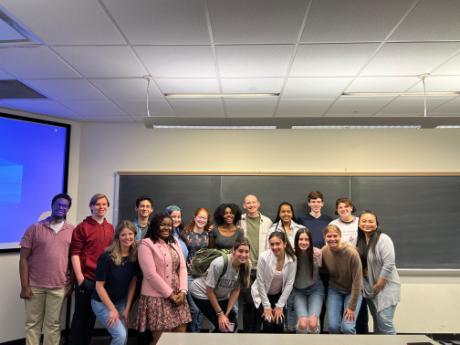 Interested in connecting with communities and important issues through your classes?
Then these are the courses for you!
In some courses you will do projects, some you'll connect with community members to achieve common goals, and in some cases you'll do both! In all of these classes you will connect course content with community work in ways that complement your education and address community goals.
Filter "community-engaged" in the course tags in Workday to see which courses are connected with community in any given semester, but here are a few examples:
| | |
| --- | --- |
| 🧠 | PSY 350- Developmental Psychopathology- connect with young people and teachers/staff in Allentown communities who work with children on the autism spectrum or in emotional support classrooms. |
| 🧠 | PSY 480- Inside-Out Prison Exchange- examine the issue of mass incarceration and the criminal justice system in US cities in connection with students in the Lehigh County Community Corrections Center. |
| ✨ | DNC 350- Teaching Dance: Theory & Method- learn about methodology for teaching dance and movement in the first half of the course and implement dance workshops with children in the second. |
| 📣 | COMM 383- Media Advocacy- consider the various methods to enact change through the media and collectively work on a campaign in collaboration with the Bradbury Sullivan LGBT Community Center. |
| 🌳 | SUS 365- Local Sustainability- consider sustainability in the Lehigh Valley while working on a project with the Allentown Department of Parks and Recreation. |