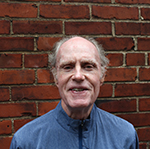 John Ramsay
Department Chair and Professor, Education Department
Bucknell University, BA
State University of New York at Buffalo, Ph.D.
johnramsay@muhlenberg.edu
John became a full-time professor in the Education Department after serving as Muhlenberg's Provost (2009-2016). He taught and served as Education Department Chair at Dickinson College (1984-1989). At Carleton College (1989-2009), he taught and served as Educational Studies Chair, Coordinator of the Perlman Center for Learning and Teaching, and Associate Dean of the College. He was elected to the Northfield, MN Public School Board twice, and served a four-year term as Treasurer. He has awarded fellowships from the Spencer Foundation, the National Endowment for the Humanities and the American Council of Learned Societies. His regularly scheduled courses include: History and Politics of American Education, Inequalities of Opportunity, and the First Year Seminars, Global Humanitarians and Forced From Home. He also teaches Designing Start-Up Schools in support of the Innovation and Entrepreneurship minor.
---
Publications
"Collections of Stories, Years Later," in A Slant of Light: Reflections on Jack Wheatcroft pp. 22-34, Rowman & Littlefield in conjunction with Bucknell University Press (2018) (In press).


"On the Future of Digital Teaching and Learning at Muhlenberg College," in Project David: Vocation and Reinvention at Liberal Arts Colleges. (2014)

"History of Education," Encyclopedia of the Social and Cultural Foundations of Education, (2008).


"'Meritocracy' at Middle Age: Skewed Views and Selective Admissions," in Imagining the Academy: Higher Education and Popular Culture. (2005).


"Ms. Higgins and the Culture Warriors: Notes Toward the Creation of an Eighth Grade Humanities Curriculum," in American Council of Learned Societies Occasional Paper No. 23. (1994)


"Three Faces of Control: Buffalo Public Schools in the 19th Century," in Schools in Cities: Consensus and Conflict in American Educational History, 1983.