You're back in the United States and Muhlenberg College
Welcome Back!
The Global Education Office will host a welcome back reception a few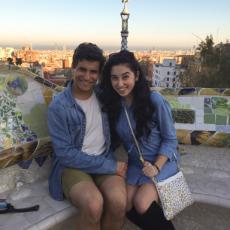 weeks into the semester of your return to campus. You will enjoy food and conversation with faculty and administration who are invited and look forward to seeing you and hearing about your abroad academic and traveling experiences. You will receive important information at this meeting giving instructions on the procedure to transfer your abroad courses to appear on your Muhlenberg transcript.
Survey
The Global Education Office has set a high priority on providing future study abroad students with as much information as possible regarding the options for studying abroad. Feedback from past study abroad students regarding their experience abroad represents a very important component of our efforts to evaluate both specific programs and the kind of predeparture programs and advice we provide to prospective study abroad students. You will be given a survey link to record your impressions. Your responses will assist Muhlenberg College's Global Education Office in preparing future students to gain the most from their study abroad experience.
Meeting with Dr. Kish-Goodling
The Dean of Global Education must sign and approve your form with all its attachments. Three weeks before classes end, you will be notified by our office as to the times and dates available for a 10 minute appointment to see Dr. Kish-Goodling in the Office of Global Education at 2242 Chew Street. At that meeting, Dr. Kish-Goodling will review all your transfer course authorization documentation and sign it. Our office will forward all the documentation to the Registrar.
EMOTIONAL AND BEHAVIORAL SIGNS OF CULTURE SHOCK

EMOTIONAL SIGNS

Alienation

No friends
"Self-imposed" isolation
Limited intercultural skill development

Anger, Frustration, Irritability

Acting out (physical, verbal)
Excessive drinking
Ethnocentrism
Defensiveness
Complaining about the host culture/people

Anomie, Loneliness

Isolation
Withdrawal (social, academic)

BEHAVIORAL SIGNS

Confusion

Judgmental
Stereotyping
Communication problems
Poor decision making
Questioning Self (identity, role, purpose)

Depression

Insomnia
Substance abuse
Weight change
Appetite change
Social/Academic withdrawal
Emotional swings
Irritability/anger
Decline in self-care

Anxiety

Nervousness
Tension (muscles, "nerves")
Insomnia
Poor concentration
Fear of being misunderstood

Apathy

Regressive behaviors
Social and academic withdrawal
Lack of care for self/others
Poor personal hygiene

Obsessions

Injury
Inadequacies
Not being understood
Threat/harm persecution
Contamination

Compulsions

Compensation
Acting out behaviors
Withdrawal defensive
No appropriate risk taking
Hand-washing, clothes
Avoidance behaviors
Hand-washing, clothes
Avoidance behaviors