Matt Schroeder '10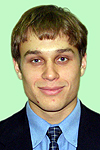 August 9, 2010

I hope you are having a great summer. I have been busy doing my internship at McCormick and Co once again this summer. I just moved most of my stuff down to Virginia Tech because I start TA training next week. I thought I would share with you a conversation I had with my advisor from VT that I had this weekend. We were talking about what kind of "jobs" I would be doing for him for my stipend and he mentioned that one of the huge reasons that I received an assistantship offer was my Spanish knowledge. My new advisor, being of Mexican heritage, noted the importance of today's society, especially in the food business, of being bilingual. He actually said 2 of the other graduate students in my group are fluent in Spanish, so it was important that I was able to communicate with them. He also said that I would be working with him on trying to incorporate a Spanish class into the curriculum of the Food Science Department at Virginia Tech because of its importance.
Ironically, last week at work here at McCormick, one of my advisors asked me to give a presentation in Spanish to a group that we have coming from Argentina. Unfortunately, I will already be down south, but I was really excited about being asked to do something like that.
Just thought I would share these things with you since I owe much of my Spanish knowledge to you. Feel free to pass this along to any of your students/professors.
Once again, I hope all is well in Allentown and I look forward to keeping in touch. My new email address at school is [email protected] Feel free to email me whenever and thanks again for all you did for me at Muhlenberg. None of this would have been possible without your help.
All the Best,
Mateo '10