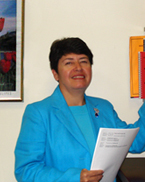 Flor Maria Buitrago

Lecturer in Spanish
Ettinger 101D
Office: 484-664-3514
Fax: 484-664-3722
florbuitrago@muhlenberg.edu
Background
B.A., University of Guelph
M.A., University of Western Ontario
Flor Maria Buitrago teaches Business Spanish, along with intermediate and advanced Spanish language courses. She also created and developed the Spanish for Business course at Lafayette College and a Spanish for Law Enforcement for a local Police department. She is serving as a coordinator of the LVAIC Summer Study Abroad Program for Seville, Spain in the summer of 2009 and directed the program to Puebla, Mexico in the summers of 2003 and 2005. While in Puebla in 2005 she was invited to visit the Universidad Popular Autónoma del Estato de Puebla (UPAEP) to review their Languages Program and make new recommendations.
Professor Buitrago has presented at many conferences in USA and abroad, including Canada and Mexico. Among the highlight of her career is the presentation at the Annual International Linguistic Association at the University of Wisconsin of an important paper with Prof. Eileen McEwan that focused on the methods of designing real-life business applications in French and Spanish. Also, Flor Maria Buitrago presented a paper titled "Focus on Technology as a Tool in The Foreign Language Classroom and its Applications in the Teaching of Business Spanish" at the Florida International University.
Professor Buitrago was invited to join Houghton Mifflin in Baltimore, Maryland for a Faculty Programs professional development conference (February 2008) and attended the NECTFL (Northeast Conference on the Teaching of Foreign Languages) where she was invited to participate in a focus group by McGraw Hill, aimed on brainstorming ideas for a book on advanced composition (March 2008).
One of the many activities that Flor Maria Buitrago led was to bring a team of students to visit to the New York Stock Exchange and the Federal Reserve Bank of New York. She also organized International Night for the students of Muhlenberg College in 2007, Baker Center Recital Hall, where a variety of poetry, songs, drama and dance from around the world were presented to an audience of faculty, students and families. She was instrumental in the success of the 2008 Human Right Symposium, various lectures to celebrate the Year of the Languages (2005) and the Cyber Tools Symposium at DeSales University (2005) and Muhlenberg College (2007).
PROFESSIONAL ASSOCIATIONS
American Council on the Teaching of Foreign Languages (ACTFL )
Sigma Delta Pi
Spanish Honor Society Phi Beta Delta
Honor Society for International Scholars

Courses taught in Spanish by Flor Maria Buitrago
---
---
---
---