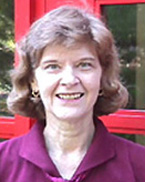 Helen Bachochin

Lecturer in Spanish
Ettinger 104B
Office: 484-664-3347
Fax: 484-664-3722
Background
B.A., Moravian College
NDEA, Institute in Spanish, GannonCollege
M.A., Lehigh University
Fullbright Scholar, University of Madrid
Professor Helen Bachochin has been teaching Spanish for over 40 years in public and private schools and colleges. She has been an instructor at Muhlenberg College since 1989 and throughout her teaching career has visited various Spanish-speaking countries, including Mexico, Spain, Puerto Rico, and Costa Rica.
One of the hallmarks of her teaching since 2002 is "La Mesa Española". The Spanish Table is similar to a "Common Hour" where students meet weekly to converse in Spanish and practice their language skills in informal settings as they relax in the General's Quarters at Muhlenberg College. The Morning Call newspaper on April 21, 2008, highlighted the Spanish Table, complete with colorful pictures, in the article "Putting their skills on the table".
Helen Bachochin has always been an active participant of the CyberTools Symposium, sponsored yearly by the colleges and universities represented by the Lehigh Valley Association of Independent Colleges (LVAIC). She also regularly attends the Northeast Conference on the Teaching of Foreign Languages (NECTFL). Prof. Bachochin partecipates in many departmental activities and events, most recently in the 2008 Human Rights Symposium.