About Us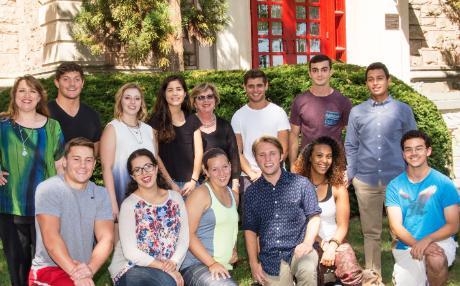 Dr. Luba Iskold
- Director and Professor of Russian
Fulvia P. Alderiso
- Technician
Rhiannon Harwi
- Presidential Assistant
Student Workers:
Lior Algrably '19
Erik Berger '19
Lizzie Cugnini '19
Nadia Urena '19
Victoria Basciano '20
Victoria Cabellos '20
Sephora Delice '21
Reha Tolani '21
Michael Albdewi '22
Edwin Alvarez '22
Victoria Retterholt '22
---

Learn About What We Do
Explore emerging technologies and facilitate the effective use of technological innovations for the advancement of language learning, research, and service learning. Assist students daily with their language learning needs, including peer partnerships for language conversation practice.
We provide assistance for faculty in the department in the following areas:
Support for instructional technologies in the LC Commons and in the classroom
Management of course materials in Canvas
Technical assistance with departmental events
Supervision of Online Foreign Language placement exams
Development and maintenance of the departmental website
---
Use Handshake to apply for a Work-Study Position
Qualifications:
Familiarity with at least one language other than English
Working knowledge of current and emerging computer applications
Responsibilities:
Supervise the use of LC Commons equipment
Assist faculty and students in using instructional materials

---
Become a Presidential Assistant

Maintain proficiency in the technologies of the LC Commons
Act as a resource person for students and faculty
Provide support for students and faculty in the implementation and use of multi-media curricular materials
Coordinate technology projects, as assigned
Maintain a resource library
Provide training to lab assistants, as directed
Participate in the development and application of multimedia resources
Other duties and projects as assigned by the Director of the LC Commons
Application forms are available through the
Human Resources website
.
To schedule an interview, email:
Dr. Luba Iskold
Professor of Russian and Director of the LC Commons
lubaiskold@muhlenberg.edu
---