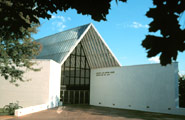 Center for the Arts
The Baker Center for the Arts, designed by the renowned architect, Philip Johnson, offers students, faculty, and guest artists exceptional performance and rehearsal spaces. Many of our vocal and instrumental ensembles including the College Choir, the Muhlenberg Chamber Orchestra, and the Jazz Ensemble perform in Empie Theatre, a world class facility with one of the finest Steinway pianos in the country. Empie is also the home our nationally recognized Piano Series.
Recital Hall
The Recital Hall seats 100 and provides a more intimate performance space for smaller ensemble and solo recitals. Student recitals and performances by our faculty, as well as special events such as our Alumni Recital, The Class of 1969 Competition, and performances by the Jazz Improvisation Ensemble are held in the Recital Hall.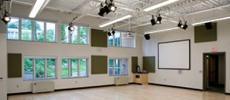 Rehearsal House
The Rehearsal House, opened in Fall 2010, features a state of the art Electronic Music Studio, the Rehearsal Hall, and Teaching Studios used by our outstanding vocal and instrumental faculty.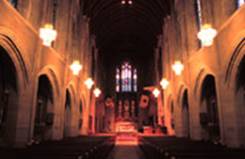 Egner Chapel
Chamber groups such as the Collegium Musicum and Musica da camera perform in the neo-Gothic Egner Chapel. Egner is the venue of our annual Candlelight Carols, with singing by the College Choir. A 48-rank tracker-action Holtkamp pipe organ, expertly designed for accompaniment and solo performance, is also located in Egner.
"The Chapel was the perfect place for my Senior Recital."
Colleen McDonald, Class of 2009