The Fahy Commons for Public Engagement and Innovation, Muhlenberg's newest academic building, was designed as a future-forward model of sustainability and flexibility. One of the first 20 projects in the world to Living Building Challenge Core Green Building Certification, the Fahy Commons will be held as a standard for the most aspiring measures of sustainability in new construction.
Sustainability features include rooftop solar, providing the majority of on-site electricity; triple-glazed windows with bird-friendly glass coating; high-efficiency lighting, heating and cooling systems; native meadows, earthwork and rain gardens; rainwater harvesting systems; outdoor classroom and event spaces; and sustainable commuting options, including an on-site shower and electric vehicle charging stations. View some of the sustainability features incorporated into the Fahy Commons on the diagram below.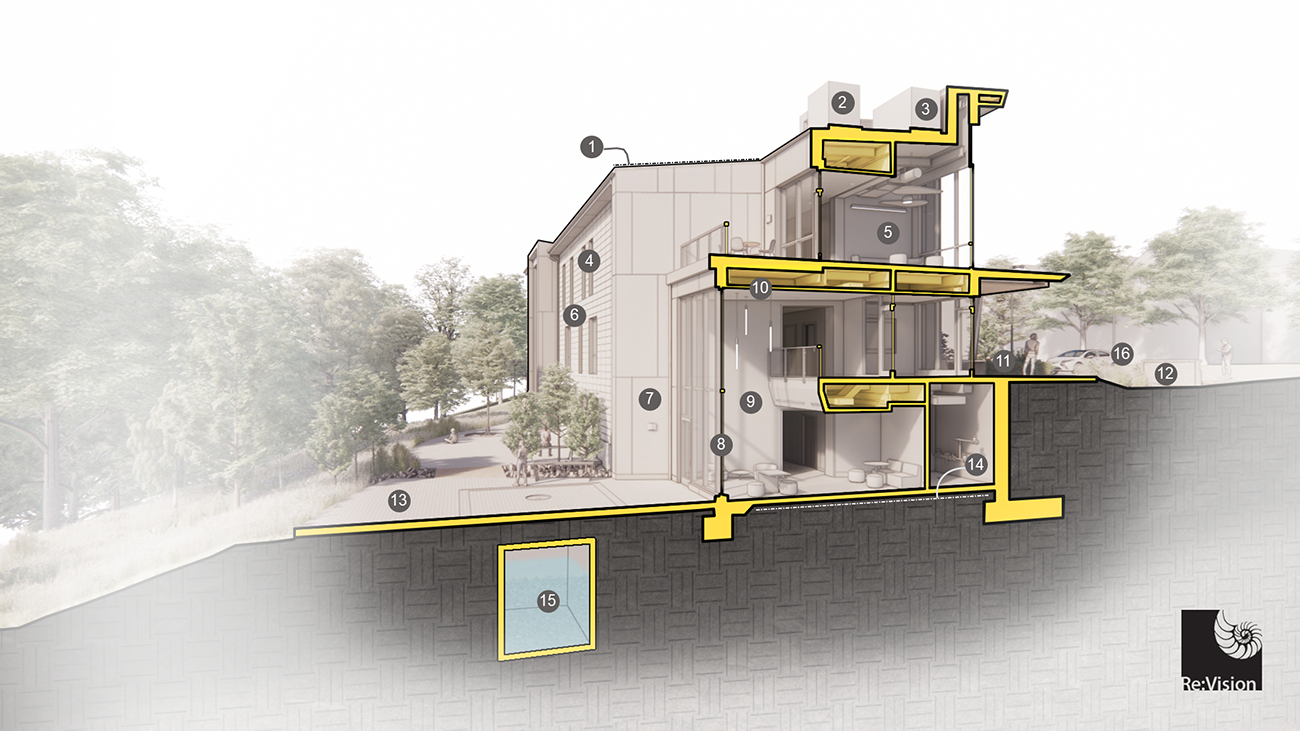 Rooftop Photovoltaics: Supplying the majority of on-site annual electricity.
Dedicated Outdoor Air Supply: Services 100% of interior spaces with fresh air.
High-Performance Heating & Cooling System: Reduces fuel demand and provides thermal comfort for all occupants.
Tripled-Glazed Operable Windows: Ultra energy efficient w/ bird-friendly glass coating.
Daylight & Views for Interior Spaces: Maintaining a consistent connection to the outdoors within a comfortable and productive environment.
Terracotta Cladding: Durable and vented, this assembly has lower embodied carbon than traditional TC cladding and is designed for a longer lifespan.
Air-Sealed Wall Assemblies: Optimized insulation with an airtight, vapor permeable barrier.
High-Performance Curtain Wall: Triple-pane thermal aluminum curtain wall panels with acid-etched bird safe glazing.
Biophilic Connections: Including view of forest canopy from main entrance, the building acts as an aperture to the surrounding landscape.
LED Lighting: Reduced lighting power density 40% below code maximum.
Universal Site Access: Integrated accessibility for everyone.
Planted Meadows & Rain Gardens: Native species of vegetation and earthwork to curb stormwater and bolster natural beauty.
Outdoor Classrooms & Educational Landscape: Permeable paving for stormwater management.
Insulating Foam Glass Aggregate: Lightweight and created from recycled material, this aggregate provides drainage and thermal insulation.
Rainwater Cistern: Recycling for toilet flushing.
Electric Vehicle Charging Stations: Two priority charging spaces to support EV usage.