Past
Exhibitions
| | | |
| --- | --- | --- |
| | | |
| | Artists Quarantine With Their Art Collections | |
| | | |
| | Amy Burke | |
| | | |
| | | |
| | | |
| | | |
| | | |
| Adam Diller | Roger Loos: Stone Koans | Ronny Quevado: Space of Play, Play of Space |
| | | |
| Thank you for the flowers | In Search of | |
| | | |
| | Imaginary Architecture | Lydia Panas |
| | | |
| | | |
| | | |
| | | |
| | | |
| | | |
| | | |
| | | |
| | | |
| | | |
| | | |
| | | |
| | | |
| | | |
| | | |
| | | |
| | | |
| | | |
| | | |
| | Emily Orzech | Michael Ananian |
Page | 1 | 2 | 3 | 4 | 5 | 6 |

All art images and content are the property of Martin Art Gallery, Muhlenberg College, Allentown, PA. Any reproduction or distribution of this material without the expressed, written consent of the Martin Art Gallery is prohibited and a violation of federal law. All rights reserved.
2022 Senior Thesis Exhibition
May 2 - May 21, 2022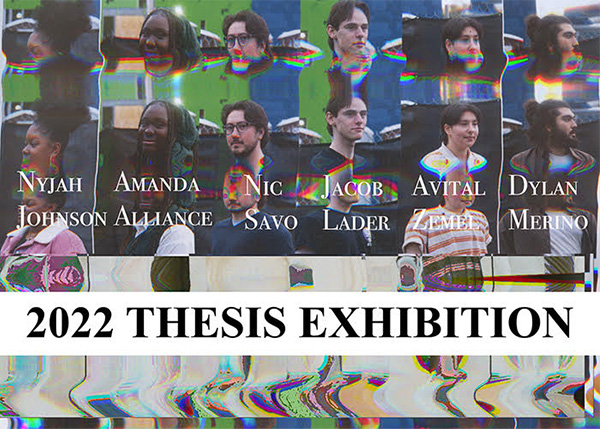 The Martin Art Gallery at Muhlenberg College is proud to host The 2022 Senior Thesis exhibition featuring works byAmanda Alliance, Nyjah Johnson, Jacob Lader, Dylan Merino, and Avital Zemel. This year's CUE [Thesis] course wastaught by Associate Professor Frederick Wright Jones.
---