Meet the Staff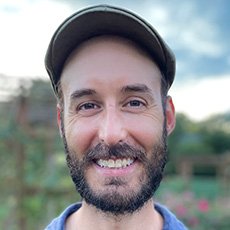 Ira Blum ✉
Director
he/him
Ira is honored and grateful to return to his alma mater at Muhlenberg College as Director of the Leffell Center for Jewish Student Life.
Over the last decade, Ira has engaged one-on-one with thousands of college students, supporting them along their paths of Jewish self-authorship. Before Muhlenberg, Ira served as Assistant Director at Penn Hillel, helping to shape a vibrant and dynamic Jewish life on campus.
Ira has helped students learn and grow in areas of diversity, equity and inclusion, alongside partners such as the Albert M. Greenfield Intercultural Center for their spring break experience focused on civil rights history and the historic relationships between Black and Jewish communities. Additionally, he has facilitated an annual fellowship called Alif Bet that brings together students who speak Hebrew and/or Arabic. He has also traveled internationally with students to Israel, Rwanda and Poland.
At Penn, Ira was certified as an Anti-Violence Advocate (AVA) from Penn Women's Center, and he completed I-CARE Training with Penn's Counseling and Psychological Services to identify the signs of distress and mental health crises that can affect college students. Ira is also recognized by Penn's LGBT Center as a "Safe Space" for lesbian, gay, bisexual, transgender, queer, questioning, ally and intersex students. Additionally, Ira has participated in Hillel's Debra S. and Joseph S. Weinberg ACCELERATE Executive Training Program, preparing top-level professionals to become Hillel directors, as well as Hillel's Fundraising Intensive. Ira has been committed to advancing the Hillel movement by mentoring colleagues, contributing to field-wide learning materials such as "Jewish Sensibilities" and teaching Springboard Social Justice and Ezra cohorts.
Ira holds dual master's degrees in Jewish Professional Leadership and Near Eastern and Judaic Studies from Brandeis University. He currently lives in Allentown with his wife, Risa, and their cat, Pumpkin. He is looking forward to returning to Muhlenberg, building new relationships with students, nurturing leadership and provoking emotional, intellectual, social and spiritual growth during critical years of young adulthood. Please click here to find a time to connect.
---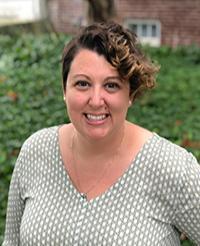 April Cunningham ✉
Assistant Director
she/her
April has more than a decade of experience working with Jewish students at Muhlenberg Hillel. She joined the staff in 2008 as the Office Manager before being promoted to Assistant Director of The Leffell Center for Jewish Student Life. April is honored to have had the privilege of engaging with so many students throughout her time at Muhlenberg. The relationships she has fostered with students, parents, alumni, and community members have been integral in creating experiences and opportunities for our Hillel as well as enriching the diversity of Jewish life on campus.
April is a proud Alvernia University alumna holding a bachelor's degree in psychology. Before coming to Muhlenberg, April worked at her alma mater, first in Institutional Research and later in Community Engagement, helping to connect college students with local youth in an afterschool program focused on outreach, mentoring, and creating a safe haven for young people.
April lives in Reading with her husband, Josh and their two children, Benjamin and Brenna. She enjoys traveling, kayaking, photography, and will never turn down chocolate. She is a swim mom, a dog mom, and the Hillel mom. Above all, April wants students to know that they always have a space in her office to come and chat, laugh, cry, or just be. "Being with students is what fills me up. It is what surpasses all of the other work that I do. Meeting a student where they are and being with them in their best and most challenging moments, humbles me to my core." Please click here to find a time to connect.
---
Lior Shakargy ✉
Jewish Agency for Israel Fellow
he/him
Lior joined the Hillel staff in 2021 as the Jewish Agency's Israel Fellow at Muhlenberg College. Lior was born in Paraguay and grew up in Petach-Tikva, Israel. He has been involved in community outreach since his teens. Lior was part of the Search and Rescue corps in the Israeli Army and on the Summer of 2013 was a camp counselor in a Jewish Summer Camp in Los Angeles. This experience has left a very deep impact on him which carried over to recent years. For the past several years, Lior has been working as a restaurant manager in Israel while working on his bachelor's degree in Film and Television at the University of Tel-Aviv. During his studies Lior directed and produced several shorts films and a short sci-fi movie who got accepted to the Student Film Festival in Tel-Aviv. Lior graduated in the Winter of 2021.

Lior enjoys talking about politics, religion, music and especially film. Lior wants to cultivate at Hillel a space for every student to come and share their thoughts and feeling and engage in conversations about Israel, life and everything in between. Lior enjoys sports, basketball in particular, loves hiking and playing ping-pong and board games.
---
Olivia Rosenblum ✉
Springboard Intrapreneurship Fellow
she/her
Raised in Littleton MA, Olivia attended Skidmore College, where she graduated in May with a B.A. in Classics and minors in Spanish, Art History, and Honors Forum. After spending her first semester in London, Olivia returned to be embraced by her Hillel chapter. After several Shabbat dinners featuring memorable conversations ranging from what makes apple cake Jewish to the conjugation of the word yeet, Olivia joined the Hillel board and stayed on in a variety of positions until graduation. Outside of Hillel, she was busy being a peer mentor for the incoming first-year classes, a student meditation leader, serving in student government and starting an academic club. The pandemic, as unfortunate as it has been, gave Olivia the time to realize the connections between the experiences she loved: Bringing communities together, leadership development, and grounding students in the moment to see challenges as just that instead of problems. Olivia is excited to meet students and help everyone realize that we are a lot more connected than we might realize at first glance! Olivia's go-to get to know you question is "if you could be any kitchen utensil what would it be and why?" She is excited to meet you all and hear your answers! Please click here to find a time to connect.