Martin Art Gallery
The Particular Past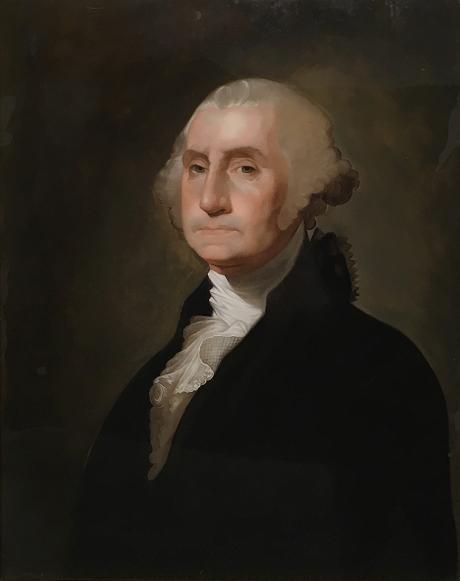 Image: unauthorized copy of Gilbert Stuart's portrait of Washington Foeiqua [Chinese], 1800 - 1805, Reverse painting on glass. From Muhlenberg's Florence Foerderer Tonner Collection
Martin Art Gallery: The Particular Past, In the Galleria Space: 2.14 – 5.20, Opening Reception 2.14 5 – 6:30pm
Featuring works from the collection, and works by Tom Bendtsen, Foeiqua, Sharka Hyland, Andrew E. Johnson, Bang Geul Han, Donald Porcaro, Jessica Posner, Jessica Walker, curated by Martin Art Gallery Director Paul M. Nicholson
The Particular Past explores the spaces between knowledge and belief. By rewriting and reimagining past and present, these artists embody our political and cultural moment where expertise, truth, and even the past are malleable. Shifting between witness and advocate, these artists alternately illuminate and gaslight their way through a conversation on the value of knowledge.
We are in a time where ideology trumps truth, all evidence is suspect, and social and institutional trust seem like notions of the past. In this moment of seemingly capricious truth, The Particular Past does not acquiesce and ebb toward postmodernity, but embraces open discussion. Artists in this exhibition demonstrate the tension between deities and defiance through objects, ideas, and experiences helps us come to terms with this moment of radical social and political change. In an effort to understand this epic shift in ho we see the world, this exhibition functions as an act of collective introspection.
Jessica Walker and Jessica Posner interrogate historical narratives through a subversive cultural lens, employing stereotypes to survey the body politic. Layered constructions by Tom Bendtsen and Donald Porcaro intermingle foundations of knowledge with the fundamentals of civilization. Manicured forms create structures that act as architectonic talismans of paper and stone.
Sharka Hyland presents visions of America through pencil drawings that explore how literary language transcends the distinction between the verbal and the visual. Bang Geul Han projects a more jarring reality through her 2017 piece Through the Gaps Between My Teeth, which deconstructs the transcript from President Trump's Access Hollywood tape, using his transgressive words in a generative animation that reassembles the text to form accounts of sexual assault posted on Twitter.
Andrew Ellis Johnson's Strewn shows pigs in a field of books, rooting around, eating, lounging in a muddy library. Johnson notes about this piece that "In fiction, swine have acted as agents of both revolution and repression; in reality, they have been agents of anti-intellectualism. During Pol Pot's regime in Cambodia, the National Library was used as a stable and piggery. Its books fueled cooking fires, their pages rolled for cigarette papers. … The uneducated were glorified - as they are in other countries today."
Works in The Particular Past question the broader implications of our actions and attitudes toward truth and justice. Looking to the past for inspiration, these artists work within a critical framework that aspires to an ethical, just, and self-aware humanism rooted in democratic principles.
Click here to see the Morning Call's exhibition review of the Particular Past
Artist Bios:
Tom Bendtsen was born in Copenhagen Denmark, raised in Canada. He did his undergraduate work at OCAD in Toronto, before completing an MFA at SUNY Buffalo in 2003. He has exhibited his works at the Albright-Knox gallery in Buffalo, N.Y., Grounds for Sculpture in Hamilton N.J., Southern Alberta Art gallery in Lethbridge, The Rooms in St Johns NFLD, OpenSpace in Victoria B.C. Canada. He has also exhibited at the Koffler Gallery, Mercer Union, and has contributed to a variety of self generated exhibitions in the Toronto area. He was a featured artist at Toronto's 2008 Nuit Blanche and 2009 Luminato festivals of contemporary art. His films have been widely screened in Europe, Canada and the USA. He has also received grants from the Toronto; Ontario and Canada council for the Arts and in 2006 was awarded a Chalmers Art Fellowship. He is currently lives and works in Philadelphia.
Bang Geul Han's work has recently been exhibited as part of Bronx Calling: The Fourth Aim Biennial at the Bronx Museum of Arts, NYC; Queens International 2016 at Queens Museum, NYC; and Play: Power at the Pulse Contemporary Art Fair in Miami, FL. Han is the recipient of numerous artist residencies and fellowships including the Lower Manhattan Cultural Council's Workspace program (2011-2012), MacDowell Colony (2009) and Skowhegan School of Painting and Sculpture (2007). Han is the 2017-2018 Visual Artist Fellow at the Center for the Emerging Visual Artists in Philadelphia, PA. Han holds an MFA in Electronic Integrated Art from Alfred University and BFA in Painting from Seoul National University in Seoul, Korea. She lives and works in New York City.
Sharka Hyland's recent solo exhibitions include Musik: Atem der Statuen at Galerie Dittmar, Berlin, Germany, Les Phares at The American Gallery, Marseille, France, and "this thing we call a city" at Gallery Joe, Philadelphia, PA. Her work is currently on view in Buchwelten at Altana Foundation, Bad Homburg, Germany and in PaarWeise at Galerie Martin Kudlek, Cologne, Germany. Hyland is a 2015 Bader Fund Grantee for her project on David Foster Wallace. In the same year she was a Civitella Ranieri Visual Arts Fellow in Umbria, Italy.
Hyland received her MFA from Yale University School of Art in graphic design (1988). She studied art history at École du Louvre, Paris (1992) and comparative literature at Albert-Ludwig University, Freiburg, Germany (1983). Born in 1954 in Czechoslovakia, Hyland immigrated to the US in 1984, and lives and works in Philadelphia.
Don Porcaro is a New York-based sculptor whose work explores the nature of human interaction with the physical world through architecture and man-made objects like tools and toys. His work has been exhibited nationally and internationally, and has been reviewed in The New York Times, Sculpture Magazine, Art in America, Artnews, BOMB and Newsday, among others. In 2007 he was the subject of a featured profile in Sculpture magazine, and in 2011 was the U.S. representative at the 50th Forma Viva International Sculpture Symposium in Portoroz, Slovenia. He was nominated in 2013 for the International Sculpture Center's prestigious Educator of the Year Award, and is the recipient of a 1991 Teaching Excellence Award from Parsons the New School for Design, where he has been a professor of Fine Arts since 1986. Porcaro received his MFA in Sculpture from Columbia University.
Jessica Posner (b. 1985, Boynton Beach, FL, USA) is a feminist, multidisciplinary artist, writer, and healer. She weaves together humor, poetic devices, and sociopolitical context through absurd, poignant works that model emotionally honest, non-judgmental, and resilient relationships to our bodies, language, and presence. Recent exhibitions, performances, and screenings include the Everson Museum of Art (Syracuse, NY), Leslie-Lohman Museum of Gay and Lesbian Art PSPS (NYC), La Mama Galleria (NYC), Movement Research at Judson Church (NYC), Yale School of Art (Hartford, CT), Alfred University (Alfred, NY), and PULSE PLAY Miami Beach (Miami, FL). In 2017, Posner was an Artist-in-Residence for the Everson Museum of Art's "Seen & Heard: An Active Commemoration of Women's Suffrage" exhibition, for which she produced the VENUS butter sculpture. Her 40-minute experimental performance film BUTTER BODY POLITIC (2017)—which culminates four years of Posner's performance-based research into butter as a metaphor for a delicious, slippery, fat, feminist, queer, resilient body politic—received a 2016 CNY Arts Individual Artist Commission, a regrant program of the New York State Council on the Arts (NYSCA) administered by CNY Arts.
Posner received an MFA in Fine Arts from Parsons The New School for Design in 2013. She currently lives and works in Syracuse, NY where she teaches art and writing as a Humanities Faculty Fellow at Syracuse University and Lecturer at Colgate University.
Andrew Ellis Johnson's work has appeared in galleries, festivals, public collaborations, conferences, and publications in the Americas, Europe, Asia and the Middle East. He has performed as co-founder of the collective PED in Buffalo, Belfast, Chongqing, Rio de Janeiro, St. John's, and Toronto. Residencies and exchanges over the last decade include those at: Korean National University of the Arts, Seoul; Blue Mountain Center, New York; University of the Arts London, Camberwell; Fayoum International Art Center, Egypt; and Sites of Passage in Jerusalem/Ramallah/ Pittsburgh. He studied at the School of the Art Institute of Chicago (BFA) and Carnegie Mellon University (MFA) in Pittsburgh, where he is Associate Professor of Art.
Jessica Walker is a multidisciplinary artist from Virginia who lives and works in Brooklyn. Her Appalachian upbringing is the focus of recent work through which she interrogates white racial stereotypes. She received her BA in Art History from the University of Virginia and her MFA in Conceptual Information Arts from San Francisco State University. She is an Assistant Professor at Parsons School of Design in New York.