On the Mainstage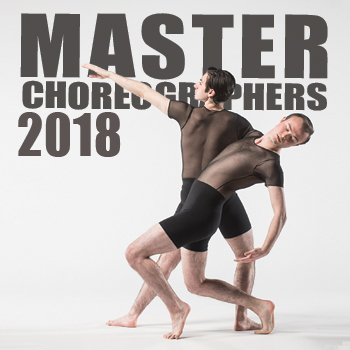 Master Choreographers
Feb. 8-10, 2018
Artist Director: Karen Dearborn
A spectacular evening of ballet, contemporary dance, tap, and jazz, Master Choreographers showcases exciting new dance works choreographed by nationally and internationally acclaimed guest artists and faculty. This season's concert will feature a new work by Baker Artist-in-Residence Tiffany Mills, celebrating the 200th anniversary of Mary Shelley's classic Frankenstein with a piece that deconstructs and reimagines the novel's themes of alienation and isolation.
The concert will also feature pieces by Corrie Franz Cowart, co-artistic director of Co-Art Dance; Heidi Cruz-Austin, alumna of the Pennsylvania Ballet; Shelley Oliver, director of Shelley Oliver Tap Dancers; Jeffrey Peterson, former dancer with Danny Buraczeski's JazzDance; and Randall Anthony Smith, dancer with Armitage Gone!
DANCERS:
Jessica Afflerbach
Emily Aita
Nicollette Amico
Emily Ancona
Emily Berridge
Michelle Blazewicz
Faith Buckley
Alison Calamoneri
Amanda Capasso
Chelsea Carnevale
Janine Clark
Mica Curtin-Bowen
Shantell Cruz
Jacqueline D'Amico
Anthony de Marte
Amber Dietrich
Abigail Dodds
Heather Downey
Heather Dutton
Gabi Feuer
Marissa Finkelstein
Madeline Flaherty
Olivia Garcia
Tommy Gedrich
Lilianne Gering
Emi Giuseffi
Alex Goshert
Krista Grammerstorf
Gabrielle Gross
Renee Heller
Jordan Horne
Alicia Houser
Alanna Jacobs
Anne Kitz
Kyra Kramer
Sarah Kremen
Meredith Krewson
K. Cheyanne Leid
Grace Levengood
Abigail Linnemeyer
Morgan Litzenberger
Ariana Lopez
Winfield Maben
Mary Rollins Mathews
Lauren McGinty
Heather McKeown
Elisa Miwa
Julian Mone
Melissa Morse
Emma Parente
Rebecca Phillips
Caitlyn Raia
Julianna Rick
Aly Rutherford
Lindsey Sharp
Emily Sheppard
Samantha Sibilia
Jenna Tormey
Ashley Veglia
Catherine Ward
Audrey Yan
Karlie Lynn Zabin

Thursday, Feb. 8, 8 p.m.
Friday, Feb. 9, 8 p.m.
Saturday, Feb. 10, 2 & 8 p.m.
Empie Theatre, Baker Center for the Arts
Tickets
484.664.3333
or online.