Amaney Jamal, professor of politics and director of the Mamdouha S. Bobst Center for Peace and Justice, to participate in Center for Ethics event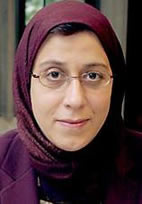 Jamal's talk will examine various aspects of civility and disobedience within Palestinian politics
Tuesday, March 24, 2015 01:09 PM
The Muhlenberg College Center for Ethics welcomes Amaney Jamal, professor of politics at Princeton University and director of the Mamdouha S. Bobst Center for Peace and Justice. Jamal's talk, "Internationalization or nothing else? The Palestinian struggle for a two state solution," will take placeon Tuesday, March 31, 2015, at 7:30 p.m. in Miller Forum, Moyer Hall. This event is free and open to the public.
Jamal is President of the Association of Middle East Women's Studies (AMEWS). The focus of her current research is democratization and the politics of civic engagement in the Arab world. Her interests also include the study of Muslim and Arab Americans and the pathways that structure their patterns of civic engagement in the U.S.
Jamal's books include Barriers to Democracy, which explores the role of civic associations in promoting democratic effects in the Arab world (winner 2008 APSA Best Book Award in comparative democratization); and, as coauthor, Race and Arab Americans Before and After 9/11: From Invisible Citizens to Visible Subjects (2007) and Citizenship and Crisis: Arab Detroit after 9/11 (2009). Her most recent book, Of Empires and Citizens, was published by Princeton University Press, Fall 2012.
In addition to her role as director of Princeton's Workshop on Arab Political Development, Jamal is a co-director of Princeton's Luce Project on Migration, Participation and Democratic Governance in the U.S., Europe and the Muslim World; principal investigator of the Arab Barometer Project, winner of the Best Dataset in the Field of Comparative Politics (Lijphart/Przeworski/Verba Dataset Award 2010); co-PI of the Detroit Arab American Study, a sister survey to the Detroit Area Study; and senior advisor on the Pew Research Center projects focusing on Islam in America (2006) and Global Islam (2010).
This event is part of the year-long Center for Ethics series, Civility and Disobedience, under the direction of Brian Mello, associate professor of political science, and Christine Sistare, professor of philosophy. Each year, the Center for Ethics sponsors an intensive series designed to encourage discussion and reflection on a timely, pertinent topic. Center for Ethics programs are free and open to all members of the Muhlenberg campus and the local community.
Founded in 1848, Muhlenberg is a highly selective, private, four-year college located in the Lehigh Valley of eastern Pennsylvania, affiliated with the Evangelical Lutheran Church of America. Muhlenberg offers programs in the liberal arts and sciences, along with selected pre-professional studies and a number of interdisciplinary majors.