'Berg students selected for Air Products Community Internship Program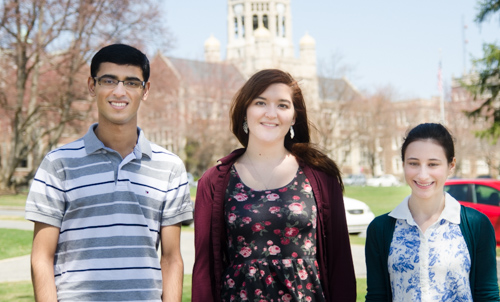 Through their participation, students will engage in the community, gain experience in their intended career fields and learn more about the world of non-profits
Tuesday, April 7, 2015 01:22 PM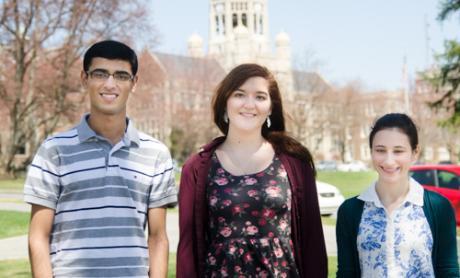 Pictured, from left: Jalal Khan '18, Alison Smith '17, Nicole Roth '16
Five Muhlenberg students have been selected to participate in the Air Products Community Internship Program. This partnership, a collaboration between Air Products and the College's Career Center and Office of Community Engagement, is designed to benefit non-profit organizations in the Lehigh Valley and provide valuable internship experiences for Muhlenberg College students. In addition to work experience, each student will receive a stipend of $2,600 and possible academic credit for their 35 hour/week commitment.
The summer cohort includes:
Nicole Roth '16, Neighborhood Health Centers of the Lehigh Valley
Felisa Wiley '16, Friends of the Allentown Parks
Alison Smith '17, Community Action Development Corporation of Allentown
Jessica Sperber '17, Community Bike Works
Jalal Khan '18, Lehigh Valley Sustainability Network
Through their participation in the internship program, these students will engage in the community, gain experience in their intended career fields, learn more about the world of non-profit organizations and serve a non-profit that could not have afforded to pay an intern without stipend donation.
Founded in 1940, Air Products has built a reputation for its innovative culture, operational excellence and commitment to safety and the environment. Their aim is to develop lasting relationships with their customers and communities based on human qualities: understanding their needs, doing business with integrity and honesty and demonstrating a passion for exceeding expectations.
Founded in 1848, Muhlenberg is a highly selective, private, four-year college located in the Lehigh Valley of eastern Pennsylvania, affiliated with the Evangelical Lutheran Church of America. Muhlenberg offers programs in the liberal arts and sciences, along with selected pre-professional studies and a number of interdisciplinary majors.