Donna Murch, associate professor of history at Rutgers U, gives final lecture in Center for Ethics series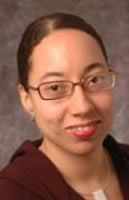 Lecture will examine the origins of the Ferguson protests and their historical relationship to other mobilizations against police violence and militarization
Thursday, April 9, 2015 10:49 AM
Donna Murch, associate professor of history at Rutgers University, will give a talk, "Historicizing Ferguson: Police Violence, Domestic Warfare, and the Genesis of a National Movement" on Wednesday, April 15, 2015, at 7:30 p.m. in Muhlenberg College's Seegers Event Space. This event, sponsored by the College's Center for Ethics, is free and open to the public.
Murch's interests include the urban history of California and New York; civil rights, black power and postwar social movements; history of policing and prisons; and the political economy of drugs. Her talk will examine the origins of the Ferguson protests from early August through today and consider their historical relationship to past and present mobilizations against police violence and militarization.
This is the final event in the year-long Center for Ethics series, Civility and Disobedience, under the direction of Brian Mello, associate professor of political science, and Christine Sistare, professor of philosophy.
Each year, the Center for Ethics sponsors an intensive series designed to encourage discussion and reflection on a timely, pertinent topic. Center for Ethics programs are free and open to all members of the Muhlenberg campus and the local community.
Founded in 1848, Muhlenberg is a highly selective, private, four-year college located in the Lehigh Valley of eastern Pennsylvania, affiliated with the Evangelical Lutheran Church of America. Muhlenberg offers programs in the liberal arts and sciences, along with selected pre-professional studies and a number of interdisciplinary majors.