How Many Muhlenberg Alumni Does It Take to Host a Career Road Trip to Vanguard?
Visiting students networked with 16 Mules who work at the company's main campus outside Philadelphia.
By: Meghan Kita Thursday, November 16, 2017 00:39 PM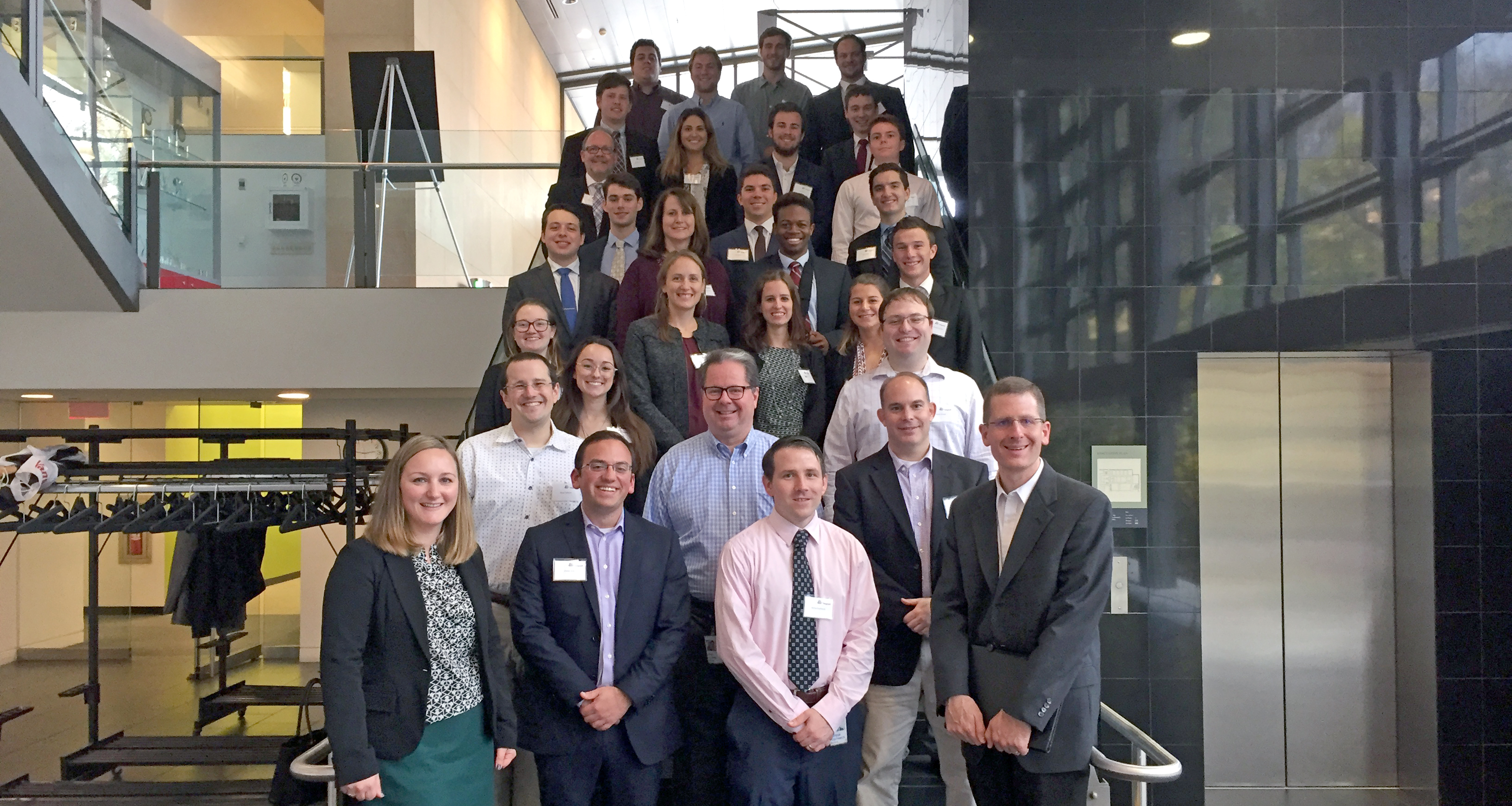 Muhlenberg alumni who work at Vanguard pose with visiting students during the Philly Career Road Trip. Photo by Meghan Kita.
When 17 Muhlenberg students visited the main campus of the investment company Vanguard as part of the 2017 Philly Career Road Trip, Brian Fishbone '98 met them at the door. He took them to a conference room where they enjoyed a networking lunch with seven other Muhlenberg alumni—with grad years ranging from '95 to '17—who rotated from one table to the next throughout the hour. Then, the students heard from a panel of four other alumni "crew members," as Vanguard calls its employees, followed by a small-group discussion with four more alumni. If you're counting, that's nearly a 1:1 student-to-alumni ratio for the day.
"I emailed more people than I thought I would need, and I got close to a 100 percent response rate," says Fishbone, the diversity and inclusion program manager at Vanguard who worked with the Career Center to organize the visit. "They all wanted to be a part of it."
While it's not unusual for Muhlenberg graduates to take the time to meet with current students—alumni in New York City and Washington, D.C., hosted two other Career Road Trips this fall—attracting and retaining so many alumni in one workplace is unique. "People choose Vanguard for a lot of the same reasons they choose Muhlenberg," Fishbone says. "There are some values and cultural things that are the same."
For example, Muhlenberg's liberal arts focus mirrors Vanguard's rotational track, which allows new employees to sample roles in multiple departments. One of the alumni panelists, Katie Southwick '06, an operations consultant at Vanguard, has had six jobs in her 11 years with the company. "I've learned so much about what I enjoy and what I'm good at," she told the students.
Southwick's story also appealed to the handful of visitors with majors outside finance, business, economics and accounting. She was a media & communication major and studio art minor who spent a good portion of her undergrad career sketching things she saw around campus. "There I was, drawing polar bears at Muhlenberg," she joked, recounting the taxidermied specimen that's currently in the stairwell of the New Science Building. "I actually had to Google, 'What is a mutual fund?' the night before my interview."
Fishbone says potential Vanguard employees primarily need to know how to work with other people—they offer training on finance, and they're a large enough company (with 17,000 employees worldwide and 11,000 in Pennsylvania) that there are ample roles in supporting departments for employees who aren't interested in numbers. He and the other alumni offered advice to help students of all backgrounds get hired at Vanguard or, really, anywhere else.
"Don't be afraid to make mistakes, but only make them once and learn from them," alumni panelist Jordan Sones '10, senior manager of end user computing, told students. He and the other three panelists—Southwick, Brian Talbott '03 and Paul Slowik '86, all Vanguard employees since graduation—stressed the importance of preparing answers to behavior-based interview questions, a major part of the hiring process at Vanguard and many other companies.

Molly Chiodo '18, a business major with a concentration in marketing, signed up for the Philly Career Road Trip after a soccer game prevented her from attending the one in New York. "I was not expecting to love Vanguard as much as I did," she says. "In networking with the Muhlenberg alumni, they all seemed very happy with where they were and motivated to continue to thrive in new roles on the crew. I really felt the Muhlenberg vibe in the way that they are a personalized company as well as a close-knit community."