Muhlenberg announces partnerships with Boston University School of Medicine and Boston University Questrom School of Business
The new collaborations build upon Muhlenberg's existing cooperative program relationship with Boston University that began in 2016. That relationship provides exceptional master's program candidates from Muhlenberg with an early acceptance program to Boston University School of Public Health, one of the top graduate programs for public health.
Wednesday, November 22, 2017 09:03 AM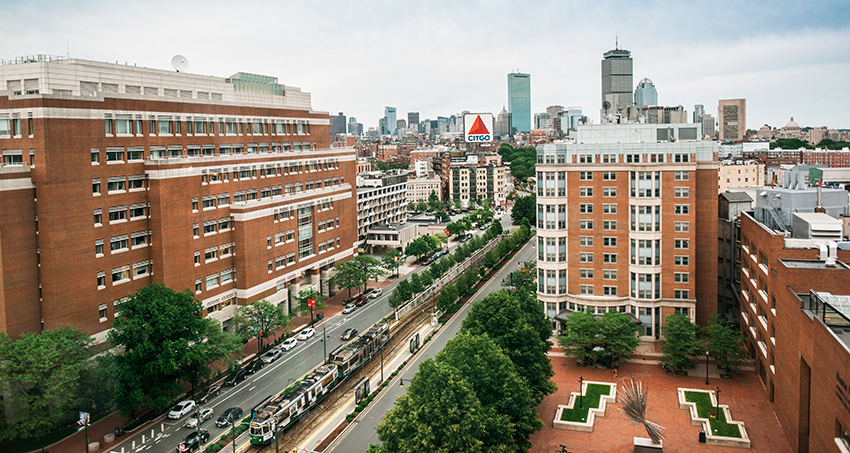 Pictured: Boston University Questrom School of Business, courtesy of Boston University.
The partnership with Boston University School of Medicine (BUSM) provides Muhlenberg students early access to one of the nation's premiere medical schools and gives qualified students a clear path to acceptance midway through their Muhlenberg career.
"Pre-health has long been an exceptionally strong program at Muhlenberg College," said President Williams. "Between 2011 and 2016, 89 percent of students enrolled in Muhlenberg's pre-medical program were accepted to U.S. medical schools, a track record that stands in rare company. We are delighted that our students will now receive opportunities for early access to one of the nation's premiere medical programs through our relationship with Boston University School of Medicine."
"One of our strengths as a medical school is our use of diverse pathways into the MD Program. The newest addition to that effort, our Muhlenberg affiliation, allows us to offer a facilitated admission process to excellent students from this small, highly selective liberal arts college with a long history of strong premed preparation," said Robert Witzburg, MD, associate dean and director of Admissions at Boston University School of Medicine. "Through this modified early decisions pathway, Muhlenberg students can focus on BUSM as early as the spring of their sophomore year, and our Committee on Admissions will have the opportunity to monitor their progress over time. We are excited about this new partnership and the terrific students we expect it will bring to our campus."
Muhlenberg students will typically apply to the program in the second semester of sophomore year, after having completed three semesters and taken six biology, chemistry or physics courses at Muhlenberg. (Juniors will be considered as well.) Qualified Muhlenberg students will then be offered an interview the summer after the student's junior year. Satisfactory completion of an admissions interview will result in conditional acceptance to the joint program pending completion of program requirements.
Boston University Questrom School of Business offers a nine month master's program designed for recent non-business graduates interested in building a foundation in business. The Master's in Management Studies (MSMS) program transcends the typical classroom model by challenging students to solve real business challeneges with partner companies in real time. The program was named one of The Most Innovative Business School Ideas of 2015 by Poets & Quants.
Ken Freeman, Allen Questrom Professor and Dean at the Questrom School of Business, views the corporate partnerships that are at the foundation of the new program as key to the future of business education. "The inventive design and hands-on focus of the MSMS program is breaking new ground—providing students with the skills employers are seeking."
"Our new partnership with Boston University Questrom School of Business affirms the lifelong skills and career potential provided by an education that practices and embraces the liberal arts," said Muhlenberg College President John I. Williams, Jr. "Muhlenberg prepares students to be effective, integrative thinkers empowered to recognize and solve problems and work creatively, collaboratively and comprehensively to meet future challenges."
Qualified Muhlenberg students will receive early conditional admission to the Questrom School of Business and special consideration for scholarships prior to graduation from Muhlenberg. The partnership will continue to expand upon the College's excellent record of post-graduate success. The most recent career survey showed that within six months of graduation, 96 percent of Muhlenberg students were either employed full- or part-time or entering professional study.
About Muhlenberg College
Founded in 1848, Muhlenberg is a highly selective, private, four-year residential, liberal arts college located in Allentown, Pa., approximately 90 miles west of New York City. With an undergraduate enrollment of approximately 2200 students, Muhlenberg College is dedicated to shaping creative, compassionate, collaborative leaders through rigorous academic programs in the arts, humanities, natural sciences and social sciences as well as selected pre-professional programs, including accounting, business, education and public health. A member of the Centennial Conference, Muhlenberg competes in 22 varsity sports. Muhlenberg is affiliated with the Evangelical Lutheran Church in America.
About Boston University School of Medicine
Originally established in 1848 as the New England Female Medical College, and incorporated into Boston University in 1873, today BUSM is a leading academic medical center with an enrollment of more than 700 medical students and 950 students pursuing degrees in graduate medical sciences. BUSM faculty contribute to more than 650 active grants and contracts, with total anticipated awards valued at approximately $700 million in amyloidosis, arthritis, cardiovascular disease, cancer, infectious diseases, pulmonary disease and dermatology, among other areas. The School's teaching affiliates include Boston Medical Center, its primary teaching hospital, the Boston VA Healthcare System, Kaiser Permanente in northern California, as well as Boston HealthNet, a network of 15 community health centers.
About Boston University Questrom School of Business
Boston University Questrom School of Business educates visionary leaders empowered to anticipate change, harness it and impact society to create value for the world. A real-world approach prepares students with a strong foundation in essential business skills enhanced through experiential programs. Their alumni have the education and insight necessary to lead in the global economy as it transforms through digital technology, social enterprise and sustainability, and health and life sciences.
Founded in 1913, Boston University Questrom School of Business has always been a pioneer—from being one of the first to admit women to launching the Business Education Jam, a global online brainstorm that dared to raise bold questions about the future of business education. Questrom offers undergraduate, graduate, doctoral and executive programs. Learn more at bu.edu/questrom