Muhlenberg Celebrates Martin Luther King Jr. Day, Black History Month
The first program included a screening of "Harriet," which explores the life of Harriet Tubman, and a talkback session facilitated by Muhlenberg faculty.
By: Bill Keller Wednesday, January 15, 2020 09:27 AM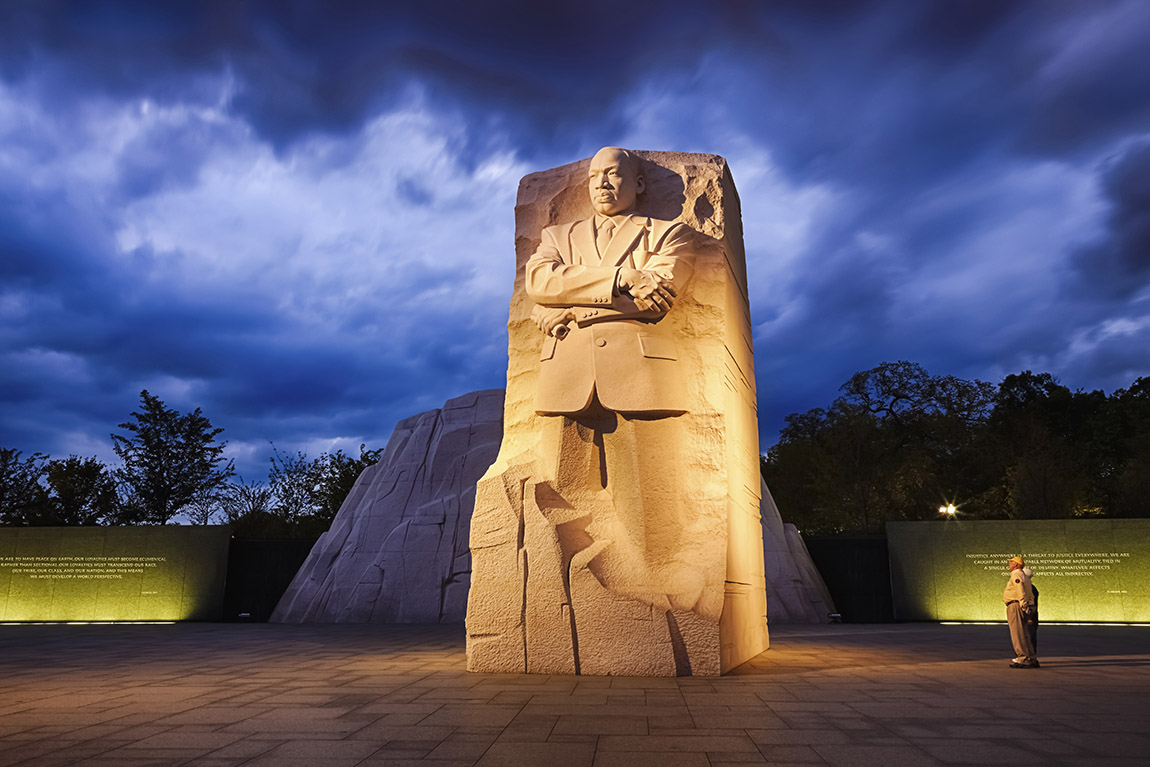 The Martin Luther King, Jr. Memorial, Washington D.C.
The event took place on Monday, January 20, from 6-9 p.m. in the Seegers Union Event Space. The evening was free and open to the public.
Based on the inspirational life of an iconic American freedom fighter, Harriet (Kasi Lemmons, 2019) tells the extraordinary tale of Harriet Tubman's escape from slavery and transformation into one of America's greatest heroes. Her courage, ingenuity and tenacity freed hundreds of slaves and changed the course of history.
Following the film, Muhlenberg faculty members Emanuela Kucik, assistant professor of English and Africana Studies and co-director of the Africana Studies program, and Amy Corbin, associate professor of film studies, hosted a discussion of the film for event attendees.
This event preceded the College's February celebrations for Black History Month, which include:


"Becoming a Drum Major for Justice: Lessons from Martin Luther King's Theory of Political Service"
Justin Rose, Associate Professor of Political Science at Hobart and William Smith Colleges
Tuesday, February 4, at 7 p.m.
Seegers Union Great Room (111-113)
Raising our Banners: Women of Color Challenge the Mainstream Suffrage Movement, part of the Muhlenberg History Lecture Series "A Century of Struggle: Women's Rights Before and After Suffrage"
Cathleen Cahill, Associate Professor of History at Pennsylvania State University
Tuesday, February 11th, 7:00 p.m.
Trexler Library
Celebration of Black Excellence Through the Ages
In Partnership with the African American Business Leaders Council of the Greater Lehigh Valley Chamber of Commerce
Thursday, February 13, from 5-7 p.m.
Seegers Union Event Space

Celebration of African American Poets & Composers series:

Race in Classical Music: Faculty Panel & Discussion
Friday, February 7, at 2 p.m.
Recital Hall, Baker Center for the Arts


Visiting Artists' Recital: Marcía Porter, soprano; Lynn Kompass, piano
Monday, February 10, at 7:30 p.m.
Egner Memorial Chapel

Music Master Class: Marcía Porter, professor of voice at Florida State University
Tuesday, February 11, at 7:30 p.m.
Recital Hall, Baker Center For The Arts

Student-to-Student Presentation (Music)
Wednesday, February 12, at 9:30 a.m.
Empie Theatre, Baker Center For The Arts


Music Department Concert
Friday, February 14, at 7:30 p.m.
Empie Theatre, Baker Center For The Arts


A Raisin in the Sun by Lorraine Hansberry (Theatre)
Thursday, February 20 through Sunday, February 23
Director: Jeffrey Page
Dramaturg: Beth Schachter

With the exception of A Raisin in the Sun, all Black History Month events are free and open to the public.
About Muhlenberg College
Founded in 1848, Muhlenberg is a highly selective, private liberal arts college offering baccalaureate and graduate programs. With an enrollment of nearly 2,000 students, Muhlenberg College is dedicated to shaping creative, compassionate, collaborative leaders through rigorous academic programs in the arts, humanities, natural sciences and social sciences; selected preprofessional programs, including accounting, business, education and public health; and progressive workforce-focused post-baccalaureate certificates and master's degrees. Located in Allentown, Pennsylvania, approximately 90 miles west of New York City, Muhlenberg is a member of the Centennial Conference, competing in 23 varsity sports. Muhlenberg is affiliated with the Evangelical Lutheran Church in America.