Scholarships Forge a Bond Between Today's Students and Alumni Donors
This academic year, donated or endowed scholarships were awarded to 395 students, about a fifth of the student body.
By: Meghan Kita Tuesday, March 24, 2020 07:05 AM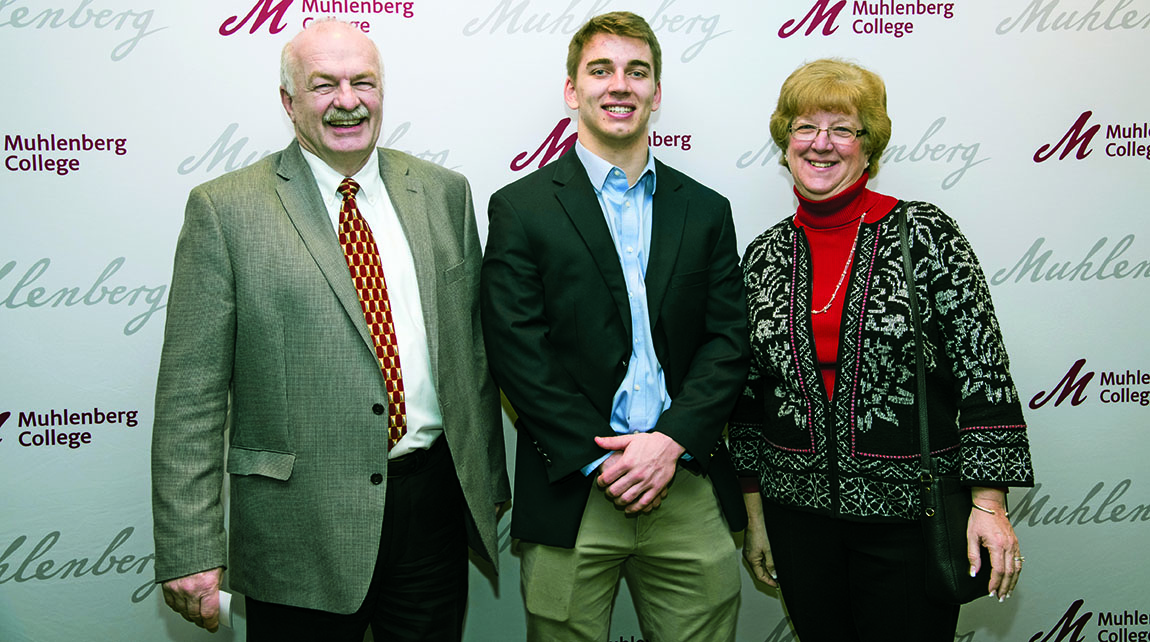 From left: Bruce Bird '77, Nancy Walsh Bird '77 Memorial Scholarship recipient Spencer Kirin '21 and Lynn Bird
Truman L. Koehler Jr. '52 and Jeff Koehler '79 have a long family history of philanthropy at the College, which began with Truman's father, the late Dr. Truman L. Koehler Sr. '24. One of the ways they support Muhlenberg is The Koehler Scholarship, which is awarded to students with majors in the natural or life sciences. What stands out about this type of philanthropy is the personal connection the Koehlers are able to make with the students who receive the scholarship.
"Our current recipient is headed off to dental school next year. We sat down and had lunch last September," Jeff says. "Her goal is to be able to provide dental care for people in her home community. This is extremely fulfilling for us. It was exactly where we were hoping the scholarship would go."
This academic year, donated or endowed scholarships were awarded to 395 students, about a fifth of the student body. "Scholarships funded through donations and endowments help the College further its resources so we can help as many deserving students as possible," says Rob Springall, vice president of enrollment management. "Scholarships also help Muhlenberg attract talented students. A Muhlenberg academic scholarship celebrates a student's past accomplishments and encourages them to continue to do their best."
Bruce Bird '77, a trustee who was a chemistry major at Muhlenberg, established The Nancy Walsh Bird '77 Memorial Scholarship in 2010 in memory of his late wife. Bird says he wouldn't have been able to attend Muhlenberg without financial support and believes he has a responsibility to pay it forward. He also has enjoyed the opportunity to meet recipients at the annual scholarship luncheon Muhlenberg hosts for students and donors.
"You always know the money's going out to a deserving person," Bird says, "but being able to put a face to the name and to hear about them and what their aspirations are and what their story is, it gives you more meaning."
One goal of the endowed scholarship program is to generate this kind of meaning: "Scholarships allow the College to both address students' financial needs and connect them with legacies that our donors are celebrating with their generosity," Springall says. "Scholarships give Muhlenberg a tangible way to recognize students' connections with the programs, places and people that our donors hold most dear to them."
What Chris Getz '04 P'09, who established The Chris '04 P'09 and Bonnie Getz P'09 Endowed Scholarship with his wife last year, holds most dear is the Muhlenberg College School of Continuing Studies (formerly known as the Wescoe School of Continuing Education). He was able to finish his bachelor's degree after running a successful auto-body business, and he wants to help other students achieve what he did. The Getz Scholarship will be awarded with preference to Continuing Studies students, with second preference to students studying business administration or innovation & entrepreneurship.
"I was helped by so many people when I needed it, in my business career and at Muhlenberg," Chris says. "When you receive help in so many ways, you start to think, 'What can I do to help?'"