The Grief of a Spring Semester Cut Short
All students—seniors especially—are grappling with what they're missing by being away from Muhlenberg right now.
By: Meghan Kita Monday, April 20, 2020 01:38 PM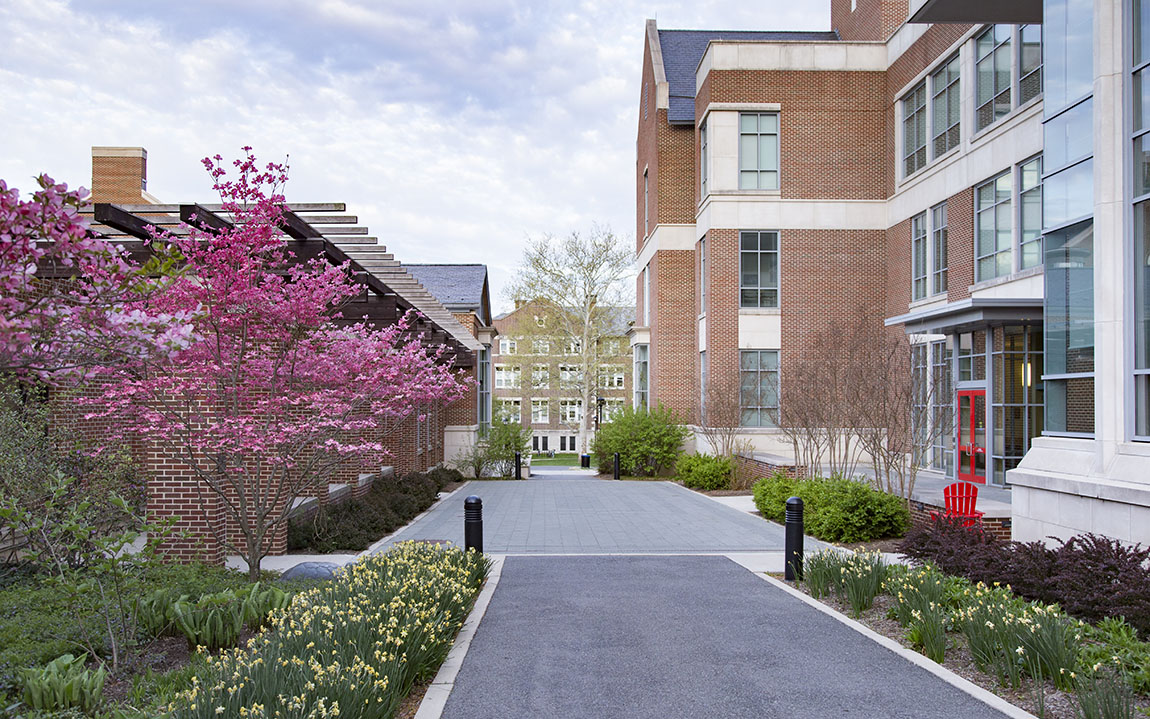 Campus in springtime. Photo by Paul Pearson.
Senior year comes with stressors: It's the culmination of four years of study and work, and by the final semester, students might find themselves saying, "Oh my gosh, we are ready to be done with this." Marta Rardin '20 remembers hearing comments like that among her friend group in January and February. A campus shutdown due to a global pandemic, however, was not what they had in mind.
"A fact of graduation meant we would be parting ways—some of us for good, some of us not for good. The relationships we've built would be changing," says Rardin, an environmental science major and religion studies minor. "Not getting these final months to just be present, physically present with friends, is gut-wrenching."
Students, like everyone whose lives have been upended by COVID-19, are experiencing grief, says the Rev. Kristen Glass Perez, college chaplain. "Grief is the process human beings go through when they've experienced a loss," Glass Perez says. "It's really part of the human condition. It helps you move through the big thing that's happened or is happening."
For seniors, that grief is exacerbated because they know they won't be returning for another academic year. They've lost the timeline they'd anticipated throughout their time at the College for the buildup to and execution of senior week events and commencement.
"There is a really deep sense of wanting that 'one more moment' that they haven't been able to have yet to celebrate," says Allison Gulati, vice president for student affairs and dean of students. "We're going to make certain to provide that in the future. But even recreating that at another point doesn't replace or change what's been lost in that senior year, when there's so many formative moments that happen."
While most students have been able to continue their coursework remotely, what they've lost is everything else that comes with being together on the College's residential campus. For some, that means canceled performances, athletic seasons and/or opportunities to showcase their research or art. For all, it means physical separation from roommates, friends and mentors.
"I'm a busybody. I was not put on this earth to ride down the lazy river," says Zaire Carter '22, a political science and theatre double major. Among other things, he's a tour guide, a resident advisor, the president of the Men of Color Network and the secretary of the Emerging Leaders Council. He's also an active participant in the College's theatre scene (including as the director of this fall's Sedehi Diversity Project).
"I really, really miss all of that connectivity," he says. "Being at home, it's like the walls are closing in on me."
Liora Finkel '22, a religion studies major, misses the spontaneity of running into friends in the dining hall or in Seegers Union and the beauty of campus in springtime. And while she's enthusiastic about continuing her classes remotely, it's not quite the same: "I miss the ability to just stop into my professors' offices for no reason but to just talk," she says.
Nisha Godbole '20, a biology and public health double major, is having trouble staying equally motivated at home: "A lot of it has to do with the energy and passion you see on campus," she says. "Everyone's so into what they're doing and so interested in what other people are doing."
Students are staying in touch with one another in a variety of ways: FaceTime, phone calls, group chats. Finkel talks to her roommate every day. Godbole has "shared a meal" via FaceTime with apartment-mates from the Village. Rardin has pledged to write a physical, snail-mail letter every day on top of connecting via phone and videochat. Carter dug out an iPad he rarely used before in order to FaceTime with friends while they're watching movies or otherwise just hanging out. But none of it can replicate being together physically—it's more effort for less reward.
For seniors Godbole and Rardin, a sense of closure will come whenever it is that they're able to return to campus and be among friends again, for the celebratory events Gulati and other administrators are planning. (The College has announced that an on-campus commencement ceremony and baccalaureate program is being planned for the weekend of October 17 and 18.)
Both Finkel and Carter, who will be juniors the next time they're likely to be on campus, see this moment as a wake-up call of sorts—a reminder that college lasts only four years, at best, and that it's a special time not to take for granted. And the absence, however long it lasts, is likely to make students even fonder of the people and places they were forced to spend time apart from.
"Slowly and surely, restrictions are going to start to lift. Businesses will reopen, parents will go back to work, schools will begin to open, restaurants will begin to open and we are going to be told to come back," Carter says. "And when we do, the electric connectivity, the fire that's going to happen—not just on Muhlenberg's campus, but all around the United States and the world—is going to be a pure joy to experience. It's going to be phenomenal."