Biology Courses Propel Graduate Toward Med School
Bahaa Abdellatif '21 found success in the classroom and a sense of fulfillment in the community.
By: Heather Mayer Irvine Wednesday, December 8, 2021 10:36 AM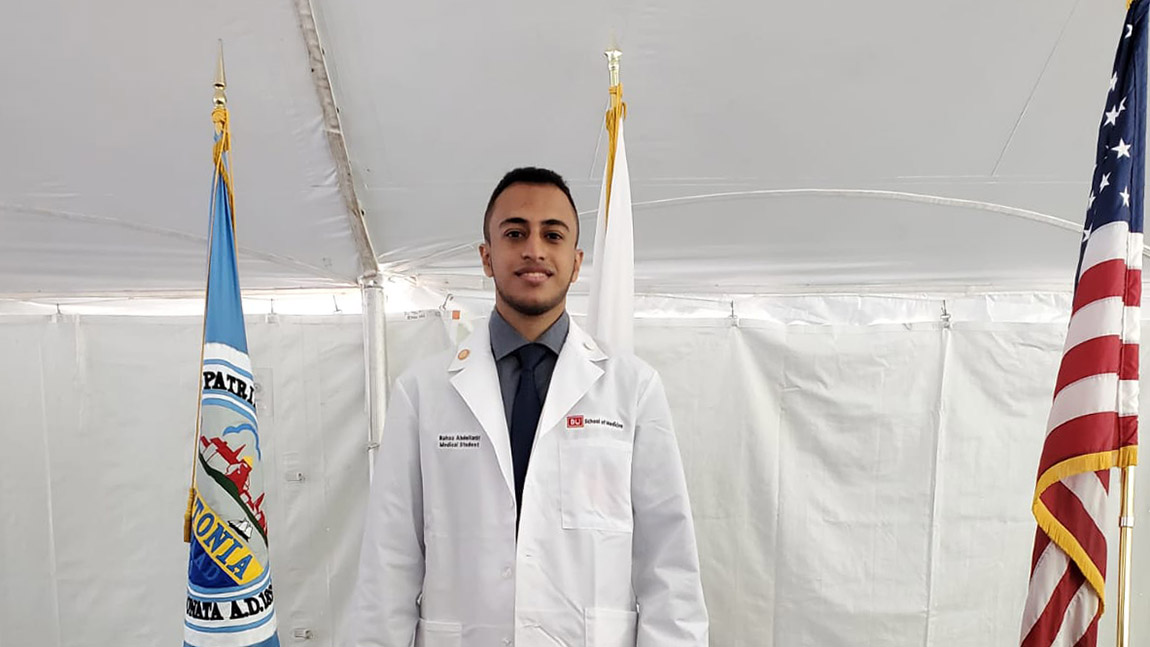 Photo courtesy of Bahaa Abdellatif.
Bahaa Abdellatif '21 jokes that he wanted to be a doctor in high school "just like everybody else." Or, at least, anybody who didn't want to be an engineer. But once he started seriously considering pre-med programs, he landed on Muhlenberg College and its biology major.
"During my time at Muhlenberg, it really hit me that [being a physician] is what I wanted to do with the rest of my life," Abdellatif says. "I felt my passion truly starting to form while taking science courses in college."
To say Abdellatif took advantage of every opportunity the College and the surrounding community had to offer would be an understatement. Over the course of his four years, Abdellatif served as president of BYOB (Be Your Own Boss) entrepreneur club during his senior year, worked as a learning assistant for biology courses, conducted two research projects with Professor of Biology Erika Iyengar, volunteered for the Lehigh Valley Hospital and shadowed healthcare professionals during school breaks.
"I wanted to make sure I knew all the pros and cons of going into medicine, so I did a lot of research," he says.
His work for BYOB, he says, was to help him think more creatively, outside of the science box.
"The small environment at Muhlenberg provides a lot of opportunities to be involved," he says, noting he was inspired by two first-year workshop groups—biology and chemistry. During his junior and senior years, Abdellatif led two biology workshops.
"There is awesome leadership experience that I never would have gotten at a large school," he says.
Abdellatif is wrapping up his first semester at Boston University School of Medicine, and he says it's the coursework at Muhlenberg that helped him prepare for success in a grueling med school environment.
"Muhlenberg installed in me a love of science and that [came with me]," he says.
Abdellatif's fieldwork, so to speak, in the Allentown community has prepared him to become the best physician he can be, he says. He would walk 10 minutes from campus to the Lehigh Valley Hospital to help transport patients, change sheets and conduct other seemingly mundane tasks.
"The hospital setting is where I want to spend the rest of my life, so I wanted to give back to that system," he says. "It's the little things, for example, putting a blanket on a cold wheelchair seat and seeing a patient's eyes light up because they know you care."
He acknowledges the importance of physicians being immersed in their communities, pointing out that that engagement leads to better clinical outcomes.
"When you're immersed in the community, you learn the struggles of the community, and that helps you treat your patients better," Abdellatif says.
As for undergraduates considering pre-med? Take the process, which is overwhelming and scary, he says, one step at a time.
"One grade does not define you," he says. "Enjoy your time in school and do what you love. Not because your parents want you to do it or what will make the most money. Do what you love. Your four years will go by way quicker than expected. Make the most of it."