Personally Speaking: Michelle Rajan '21
Michelle Rajan is a neuroscience major on the premedical track and a creative writing minor from Phillipsburg, New Jersey.
Tuesday, March 2, 2021 02:24 PM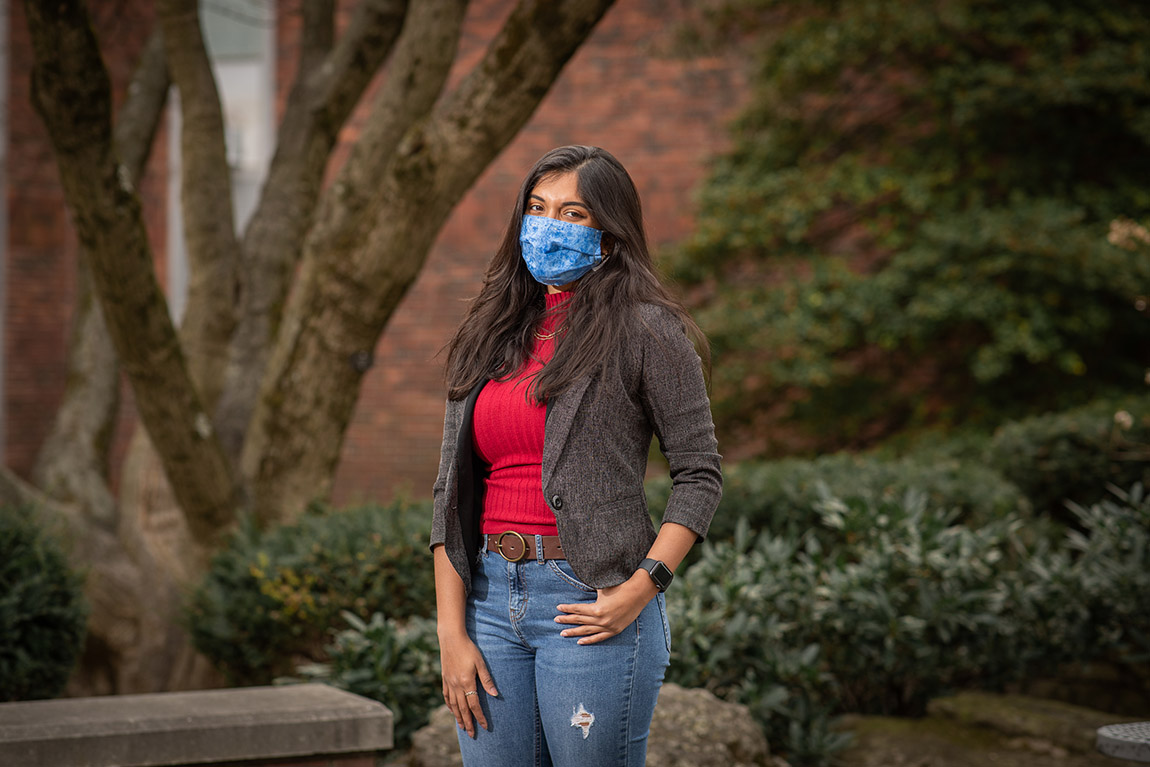 Michelle Rajan '21. Photo by Marco Calderon
Personally Speaking is a feature of Muhlenberg Magazine in which our writers interview students and alumni about their own personal stories. This article was originally published in the Spring 2021 issue of Muhlenberg Magazine.
She's been interested in the brain since she was young.
"When I was in third grade, my grandmother had a stroke. She lived in India, so when we would visit every summer, we would try to help her walk and eat. I kept thinking, 'How could something in your brain cause all of this?' That got me interested in strokes, and when I was touring colleges, I saw it was possible to major in neuroscience. One thing I liked about Muhlenberg was that I could do a neuroscience major and a creative writing minor—the College seemed to value both."
She channeled a long-time passion for writing into a manuscript for a young-adult novel.
"I've always been reading and writing. I knew I wanted to write a book one day, but in the fall of junior year, I sat down and did it. Every morning, I would wake up at 7, and by 8, I was sitting at Java Joe's, typing away. It became the story of a South Asian teenage girl who has a magical power that gives her talent in playing the guitar. The novel is her trying to figure out how to get control of her magic while also getting into her dream college. In taking Writing Children's Literature last fall [with author and Lecturer of English Nisha Sharma '07], I learned what revisions I need to make. This spring, I hope to start querying literary agents."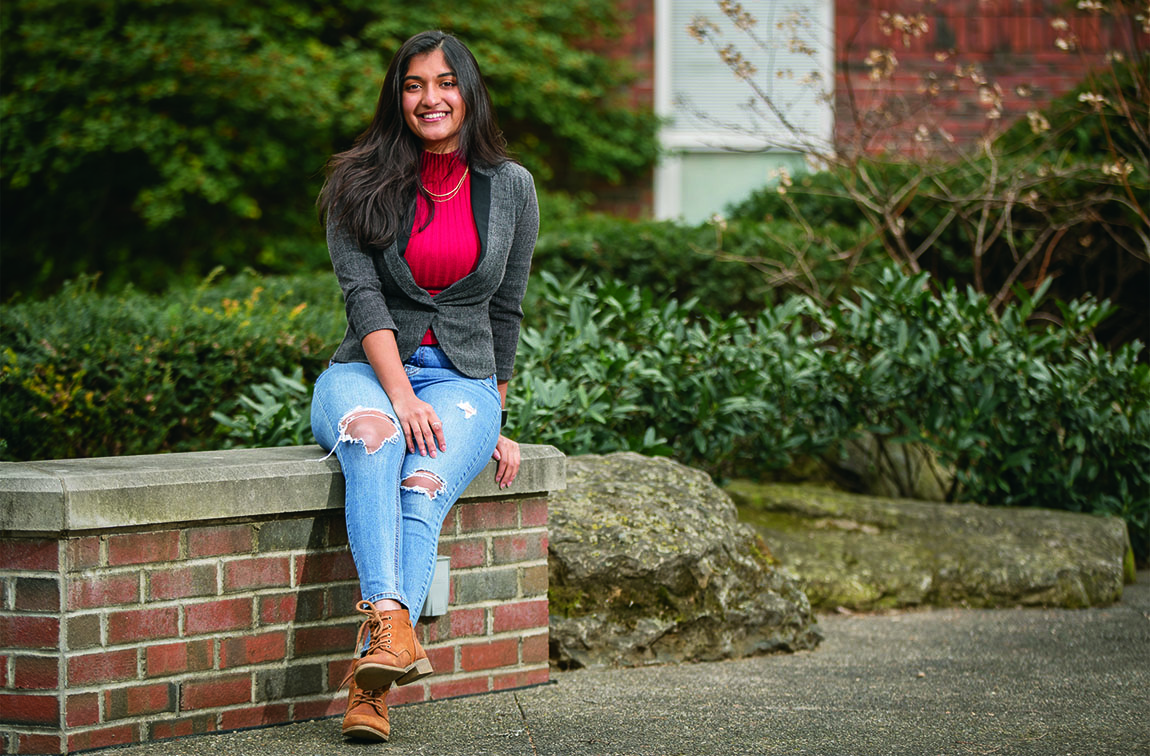 One of her many co-curricular roles is as station manager at WMUH …
"I was born in India, so Malayalam was my first language. Even as English became my more dominant language, I would listen to Bollywood music and watch Bollywood movies. I picked up a lot of Hindi along the way. When I came to Muhlenberg, the radio station was not on my mind at all. But at the fall activities fair my first year, I saw the table for WMUH, and I remember thinking, 'Wouldn't it be so cool if I could play my Bollywood music on the air, along with Malayalam music, along with English music?' I didn't think anyone would want to listen—I was insecure about my racial identity and how that would come across to white audiences. My family and my boyfriend were like, 'You'll have us listening. Go for it.' Once I started my show, Continental Drift, I grew more and more interested in what the station was about in general."
… and last summer, she expanded her show to include interviews with students, alumni and faculty.
"When COVID happened, I started sending in virtual shows, but it felt so lonely since I wasn't in the station. So, I started recording interviews to air as part of my show every week. I was trying to bring the Muhlenberg community a bit closer and hear how the virus was affecting everyone. At the beginning, it was just COVID, but then George Floyd was murdered. I would hear a lot about how there are two viruses in this nation, COVID-19 and racism, and I thought, 'We should talk about them both.' I interviewed [Stanley Road Associate Professor of Neuroscience Jeremy] Teissere, and we talked about what white privilege looks like. Another person I talked to was Taj Singh '19, who's in Teach for America. Learning about his experience doing that during COVID was part of it, but we also talked about how the opportunity gap and educational inequity didn't just happen—it's all because of racist educational policies and funding."
After graduation, she'll join the educational nonprofit organization City Year in Philadelphia.
"I've known for some time that I would not start medical school until I'd done something in education and mentorship. What drew me to City Year is that you're a tutor in the classroom—the teacher is there to guide you instead of you becoming the teacher [as in Teach for America]. Since I won't have the weight of the whole classroom on me, I can get closer to the students. Because of the pandemic, teachers need more support than ever, especially in communities with public schools that don't receive the funding they deserve."
Then, she'll move onto medical school—she feels most drawn to family medicine.
"In Fall 2019, I did Muhlenberg's premed shadowing program, which meant going into different departments in Allentown's St. Luke's Hospital. I realized I want close human contact. I want to get to know the patients. I've read so much research about racism in health care. If I could work in family medicine and work with marginalized communities of all kinds—in terms of race, gender, sexuality—and try to provide health care that is inclusive at every step of the way, I'd be pursuing the kind of career I want."