Muhlenberg Announces Black History Month Programming
The series was organized by the Muhlenberg College Africana Studies Program, Black Students Association and the Office of Multicultural Life.
Thursday, January 27, 2022 10:19 AM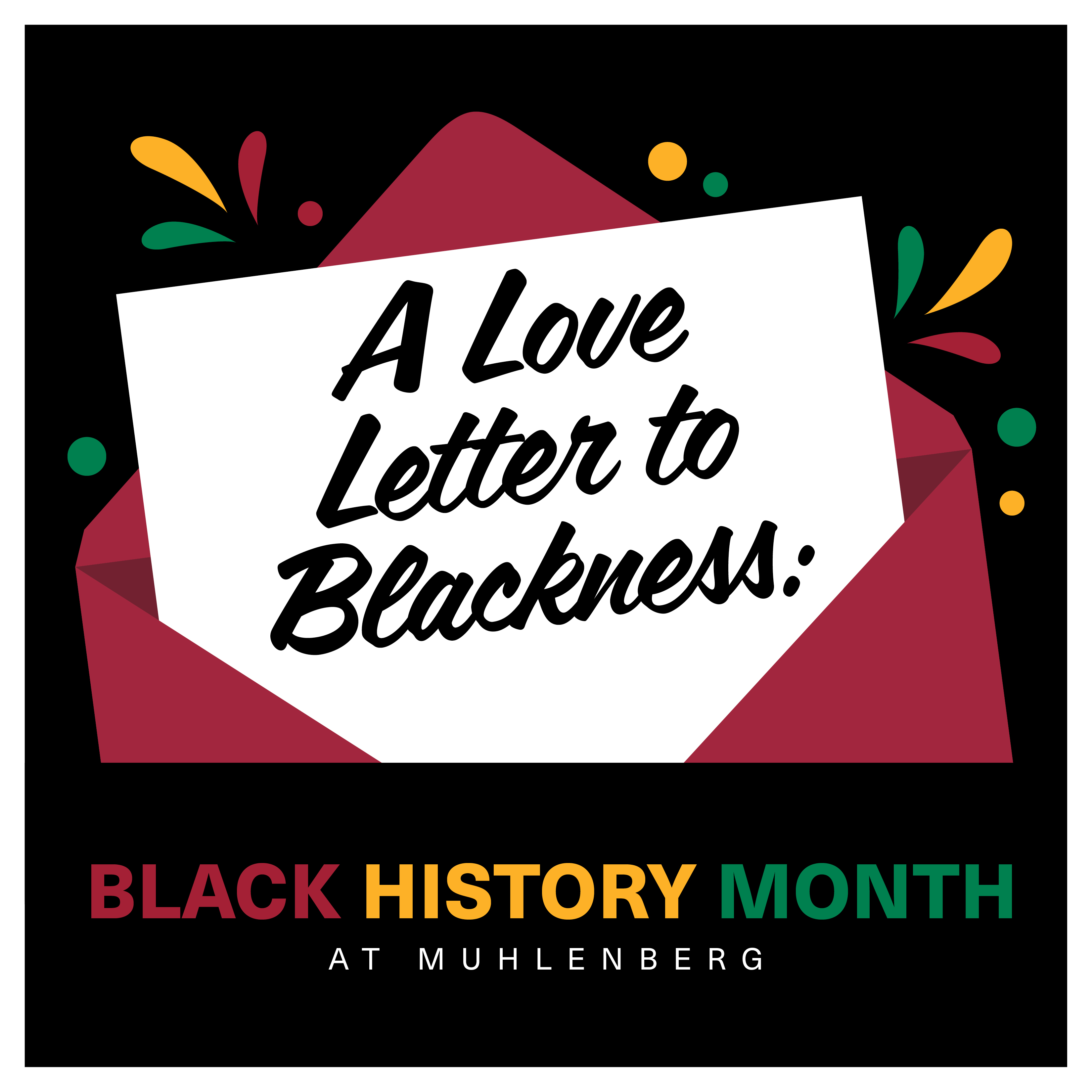 "Proud to Be!" Poster Presentation
February 1 - February 28
Light Lounge, Seegers Union
Stop by all month long to see and reflect upon a collection of quotes from various Black leaders, including those from Muhlenberg's own community.
Love Letters with Lester Mayers
February 3, 6:30 - 8 p.m.
Great Room, Seegers Union
Register
Join the Black Students Association (BSA) as they bring poet Lester Mayers to campus for a multi-faceted performance that explores Lester's personal experiences with love—and the varied ways love impacts us all. Following Lester's performance, BSA's faculty advisor Assistant Professor of English and Africana Studies Emanuela Kucik will facilitate a discussion between Lester and the audience.
Judas and the Black Messiah Film Screening
February 10, 7 - 9:30 p.m.
Event Space, Seegers Union
Join the BSA for a screening of Judas and the Black Messiah. Assistant Professor of English and Africana Studies Emanuela Kucik will open the event with background context on the Black Panther Party that dismantles commonly-held myths about the group and emphasizes the Party's focus on loving and supporting Black populations across the world. Following the screening, Kucik will facilitate a conversation about the film.
Toward Diversity: Black Experiences at Muhlenberg College, 1925 - 2021
February 15, 6:30 p.m. - 8 p.m.
Zoom (details to follow)
A group of Muhlenberg faculty and students have been diligently looking through archives and conducting interviews to piece together a robust history of the experiences of Black students, faculty and staff at Muhlenberg; their fight for equity; and the ways that their love for Black communities undergirded that fight. They have created a website that documents their findings, and this event will celebrate the public launch of this website.
Join the Africana Studies Program as we engage in conversation with the project creators and several Black alumni from the 1970s to debut the website and discuss the experiences of Black communities at Muhlenberg over the past 50 years.
Event Participants and Co-Organizers: Samantha Brenner '21, Hailey Petrus '23, Digital Cultures Media Assistant Anthony Dalton, Special Collections & Archives Librarian Susan Falciani Maldonado, Professor Emeritus of Media & Communication Kate Ranieri, Professor Roberta Meek, Professor Emanuela Kucik
A Love Letter to Blackness Gala
February 20, 3 - 5 p.m.
Event Space, Seegers Union
Join the Office of Multicultural Life for our annual Gala celebrating our Black community on campus. The event will feature a keynote speech by Hasshan Batts, a variety of musical performances and poetry and spoken word from student leaders.


---
Unless otherwise noted, events are free and open to the public. At the time of this article's publication, all attendees must wear a mask, regardless of vaccination status. Food and drink will not be provided, and external food and drink are not permitted. Should event or visitor policies change, descriptions and event locations (including streaming locations) will be added to this article.