Lights, Camera, Action
Assistant Professor of Film Studies David Romberg takes a hands-on, team-focused approach to teaching students about the art of cinema.
By: Meghan Kita Friday, April 1, 2022 08:28 AM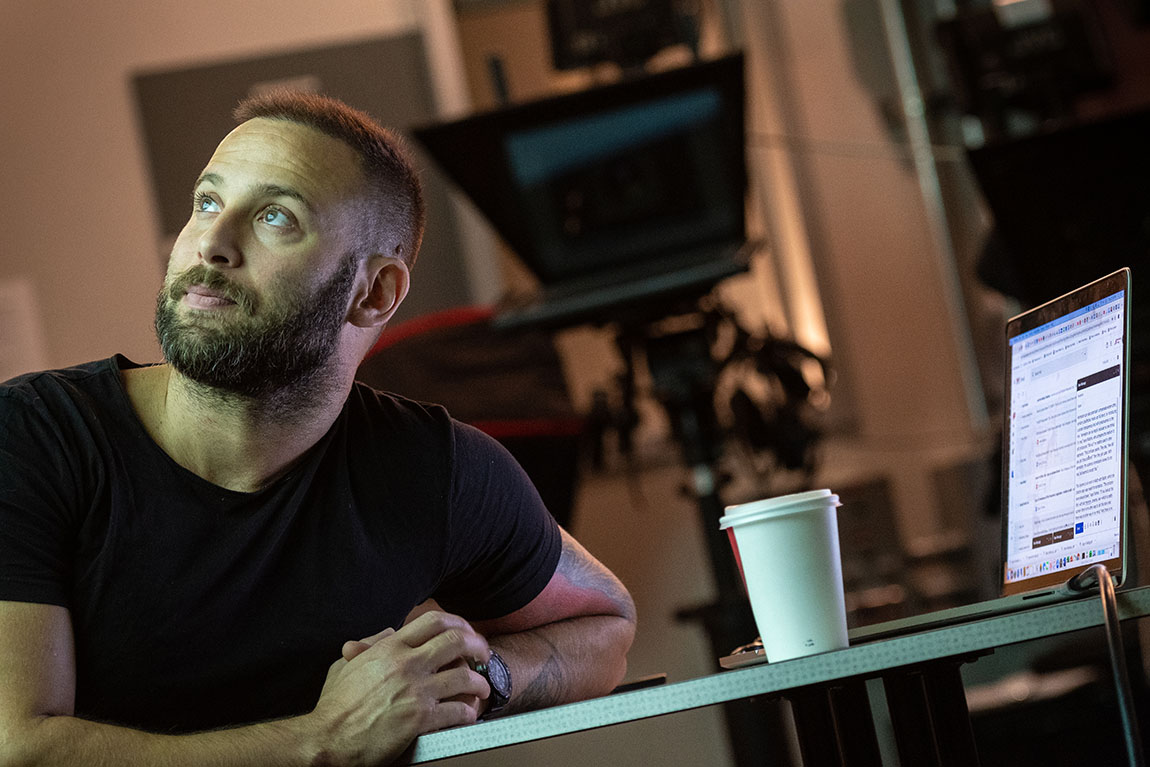 Assistant Professor of Film Studies David Romberg. Photos by Ryan Hulvat
Last fall, Assistant Professor of Film Studies David Romberg was teaching a special topics course, Cinematography, as well as Advanced Video Production for senior film studies majors. He'd taught each course separately in the past; this time, he brought the two classes together. The idea was "to get the students to experience the making of cinema in a way that mirrors the way films are actually made outside of school, in the real world."
In the real world, it takes a crew to make a movie, so Romberg divided the students into four teams. Each team had one or two Advanced Video Production students filling a producer/director role plus a "crew" of four or five Cinematography students. The producer/directors had taken Romberg's other courses (in subjects like screenwriting and pre-production) so they already had polished scripts for their teams to consider and some understanding of what such a project would need. Those students led their teams and handled tasks like fundraising, location scouting, securing releases for actors and editing.
The Cinematography students were responsible for creating shot lists and storyboards, going to locations to test the lighting and actually shooting the films. In the process, they learned how to use the state-of-the-art cameras, lights and other tools the Department of Media & Communication provides for its students.
"Building their own communities, working together outside of class … that's a big part of what filmmaking is about," Romberg says. "Throughout this kind of collaboration, the students are also learning about film terms and film theory. They're not just studying film theory—they're practicing it."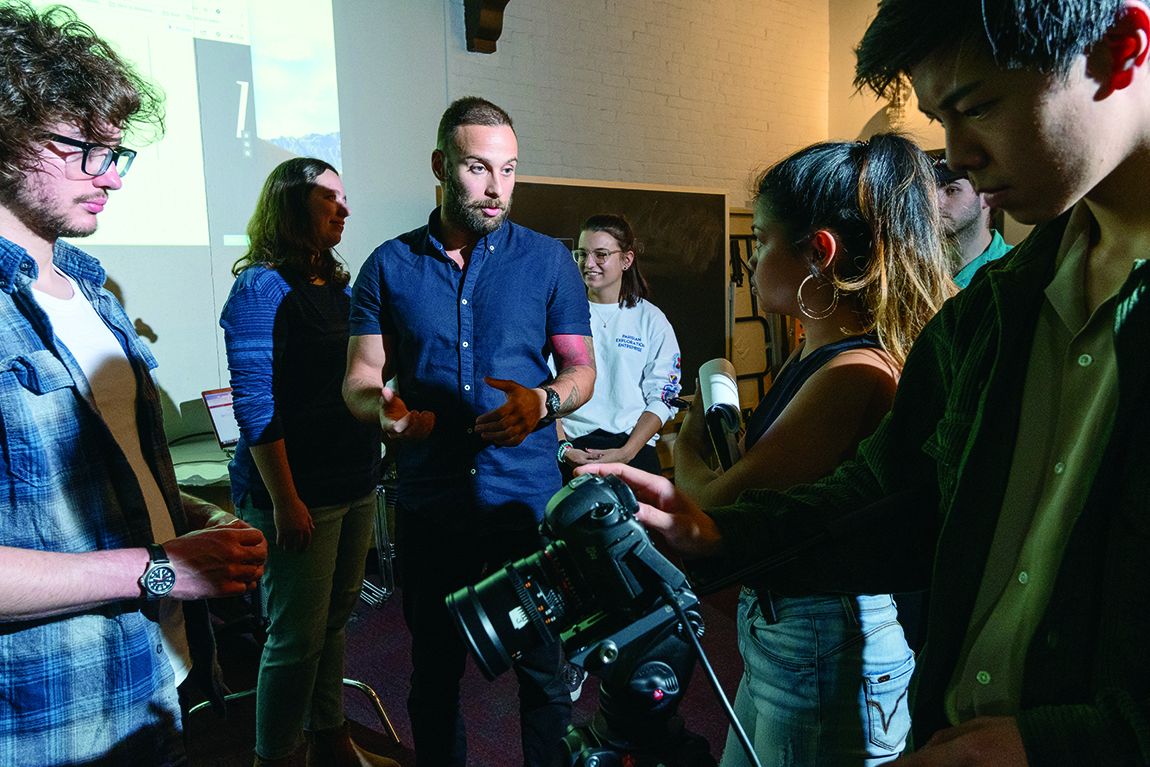 Assistant Professor of Film Studies David Romberg (center) teaching Cinematography in Fall 2019
Romberg joined Muhlenberg in 2019 after teaching at his alma mater, Temple University. Temple offers an entirely production-focused major, so he was accustomed to working with student teams on the hands-on process of filmmaking. Working as a crew can increase the production value of a film, he says. So can approaching it with the intention of creating something that can be submitted to film festivals and screened for the public.
"When you're making films you know are going to be distributed or seen by other people, there's more accountability to it," he says. "One thing I wanted to do at Muhlenberg was to get students to start thinking about their work not just within the institution or their classes, but how does it relate to the world?"
And in 2021, he was able to mentor two of his students as they successfully submitted their work to festivals. Amira F. Jackson '24 won the Pittsburgh Youth Anti-Racism Film Festival with her short film Pittsburgh: The People, and Joe Romano '23 had his short film Emetophobia screened at the 33 Girona Film Festival in Girona, Spain, and the BJX Bajío International Film Festival in Guanajuato, Mexico.
Both Jackson and Romano took Romberg's special topics course on documentary/fiction hybrids in Spring 2021, and both submitted "docu-fiction" films to their respective festivals. A docu-fiction film is one that blends elements of both genres, and Romberg is partial to such blending in his own work. He makes films that tell "stories that meditate on the meaning of home or refuge in the context of immigration, political turmoil and displacement." His most recent feature-length docu-fiction film, Man of the Monkey, which he completed in 2020, takes place on a remote island in Brazil, Ilha Grande. His father was an artist who had to flee Argentina in the 1970s because of the dictatorship, so Romberg's family split their time between Israel and Ilha Grande, where they lived in a house without electricity or running water. The home in Brazil was a "refuge—a house on an island that was very isolated and in the rainforest," Romberg says. "[In Man of the Monkey], I was exploring why my family built that place and why other people ended up on the same island." Man of the Monkey has been making its way through film festivals, including a win for Best Feature-Length Documentary at NewFilmmakers Los Angeles, and Romberg is currently pursuing avenues for distribution.
This semester, he's teaching Site-Specific Documentary Practice in Dublin, Ireland, where 16 media & communication and film studies students are studying abroad. His students are making documentaries about historic sites in the city that have contemporary significance, exploring not only the sites but what it means for the students, as visitors, to be making films about the community. Romberg has taught similar courses at Muhlenberg as part of the documentary storymaking minor, a collaboration between the College, Lehigh University and Lafayette College.
While abroad, he's also finishing up a short documentary about his father (who passed away recently), his art and his legacy, in collaboration with an editor who lives in Spain. Romberg, who has been teaching for nearly a decade now, says that the work he does in the classroom shapes the films he makes outside of it.
"I actually feel like I need to teach," he says. "It feels like it's part of my process. My own personal work is informed by the work I do with my students."