Personally Speaking: Shobha Pai '24
Shobha Pai '24 is a psychology and media & communication double major from Bangalore, India.
Tuesday, November 15, 2022 09:34 AM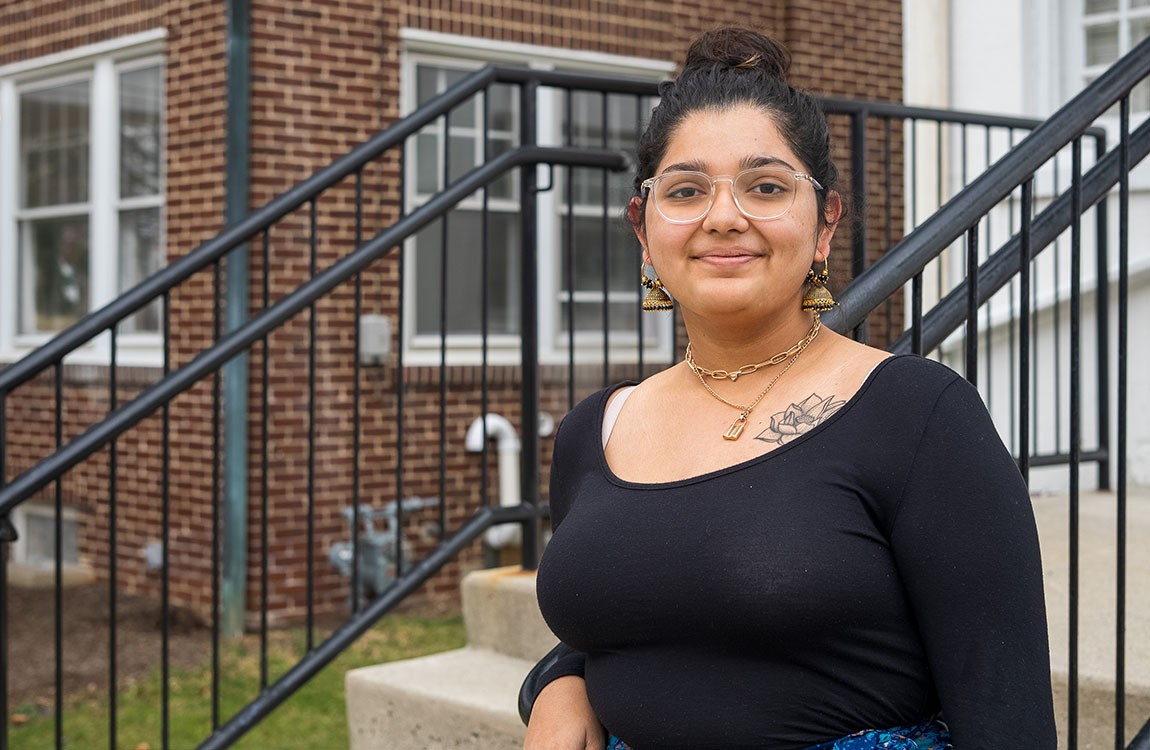 Shobha Pai '24. Photo by Anaya Battle '22
Personally Speaking is a feature of Muhlenberg Magazine in which our writers interview students and alumni about their own personal stories. This article was originally published in the Fall 2022 issue of Muhlenberg Magazine.
She came to Muhlenberg as part of the Next Genius Foundation's scholarship program …
"[The foundation has] a list of 20 or 25 colleges, and Muhlenberg was my first choice. Muhlenberg advertised its community, which I hadn't seen other colleges do. If you're an international student like me, you need to think about the community, so you can feel safe on campus and feel like you have a home. There were about 10 people [in my Next Genius cohort] and I was the only one to get a full scholarship [through Muhlenberg's partnership with the program]. I was very lucky. Muhlenberg has exceeded my expectations. The people here — not just the students but the faculty, the staff, the dining staff, everyone — they know personal details about you, which can only be achieved in a tight-knit community. I come from a big city of 8 or 9 million people. The schools there are big too. I never got this one-on-one connection, which I appreciate a lot now."
… and she completed her first semester remotely, with a nine-hour time difference.
"When I got the scholarship [in January 2020], COVID was a thing, but it was in another part of the world. It was part of another reality and not my reality. But in March, everything shut down in India. All the embassies were closed so I couldn't get a student visa. I did my first semester of college online. I took math at 2 in the morning. I had to work in the morning and then do night classes. I could only sleep like three to four hours a day — I'd finish my night classes, but I still wanted to be involved in the campus. I didn't want to just take my classes and go to sleep, so I joined clubs. They met at 7 p.m. Eastern, which was 4 a.m. my time. I'm glad I did it because I got to get to know people so I had friends when I came to campus that spring."
She's been involved with research in both her areas of study …
"I was always scared to do research. In the academic field, you don't see many people who look like me. It's very much [cisgender], straight, white people who do research, mostly old white men. I was intimidated, but I did the thing you're supposed to do: I told all my professors, 'Hey, I'm into research. If you have any opportunities for me to work with you, let me know.' My first experience was with [Professor of Psychology Erika] Bagley. Every two years or so, she does research into the feelings of belonging on campus, and my research team was the group who did it right after [campus was closed for] COVID. This semester, I'm working in [Assistant Professor of Psychology and Africana Studies Justin] Preddie's lab, which is focused on social psychology around stereotypes. I'm also starting independent research with [Assistant Professor of Media & Communication Harry] Simón Salazar about the representation of South Asian Muslims in [romantic comedies]."
… and she's gotten to know a variety of students through her work as a resident advisor (RA).
"I'm an RA in Benfer Hall, and Benfer is where a lot of student-athletes live. I like working with upperclassmen because they don't need you 24/7, but Benfer wasn't my first choice. I was very intimidated. All of [the student-athletes] are taller and bigger than me. They are very into their sports and very passionate about it. Before, I never spoke to the student-athletes because we don't intersect anywhere. I don't even understand football. Football in India is completely different — it's soccer. At a game, there are only so many times that I can clap when everyone else is clapping. But living with [student-athletes] and talking to them has made me respect them more and be scared of them less. I don't understand the same things they do, but they're nice people."
As a digital marketing assistant for the Office of Multicultural Life, she helped launch a podcast.
"When I took the position, I thought it was going to be making posters and stuff, a typical work-study job where you don't have to do a lot. When I went in there, they were like, 'We want to produce a podcast.' I said, 'I don't know much about production, but I would love to learn.' [Associate Dean of Students and Director of Student Diversity Initiatives] Robin [Riley-Casey] and [former Assistant Director of Multicultural Life] Criss [Braynen] gave me a lot of freedom to say what equipment I needed, what my vision was and stuff like that. I was working with David Holman '22. He's so smart and inspiring and is also a filmmaker. Together, we came up with a podcast called Voices. It's very much authentic student voices, slightly filtered, but not completely. We've had episodes on mental health, religion and queerness and experiences of Black women on campus. It has helped me understand the nuances of our community while also understanding its strengths."