How Muhlenberg Is Supporting Student Wellbeing
The College is meeting the current moment by shoring up the resources for students who are transitioning to life on campus and finding a variety of ways to connect any students who are struggling with the help they need.
By: Meghan Kita Thursday, February 3, 2022 03:44 PM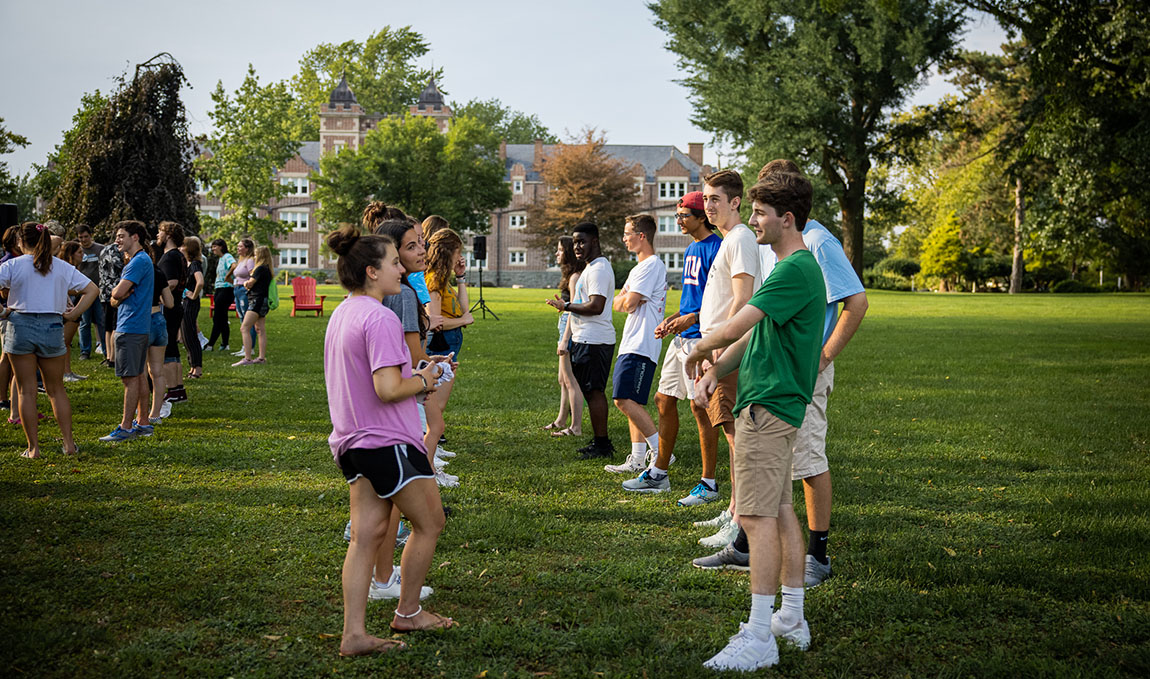 Sophomores missed out on a full first-year orientation experience due to the pandemic, so last fall, the College offered SOAR (Sophomore Orientation and Reconnection) to help the class reclaim what they'd lost. Photos by Marco Calderon
The students who are at Muhlenberg today, as well as the high school juniors and seniors now considering the College, have spent nearly two years missing out. They have missed out on in-person learning due to the pandemic. (In fact, 30 percent of the College's current first-year students had not been in a traditional classroom setting for 18 months before arriving on campus last fall.) They have missed out on extracurricular activities and milestones (graduation, prom) that were canceled or scaled back in the name of public health. And they, like so many of us, have missed out on socializing with friends, family, coworkers and acquaintances.
The circumstances are taking a toll: Last October, the American Academy of Pediatrics, the American Academy of Child and Adolescent Psychiatry and the Children's Hospital Association declared a state of emergency in child and adolescent mental health. In December, U.S. Surgeon General Dr. Vivek Murthy issued an advisory "to highlight the urgent need to address the nation's youth mental health crisis." Both statements cited the pandemic as accelerating already worrisome trends in mental health issues among young people.
There is not a student at Muhlenberg right now who has had anything resembling a typical college experience. Even before the pandemic, the College recognized the critical nature of supporting students' mental health. Now, it wants to ensure that it's meeting this moment with resources tailored to the circumstances.
"A lot of the challenges of this moment, related to resiliency and stress and burnout, aren't necessarily diagnoses that a therapist is going to solely be able to support students with. It really needs to be in the fabric of all the educational opportunities that we offer," says Vice President for College Life and Dean of Students Allison Williams. "Those themes of resiliency and problem-solving and developing relationships that are in person, all of that is going to be key to helping students find themselves and continue to develop through these really challenging times. It's a matter of matching the skills that students are so desperately in need of to the opportunities that we have on campus, both curricular and co-curricular."

Williams during Orientation 2021
Assistant Dean of Students and Director of Student Transitions Steve Dutton has been instrumental in facilitating such opportunities. He moved into his current role just prior to the pandemic and already planned to overhaul the transition-to-college experience by ensuring first-year students were supported well beyond Orientation Weekend and also helping sophomores with the unique challenges they've always faced (declaring a major, moving into leadership roles in campus organizations and so on). The pandemic changed the nature of Dutton's work: This year's sophomores entered college in the fall of 2020, when they were the only full class permitted on campus, their courses were held remotely and social opportunities were limited.
Since 2017, Muhlenberg has required first-year students to take a course called Foundations of Student Success. Instructors are typically student life staff, and the course content builds upon what students learn during Orientation. It begins by asking students to define what success looks like for them and ends with students creating a success plan for the following semester. In between, facilitators cover "how to college," Dutton says: what resources the College offers and how to access them, an introduction to student organizations, an overview of campus offices.
"We try to answer three questions: What do students need to know? What do students need to be able to do? And how should students feel?" Dutton says. "If we can answer those three questions thoroughly, students have the information and the sense of belonging they need to be successful."
This academic year was the first time the entire first-year class took this course in the fall semester—a critical change, Dutton says, since spring always felt too late to be delivering this information to half the class. To make this work without needing twice as many facilitators, the course changed from a twice-weekly format to meeting once a week and adding an "experiential learning component," in which students choose something to do—attend a lecture, see a performance, join a club meeting—and complete a reflection assignment.
"This is helping us reach the objectives of this course by getting students connected to the community to experience something and learn from it," Dutton says.
This semester, Dutton has organized weekly info-sessions ("First-Year Fridays") on topics like community engagement, summer jobs and internships and the housing lottery to continue offering resources to members of the Class of 2025 as they move through their second semester. For sophomores, who began the year with an in-person orientation experience called SOAR (Sophomore Orientation and Reconnection), Dutton has organized weekly SOAR Success Series sessions targeted to their needs.
"It's important that students know that we understand that their transition is constantly evolving, new challenges are constantly rising to the surface, and that's in non-pandemic times," Dutton says. "With the added layers and complexities of the pandemic, even moreso."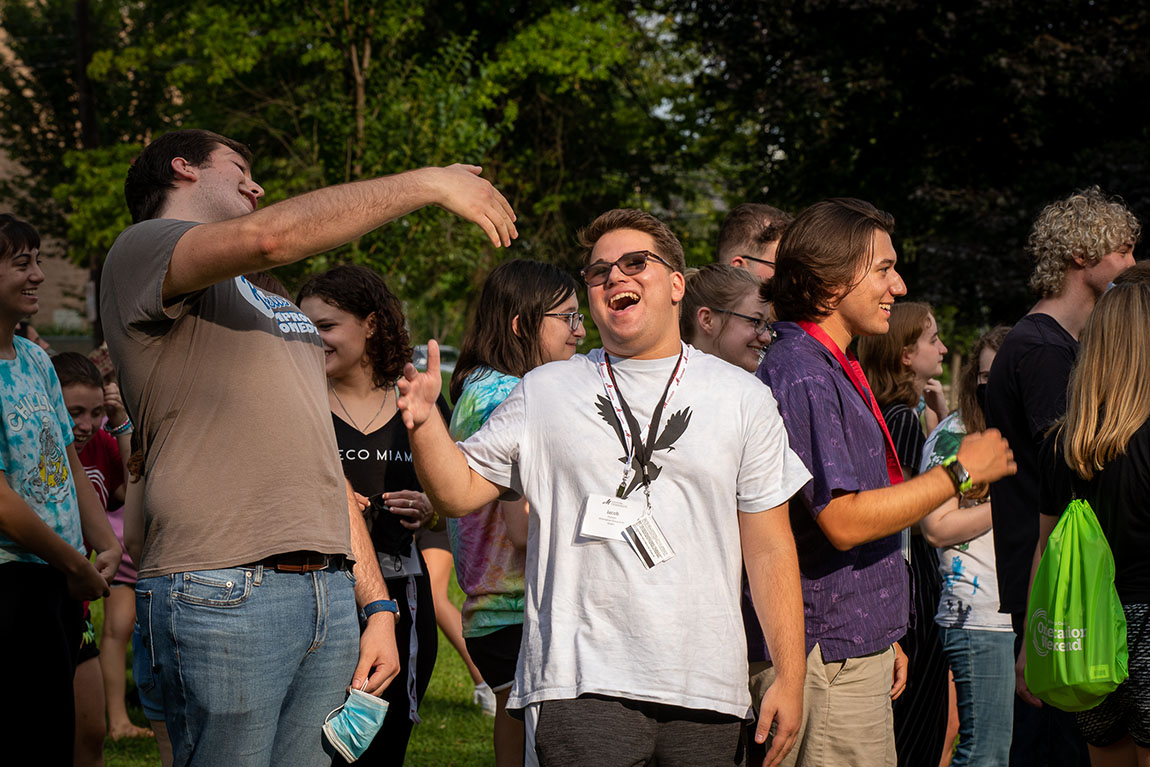 Students reconnect during SOAR
Foundations of Student Success introduces students to the mental health resources available on campus. The hub for such resources, Counseling Services, continues to excel. Wait times for students seeking counseling continue to be low—under five days, according to Director of Counseling Services Tim Silvestri '91—and students report liking the counselors on staff.
Additionally, there has been an intentional effort to bring on counselors that reflect the diverse student population at the College. "We have a very diverse staff compared to other institutions," Silvestri says. "We have that because it's a priority—we know it's important."
The College has also recently partnered with the Jed Foundation, a nonprofit that has worked with more than 9,000 high schools and colleges with the goal of preventing death by suicide. It's a national problem that preceded the onset of COVID: According to the U.S. Department of Health and Human Services, suicide rates within the 10 to 24 age group increased by 57 percent between 2007 and 2018.
Last spring, partners from the Jed Foundation completed an assessment of campus that included a survey of students, an assessment of faculty and staff and a deep dive into the College's health and wellness policies and practices. From that, they made recommendations in a strategic plan, and working groups at the College are deciding which items to implement and in what order. The first priority, according to Director of Student Support Services Michele Paules, is "gatekeeper training" for faculty and staff—helping them learn to identify and assist students in distress.
Students are also increasingly aware of the College's CARE (Campus Assessment, Response and Evaluation) Team, Paules says, and are more likely to reach out to one of its members on behalf of themselves or a peer. Knowledge of the team and its role has grown especially in first- and second-year students, which she attributes to Dutton's work during Orientation, Foundations of Student Success and beyond.
"We've tried to market the CARE Team as this helpful connection to resources when you're not sure who to connect with," Paules says. "It's a wraparound support system for students. We're intentionally putting it out there."
At the center of all the ways in which Muhlenberg is supporting student wellbeing is a recognition that what students need the most are opportunities to connect with faculty, staff and fellow students in person. That's why it's been so critical to find a way to safely bring students back to campus despite the continued complications of COVID, Williams says: "Students are going to be most successful when they have mentoring relationships, when they feel a great sense of hope in their own future and in the future of those around them and when they have really intentional engagement opportunities with others to develop their leadership skills and further hone their identities. There's been so much change and challenge and loss and trauma, not just from the pandemic, but from all the things that have happened over the past couple of years. For every student, I think the challenges are slightly different, but [the solutions] all start with us bringing students back together in community and rebuilding a sense of connection and hope for them."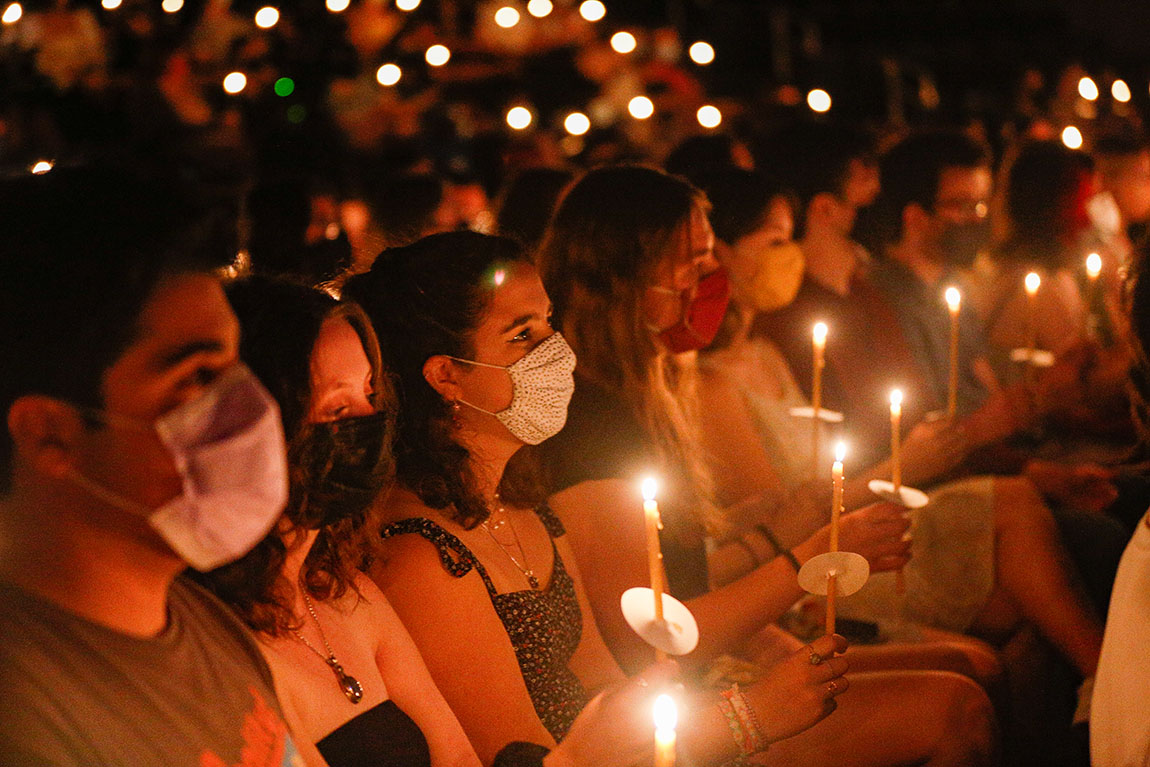 SOAR included the candle-lighting tradition sophomores did not get to participate in as first-year students due to the pandemic.