Predental Biology Major Publishes Article on Her Undergraduate Research
Shivani Iyer '23 and Assistant Professor of Public Health Kathleen Bachynski are co-authors of the qualitative study of perspectives on headgear in girls' lacrosse.
By: Meghan Kita Friday, March 24, 2023 09:06 AM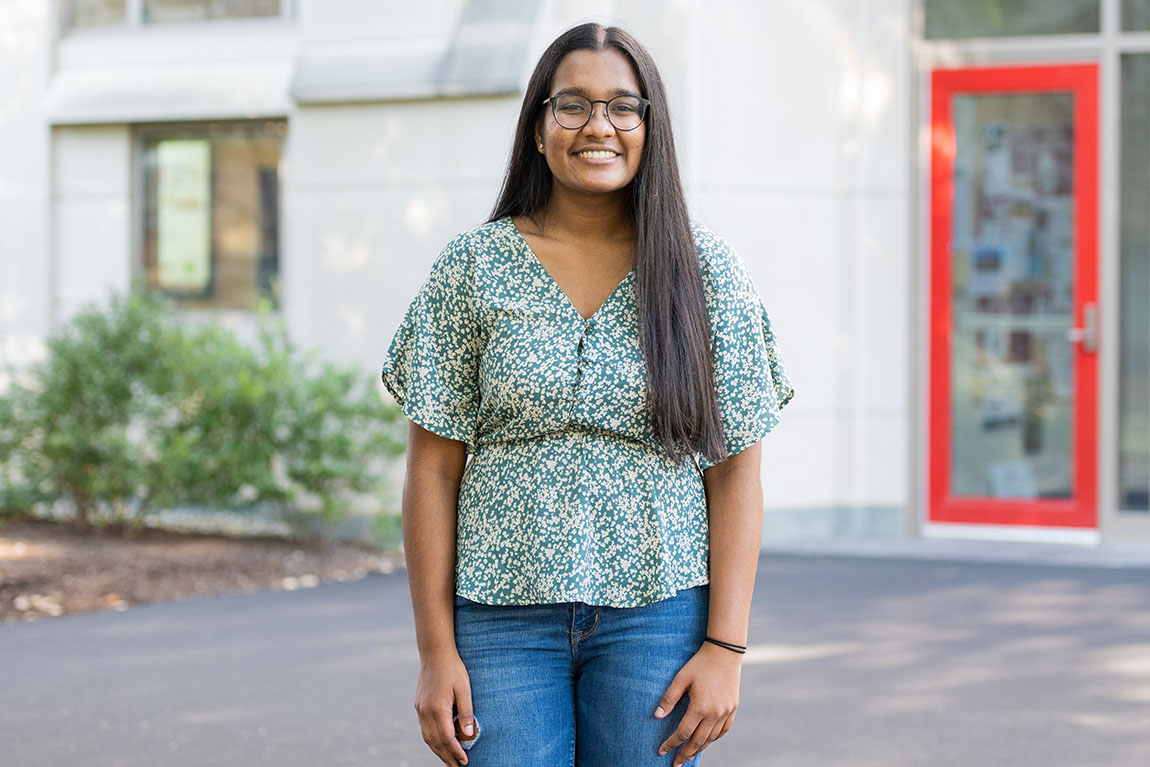 Shivani Iyer '23. Photo by Joe Romano '23
When Shivani Iyer '23 conducted summer research in 2021, she knew she wanted the opportunity to present her findings, which illustrate some reasons why protective headgear remains a contentious issue in women's lacrosse. And once she presented them, at the 2022 Society for Advancement of Violence and Injury Research Conference, she knew she wanted to pursue publication.
"It was one of the first times I was able to hear about what experts in the field of injury prevention thought about our work and how they felt it could be expanded and improved upon," says Iyer, a biology major and Dana Scholar who is in her first year at the University of Pennsylvania School of Dental Medicine through its partnership program with Muhlenberg. "I felt really motivated and wanted to pursue publishing our research more seriously."
The article based on her research, "A Helmet of Her Own?: A Qualitative Study of Key Stakeholder Perspectives on Headgear in Girls' Lacrosse," is available now in AJPM Focus. Assistant Professor of Public Health Kathleen Bachynski was both a co-author and a mentor throughout the process.
For example, Bachynski helped Iyer find funding to work on the manuscript last summer, which included analyzing more of the interviews she'd conducted with coaches, players and researchers. Bachynski coached Iyer through the sometimes lengthy process of finding a home for such an article. Once AJPM Focus accepted the article with revisions, Bachynski and Iyer collaborated to address peer review comments.
"Dr. Bachynski was so helpful in guiding me through how to make revisions that felt authentic to our work but also respectful and acknowledging of what our reviewers wanted to see from what we presented," Iyer says. "It gave me such a profound respect for the peer review process — something I felt like I learned so much about throughout my coursework as an undergrad but never fully understood or appreciated until I was involved with it firsthand."
Now that her undergraduate research has found a home, Iyer is considering how to integrate her passion for research and for public health into her Penn experience and beyond: "I hope to get involved with similar health-care-focused, qualitative, interdisciplinary projects in dental school and then be able to use said research as a basis to advocate on behalf of future patients and improve the ways in which I provide patient-centered, thoughtful care," Iyer says. "Doing this kind of work has made me want to incorporate public health work into my future as a dental practitioner."