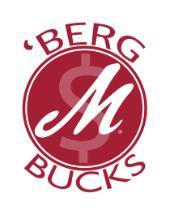 Muhlenberg College is pleased to introduce 'Berg Bucks (formerly known as Flex Dollars), a program that is the ultimate compliment to the campus experience for students, faculty and staff and offers a great way to customize any meal plan. 'Berg Bucks may be applied toward Muhlenberg on-campus dining venues, Muhlenberg Dining catering orders, the 'Berg Bookshop, campus laundry equipment located in major residence halls, and participating off campus merchants, as identified by the 'Berg Bucks logo.
'Berg Bucks accounts are similar to a bank debit account. 'Berg Bucks can take the place of cash and is a great way to customize meal plans. The account begins with an opening balance and all purchases are deducted from the remaining balance. Monies may be added as needed during the academic year through the Controller's Office. Unlike a bank debit card, cash cannot be withdrawn from an account, against the card. The 'Berg Bucks account is a convenience for students so they do not need to keep cash on hand for incidental needs on campus or at local participating merchants.
Campus ID Card
The 'Berg Bucks account is linked to the Campus ID card. Participants will present their ID card when making purchases and request purchases be charged to their 'Berg Bucks account. The cost of the purchase is deducted from the 'Berg Bucks fund balance.
Read more about information regarding Campus ID Cards
Account Management
The 'Berg Bucks fund balance transfers from year to year and ends at graduation. Students are encouraged to keep a minimal balance ($50.00) in their 'Berg Bucks account. Students may start with a minimum deposit of $25.00 in the 'Berg Bucks account and review the activity to estimate usage. Additional deposits into the account can be made throughout the year. All funds should be used by May 1 of the student's graduation year. After graduation, accounts with remaining 'Berg Bucks funds in excess of $25.00, will be refunded to the student. Accounts with $25.00 and less will be transferred to the Class Year Fund.
Adding Funds to the 'BERG BUCKS Account
Parents, students, faculty or staff may add 'Berg Bucks to an account during the course of the year by visiting our Dining Services website.
Add funds to your 'Berg Bucks account
Berg Bucks Deposit Form (.pdf Format)
Contact Us
For questions related to on-campus dining contact Muhlenberg Dining at: diningcomments@muhlenberg.edu or 484.664.4047
For questions concerning 'Berg Bucks accounts (opening an account, balance information, adding funds, etc.) contact the Controller's Office at: businessoffice@muhlenberg.edu or 484-664-3155
You can also view the program frequently asked questions.