Campus Initiatives
Students, faculty and staff are invited and encouraged to participate in these campus-wide sustainability initiatives. Follow Muhlenberg College Sustainability on Facebook for updates!
Green Transportation
Here are affordable ways to explore the local community while reducing your carbon footprint.
---
Community Garden
The Muhlenberg Community Garden is a hands-on co-curricular learning space for students. In addition to the vegetables and flowers grown there, sustainability initiatives include a composting program, rainwater collection tanks and a permaculture garden, which is home to a collection of local plants and herbs. Two houses in front of the plots, the Garden House and the Treehouse, support the garden in a living-learning experiential environment. Located on the 2200 block of Chew Street, the garden is open to the entire campus community. Join the Muhlenberg Community Garden Facebook group for updates!

---
Just Tap It
In response to a student initiative, the College installed over 35 filtered water stations on campus in 2010. As a result, purchases of bottled water on campus dropped by 92%. Each year, first-year students receive a reusable water bottle during Orientation.

---
Green Team
Each fall, the Green Team assists first-year students and families on Move-In Day. Comprised of student, faculty and staff volunteers, the team recycles cardboard boxes and styrofoam, provides orientation outreach, and answers questions about recycling, waste disposal, Just Tap It and campus sustainability.

---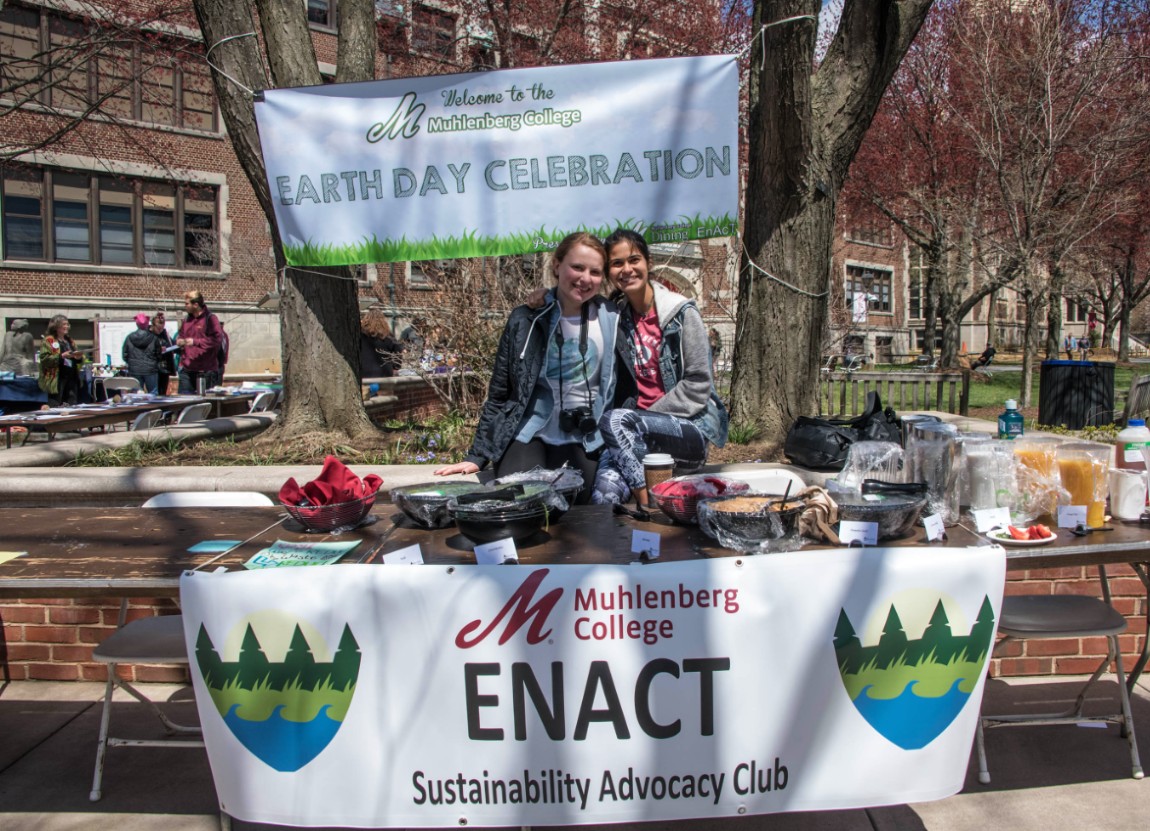 Earth Day
College and community groups participate in an annual celebration spreading information about climate change action, organic farming, animal rights, divestiture and a variety of sustainability efforts on campus, including the Community Garden. Activities have included free and delicious vegetarian fare from the Dining Hall, a clothing share, handcrafted local artwork, demonstrations of an electric bike and solar-powered grill, and the always popular human-powered smoothie bike.
---
Watts Your Bergtricity?
The Watts Your Bergtricity? Dorm Energy Competition is an energy reduction competition between fifteen major campus residence halls. They earn points over a two-week period and the top-scoring hall wins prizes. Though the competition began in 2009, the goals remain the same: to reduce energy use, spark dialogue among the campus community and integrate sustainable behaviors into daily life.

---
Stuff the Truck
Each spring, campus volunteers help students "stuff the truck" with lightly used furniture and household items during spring move-out. These waste reduction efforts benefit Habitat for Humanity. The collaboration is made possible by the Office of Campus Sustainability, the Office of Community Engagement, Muhlenberg Dining and Habitat for Humanity.