Campus Engagement
Through a variety of programs and initiatives, Muhlenberg students, faculty and staff work to build a sustainable community. Follow us on the Muhlenberg College Sustainability Facebook page for news and events.

The campus community samples offerings at the annual Farmers Market on the Quad.

---
Student Organizations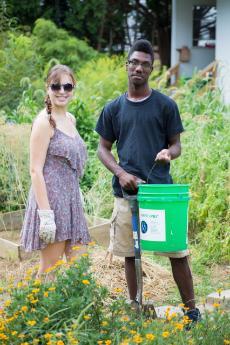 There are many ways students can become involved in sustainability-focused clubs and organizations on campus, from the Environmental Action Team (enACT) which develops campus-wide sustainability programs to the Community Garden Club to our new Food Recovery Network which donates leftover food to local shelters in the Lehigh Valley. The Office for Community Service & Civic Engagement also cultivates partnerships with organizations in the Lehigh Valley and supports environmental and social sustainability through volunteerism, service-learning, and civic engagement. Learn more about our sustainability-related student organizations.
---
Sustainability Interns
Sustainability interns can gain real-world experience solving pressing environmental, equity and economic issues here on campus while earning course credit. Previous interns have helped developed carbon inventories and climate action plans, implemented behavior-change campaigns and managed sustainability communications. To learn more, contact Sustainability Coordinator Natalie Sobrinski.
---
Sustainability-Themed Housing
Students can live in two unique houses that encourage a deeper dive into sustainability practices. Contact Residence Life for more information.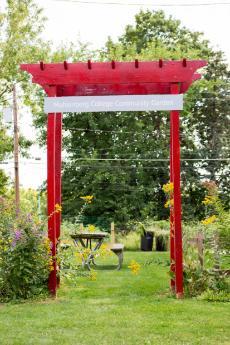 The Tree House
The Tree House is made up of a community of students committed to living an environmentally conscious, socially just, and sustainable lifestyle. Residents of the Tree House focus on energy, food and waste in their living-learning community. The house composts waste, utilizes a water harvesting system and derives hot water from a rooftop solar hot water project.
The Garden House
Garden House students manage the Community Garden, host dinners, preserve fruits and vegetables, donate organic produce and compost waste—and have fun doing it.
---
Campus-Wide Initiatives
Beyond student clubs and organizations, all members of the Muhlenberg community can engage with sustainable practices in a number of ways. From using the campus bike-share or free LANTA bus program for errands to minimizing bottled water purchases to helping reduce student move-out waste with our Stuff the Truck program, students, faculty and staff can make a difference on campus and in the wider world. Learn more about our many Campus Initiatives.