Programs - Graver Arboretum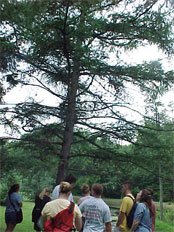 College Field Studies
Graver Arboretum is used as a field station for biology and environmental studies classes at Muhlenberg, including botany, ecology, and physiology.
College Research
Muhlenberg students are involved in research at the arboretum, and have opportunities to study the plants, animals and habitats found at Graver. Examples of student research include evaluating insect and plant interactions, monitoring amphibian reproduction, surveying aquatic ecosystem and using GIS technology to map arboretum specimens.
Guided Tours
Guided tours of the arboretum and its collections are available with advance notice, to adult community and educational groups. Special tour topics are sometimes presented by Muhlenberg faculty and staff.
K-12 Field Study Modules
From 2001-2006, Graver Arboretum hosted field studies for local area schools as part of a program called "Increasing Contextual Learning in the Environmental Science Classroom." A series of K-12 grade-level field study modules designed to meet the Pennsylvania Department of Education's standards for environment and ecology was developed, each with a unit outline for preparing students for a field study experience. These modules have field-tested techniques for organizing an environmental field study, and for follow-up with classroom activities and evaluation. The modules include unit and lesson plans, materials lists, copy masters, and references. Several modules also have accompanying PowerPoint presentations. The modules are still available as resources for schools, environmental centers and educators to use to develop field study programs that emphasize hands-on science. Click here for a comprehensive overview of these program materials.
Log Books for Scouts
Muhlenberg student environmental education interns, as part of the Math Science Partnership for Greater Philadelphia, developed log books that were used for the "Sharing Your World With Wildlife" Weeblos badge and "Eco-Explorer" Brownie patch. These programs are no longer available at Graver Arboretum. However, scout leaders can download the log books and use them at other sites. Click on the links above to view the log book pages.