Muhlenber

g

Italian Club

Home | Minor | Faculty | Courses | Resources | Prize

The Muhlenberg Italian Club was founded in January 2016 by students intersted in exploring and celebrating Italian culture.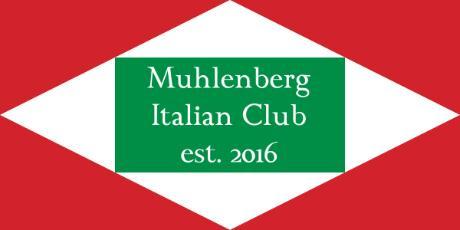 2019-20 Officers‌‌‌‌
Jake Botelho '20, President
Melanie Poulos '22, Vice-President
Sharoni Marcus '22, Treasurer
Brooke Cohen '20, Secretary
Faculty Advisor: Prof. Daniel Leisawitz
Follow us on Facebook and Instragram: @muhlenbergitalianclub
---
2018-19 EVENTS:
Bocce & BBQ
Thursday, April 25
Chapel Lawn
The Italian Club will host a bocce tournament at the LLC bbq. No experience required, but competition will be fierce!
Carnevale Celebration
Friday, March 15
Seegers Union Event Space
Join the Italian, Spanish and French Clubs for a school-wide celebration of Carnevale/Carnaval/Mardi Gras, with food, music, games, and more food.
Wine, Cheese, and Olive Oil Tasting
Thrusday, November 1
Language Learning Commons
Join the Italian French Clubs for a sampling of Italian and French wines, French chesses and Italian olive oils. All students are welcome, but you must be at least 21 years of age to try the wine.
Italian Soda Night
Wednesday, October 24
Woods Dining Hall
Come try various flavors of Italian sodas during dinner, but if you want one you have to order in Italian: al limone, al lampone, o al caffè!
Ludovica Rana Cello Concert
Thursday, September 20
Phialdelphia, PA
Cellist Ludovica Rana, winner of the Young Virtuoso Prize at First Manhattan International Music Competition, will present a program of Brahams and Castelnuovo-Tedesco, accompanied by the piano.
---
2017-18 EVENTS:
Cannoli Charity Fundraiser
Wednesday, May 9
Yes, they're back: the Muhlenberg Italian Club's famous cannoli. Take a study break, and stop by our table in Seegers for a taste of this classic Sicilian dessert prepared by members of the club. All proceeds go to charity.
Second Annual Bocce Ball Tournament
Sunday, April 22, 2:00-3:30pm
Front Lawn
Enjoy the spring weather with a leisurely (or mercilessly competitive -- it's up to you) game of bocce. Prizes for the winning team. No experience necessary. Italian snacks.
Return of the Repressed: Italian Film & Holocaust Memory
Tuesday, April 10, 6pm
Seegers 111-112
Dr. Millicent Marcus, Professor of Italian at Yale University, will deliver a public lecture on the representation of the Holocaust in Italian cinema and the repression and consequent reemergence of public memory regarding the conflicting roles that Italy and Italians played in the genocide of European Jews.
Trip to the Barnes Foundation (Philadelphia)
Sunday, April 8
Join the Italian Club on a visit to the Barnes Foundation for a guided tour of their Italian holdings, including their important collection of Modigliani paintings and sculptures.
Muhlenberg Sauce-Off Competition
Wednesday, February 21
Woods Dining Hall
Submit your family's (or your own!) favorite pasta sauce recipe. The four best recipes will be served for dinner in the Dining Commons, and students will vote for their favorite sauce. Prizes for the winners.
"L'ultima cena" End-of-Sementer Dinner
Thursday, November 30, 6:00-8:00pm
Slice of Italy
Cheese, Olive Oil, & Wine Tasting
Friday, November 3, 5:00-6:30pm
LC Commons
Ettinger 103
Biscotti Fundraiser
Tuesday, October 24
Seegers Lobby
Make Pasta from Scratch (& Eat It, Too)
Wednesday, Sept. 27, 5:30-7:00pm
Multicultural House Kitchen
"Singing the Sacred Text": Live Stream Concert by Rav Alberto Funaro
Thursday, Sept. 14, 5:45-7:30pm
Recital Hall