Mathematics & Computer Science
Student/Faculty Research
2012-2013
Courtney Hunsberger and Dr. Will Gryc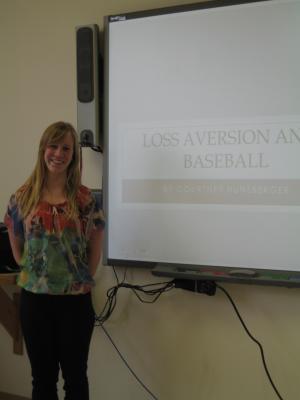 The theory of loss aversion claims that one is more averse to not meeting a goal or standard than the aspiration to surpass it. We wanted to look for effects of loss aversion in baseball. In particular, does a batter do worse than expected in his fourth at-bat after going three-for-three in his previous three at-bats? We sampled players from the 2012 Major League Baseball season and while we did find that players did worse than expected in the fourth at-bat after going three-for-three, it was not statistically significant.
Melanie Panosian and Dr. Will Gryc
‌
Penny Auctions are online auctions where bidding begins at zero dollars and each bid increases the price of the item by a penny, hence the name. Bidders are required to pay a small amount, typically around fifty cents per bid placed. Toomas Hinnosaar found a Nash equilibrium bidding strategy in which a bidder bids with a fixed probability during each round of the auction. According to Prospect Theory, people tend to overvalue low probabilities and treat them as higher probabilities. In my project with Dr. Gryc, we considered what happens when bidders bid more often than the Nash equilibrium strategy dictates. In particular, we showed that the expected revenue of the seller can increase dramatically with small changes to these bidding frequencies.
Bryan McComb and Dr. Linda McGuire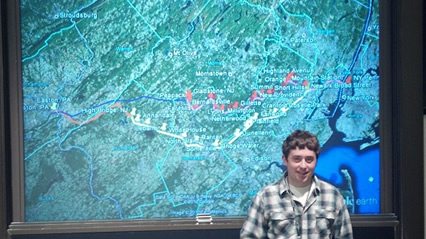 Public debate about providing commuter rail service between eastern Pennsylvania and New Jersey has hinged on factors such as cost, time, predicted usage, and profit. I am conducting research with Dr. McGuire in which we are designing possible rail connections between Easton, PA and existing commuter lines in New Jersey that minimize cost and maximize travel efficiency.
Robert Fitzsimmons and Dr. Michael Huber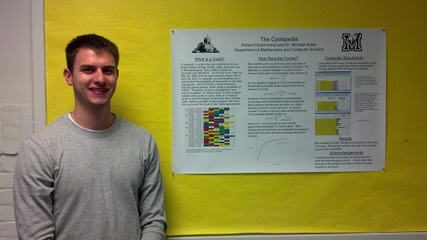 My research with Dr. Michael Huber focused on sabermetrics, specifically the rare event of hitting a cycle in Major League Baseball. Rare events in baseball can be modeled with the help of various statistical distributions, and through those distributions, we can try to predict when the next event will occur.
---
2011-2012
Projects from Software Engineering
Matt Horn, Elizabeth Morash, and Timothy McClung: Smartphone Sobriety Test
Kristen Goyal, Timothy Gee, and Robert McGetrick: iTutor Website
Michael Walsh, Nicholas Traini, and Patrick McGinley: Arbitratus-Text Based RPG
Jon-Frederic Landrigan, Kyle Houston, and Scott Goldstein: Easy Trash
---
2008-2009
Student Capstone Projects from CSI 370:
Megan Eiser. Audible Alerts for Instant Messaging with Pidgin
Jeff Levy. Integrating Drupal Content Management System with OpenBravo? Enterprise Resource Planning System
Kellen Mickley. Exploring Novel Programming Language Features. (portions presented as part of a poster at OOPSLA 2008)
Chelsea Lobdell, Adam Harrington. Enhanced Headings in the SubjectsPlus? Library Subject Guide