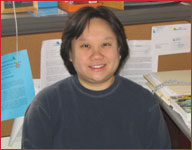 Janine Kay Gwen Chi, Ph.D.

‌
Professor of Sociology
Background
B.Sc. University of Iowa, Sociology,
Higher Honors, May 1996.
M.A. University of Washington,
Sociology, December 1998.
Ph.D. University of Washington,
Sociology, August 2003.

Dissertation: Emergent Identities and State-Society Interactions: Transformations of Ethnic and National Identities in Indonesia.
A native of Singapore, I received my B.S. from the University of Iowa and proceeded to earn my M.A. and Ph.D. at the University of Washington, Seattle. My research and teaching interests include nationalism and identity politics, diasporic and transnational communities, sociology of development and social change, comparative-historical sociology, and the sociology of food. In particular, I focus on understanding the ways in which ethnic and cultural politics intersect with nation-building projects, and critically examining the cultural and institutional productions of transnational migrant communities whilst considering the negotiations of belonging within and between these peoples and their host societies. My most recent interests have involved the application of contemporary theories of citizenship and cosmopolitanism to study recent restaurant industry and food trends.

At Muhlenberg, I teach a variety of classes such as Inequality and Power, Imagined Communities, American Ethnic Diversity, and Sociology of Food. In all of these courses, my primary teaching goals have been to ensure that students learn both the skills and motivation to: 1) become invested in their own education and learning process, 2) critically reflect on their understanding of the social processes that guide and shape the social world, 3) take responsibility for their choices and actions as citizens of their communities, and, perhaps most importantly, 4) continuously develop and nourish an agile and open mind that strives to make multiple connections across disciplines and integrate bodies of knowledge.

Having been at Muhlenberg College since 2003, I am now more convinced than ever that sociology is integral to the fulfillment of the ideals articulated in a liberal arts mission. I remain devoted to my discipline neither because of its content nor because of a belief in the discipline's contribution to a more humane and just world. Rather, I am committed to the discipline because I believe the discipline articulates some of the very best ideals of a liberal arts mission – to engage in reasoned debate and independent critical thinking. In the words of Peter Berger (1963), "The sociological perspective is . . . like a demon that possesses one, that drives one compellingly, again and again, to the questions that are its own. An invitation to sociology is therefore an invitation to a special kind of passion." Sociology, as a discipline, offers us opportunities to not only expand our knowledge of societies and social groups, but also challenges us to further explore and question our own assumptions of how the world works.
Selected Publications
2007.
"Colonial and Global Tension in Cultural Identity Formation: The Geo-Politics of "Sing-lish" in Singapore." In Colonial and Global Interfacings: Imperial Hegemonies and Democratizing Resistances, edited by Gary Backhaus and John Muhrungi. Cambridge Scholars Publishing: London, England.
2006.
"In Search for Cosmopolitanism through Food: The Role of Ethnic Food in
Cultural Politics." In The Culture of Food: The Dialectic of Material Conditions, Art, and Leisure., edited by V. A. Heikkine, G. Backhaus, C. Nagel, S. Inkinen, and M. Itkonen. University of Jyväskylä: Suomi, Finland.
2003.
"National-Ethnic Identity Negotiation in Malaysia and Singapore: A State-Society Interaction Perspective"

Berkeley Journal of Sociology

. 47: 49-75.
2002.
"Nation-building and the Rhetoric of Plural Identities: The Case of the Overseas Chinese in Indonesia, Malaysia, and Singapore." In

Communities in Southeast Asia: Challenges and Responses

, edited by Helen Landsdowne, Phillip Dearden, and William Neilson. Victoria, BC: Center for Asian-Pacific Initiatives.