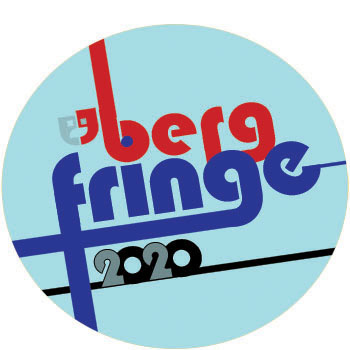 'Berg Fringe
Muhlenberg's First-Ever Fringe Festival
Unfortunately, in the face of the COVID-19 health crisis, Muhlenberg has been compelled to suspend all in-person classes and public events, including this production. We have contacted all patrons who have purchased tickets to the performance to offer credit or refund of the ticket purchase. If you have any questions, please email Scott Snyder, Marketing Manager.
We will be looking for ways to foster the continued development of all of these pieces going forward. Stay tuned for information about Fringe 2021!
Presented in Partnership with WMUH 91.7 FM
Featuring off-beat, innovative, outrageous performances created by 'Berg students, faculty, and staff
Fringe festivals celebrate the cutting-edge power of indie theatre by producing some of the best live art on the planet. Fueled by the passion of young artists, experimental companies, and fresh, new work, fringe festivals are celebrations of innovation, showcasing multiple raw projects across several weeks, in venues all over a city's map.
This year we are proud to present the first-ever 'Berg Fringe — a series of boundary-breaking, bare-knuckle performances of all kinds, produced in spaces all over Muhlenberg, throughout the month of April.
A brand-new group-devised performance in the Rehearsal Hall? A world-premiere radio drama, broadcast on WMUH? A modern Shakespeare adaptation in the outdoor amphitheater? An original dance theatre piece? A solo show in the Recital Hall? Gig theatre in the Red Door? A workshop production of a new play? Environmental performance in a public campus space?
Stampede: Theatre Under Pressure
A 24 Hour Performance Experiment
Stay tuned for details on how you can get involved as a playwright, director, designer, or performer, regardless of your other spring commitments.
Kilometre Dance
MFDC x Katarina Zagorski
Experimental, outdoor performance conceived by Slovakian artist, Katarina Zagorski

Inexorable March: A Musical Reflection on the 19th Amendment and Equality
dir. Christopher Jackson & the Women's Ensemble
A musical and narrative exploration of the Suffrage Movement and the quest for equality
The Garden of Henohm
Kasler & Wilkie
Max Kasler & Gwen Wilkie
The Earth is dead. Now what?
Long Lost
Lost Boys Productions
Ellen Powers & Melissa Reph
Chaos and heart – brought to you by literature's greatest troublemakers!
Look Up
the Unplugged Collective
Bekka Broyles
Devising in a world that looks down on looking up.
LOSTLOSTLOST
dir. Allison Berger '14 & dancers
Loops, loopholes, and a way out.
MacBreath
Drew Richardson the Dramatic Fool
Rising sea levels and no health insurance—a laughing matter!
Meaner Creatures
Part Three of Holly Cate's adaptation
of Shakespeare's War of the Roses tetralogy
By Holly Cate; dir. James Peck
More heads, lots of weapons, flying bones and some screaming
Neural Plasticity: Reorganization, Neurogenesis
Kyra Dates in collaboration with the creative team
co-inhabit my brain — let's explore the queer poetics of neuroscience!
Overreacting: An Experiment Gone Wrong
Kaufman & Kessler
Eden Kaufman & Shachar Kessler
An hour of interactive performances of secrets, laughs, and overreactions.
Butterfly Effect
dir. Kiana Holmes in collaboration with the actors
Please Don't Take My Sunshine Away.
All I Know
Emma Cornine
What do you really know?
sweet tooth
Music & Lyrics by Ian Scot, Book by Sean Cheney
Ice Cream, Punk Rock, Mariah Carey. What could go wrong?
Tom-Foolery
Thomas Miller
A juggling show for when gravity gets you down.