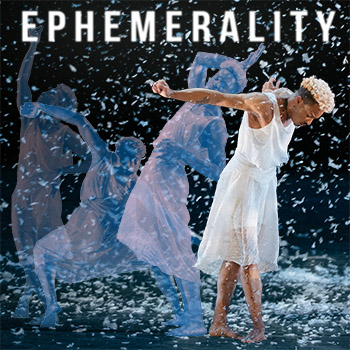 Ephemerality:
Dances in Time
April 16-18, 2021
Artistic Director: Randall Anthony Smith
Student Artistic Directors: Amber Dietrich & Arianna Tilley
Join the Muhlenberg Dance Association and the Dance Program as they mark the second live dance performance at Muhlenberg since February 2020. This new and innovative production features 15 original dance works that touch upon memory, growth, and the power of community.
The Showcase will be performed live in an outdoor tent on the Muhlenberg campus. Seating is general admission, open to only Muhlenberg students, faculty, and staff. Patrons may also access a Virtual Performance. Admission is free.
Video concert is now available.
---
Performance Schedule
Friday, April 16, 6 pm
Saturday, April 17, 6 pm
Sunday, April 18, 6 pm
Virtual Performance
The live performance will be recorded on video for those who cannot attend. It will be made available as soon as it is completed, for a period of 30 days.
---
Attendance Guide
If you're joining us for a performance, please read the following guidelines before you arrive!
If you're planning to attend, please let us know! (This is just an informal survey.)
About the Concert
Admission is free.
Please bring headphones and your smart device! Some pieces in the concert will be performed virtually. You'll receive instructions at the show. Please silence your device during the concert.
The concert will run about 2 hours. There will be no intermission; however, there will be two short five-minute breaks.
Venue Information
The concert venue will be the tent in the Burkholder Quadrangle, otherwise known as Brown Lawn.
Advance seat reservations are generally not available.
If you require accessible seating accommodations or have special circumstances, please email

[email protected]

.
Please plan to arrive about 20 minutes prior to curtain time.
Seating is limited. If seating under the tent fills, you are welcome to sit on the lawn outside the tent. Sight lines will vary. Be sure to maintain appropriate social distance throughout the concert, and keep clear of dancers' path to the stage.
Bring layers. It may be chilly under the tent.
The concert will be held rain or shine. However, cancellation, delay, and other changes are possible, due to weather, covid conditions, and other factors.
Covid Guidelines
ONLY Muhlenberg students, faculty, and staff who are approved to be on campus may attend in-person. Others are encouraged to request Virtual Performance access, above.
Bring your Berg ID. You must have your campus approval sticker to attend.
You must pass the Daily Self-Assessment on the iMuhlenberg app on the day of the performance in order to attend. You may not attend if you are showing covid symptoms, are under quarantine, or have had close contact with someone who has tested positive for or shown symptoms of covid.
You must wear a mask into and during the performance and follow all instructions from house management to ensure appropriate social distancing.
Please do not move chairs, and please maintain appropriate safe distancing throughout.
---
Choreographers
Danielle Barrett
Caitlin Burns
Heidi Cruz-Austin
Greyson Gerdts
Allison Goldman
Krista Grammerstorf
Charis Hall
Nicole Hockenberry
Emily Leandro
Kate McCowan
Anvelyn Pi
Kalia Rucker
Meredith Stapleton
Sarah O'Sullivan
Arianna Tilley
Stage Manager
Lacey Berk