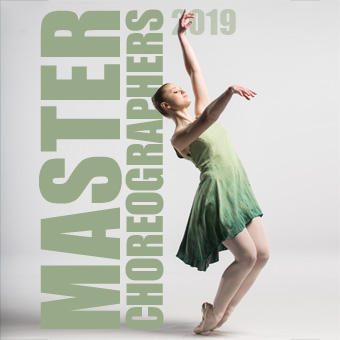 Master Choreographers
Feb. 7-9, 2019
Artist Director: Karen Dearborn
A spectacular evening of ballet, contemporary dance, tap, and jazz, Master Choreographers showcases exciting new dance works choreographed by nationally and internationally acclaimed guest artists and faculty. This season's concert will feature works by critically acclaimed guest artists:
Cynthia Gutierrez-Garner, a modern/jazz choreographer and teaching specialist whose work has been commissioned by colleges across the country;
Kevin Jenkins, award-winning choreographer and faculty member at Boston Ballet School;
Michael Nickerson-Rossi, acclaimed choreographer and founding artistic director of San Diego-based Nickerson-Rossi Dance.
Featured Muhlenberg faculty choreographers include:
Heidi Cruz-Austin, Pennsylvania Ballet alumna and co-artistic director of DanceSpora;
Megan Flynn, professional dancer, choreographer, and director of the Philly-based Megan Flynn Dance Company;
Shelley Oliver, artistic director of Shelley Oliver Tap Dancers and founding member of Manhattan Tap;
Randall Anthony Smith, former dancer with Armitage Gone! and répétiteur to legendary choreographer Donald McKayle.
Thursday, Feb. 7, 8 p.m.
Friday, Feb. 8, 8 p.m.
Saturday, Feb. 9, 2 & 8 p.m.
Empie Theatre, Baker Center for the Arts
Tickets
484.664.3333
or online. </p