On the Mainstage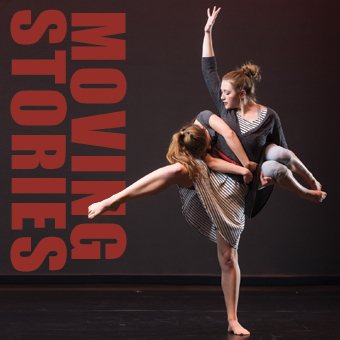 Moving Stories
Nov. 9-11, 2017
Artistic Director: Randall Anthony Smith
Moving Stories features dance as storytelling narration in human form — addressing themes as broad-ranging as the choreographers' own diverse backgrounds. Some of their pieces are introspective, some lighthearted, some cheerful, some profound; all represent the work of talented advanced dance students in a variety of genres and styles, finding expression in collaboration and movement.
The American College Dance Association has consistently recognized dances premiered on the Muhlenberg stage for excellence in choreography and performance. Witness the creations of talented young choreographers from one of the top collegiate dance programs in the country.
Thursday, Nov. 9, 8 p.m.
Friday, Nov. 10, 8 p.m.
Saturday, Nov. 11, 2 & 8 p.m.

Dorothy Hess Baker Theatre, Trexler Pavilion for Theatre & Dance
Tickets
484.664.3333
or online.