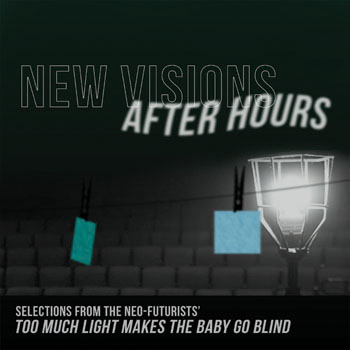 New Visions After Hours
November 20-24, 2019
Selections from Too Much Light Makes the Baby Go Blind
By the Neo-Futurists
Directed by Matt Beaune '20 and Ben Goldberg '20
We're pretty sure this is the first time we've ever produced a play where the action is determined in part by the luck of the draw. Here's how it works: 60 minutes will go up on the clock, and then (with some help from you), the actors will choose at random from a repertoire of very short plays, ranging from existential slapstick to soul-baring monologue All of the plays are self-aware, fast-paced, and full of surprises, and some of them are downright outrageous. Let's see how many of them we can get through in an hour!
"Unashamedly live and democratic theatre!" —Chicago Reader.
For mature audiences
Wednesday, Nov. 20, 11 pm
Thursday, Nov. 21, 11 pm
Friday, Nov. 22, 11 pm
Saturday, Nov. 23, 11 pm
Sunday, Nov. 24, 5+8 pm
Studio Theatre, Trexler Pavilion for Theatre & Dance
Tickets
484.664.3333
or online.