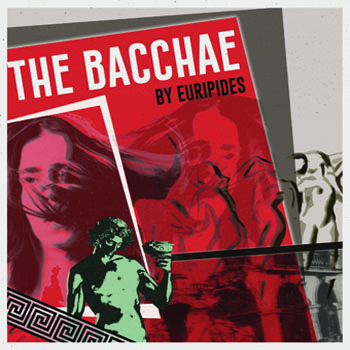 The Bacchae
CANCELLED
Unfortunately, in the face of the COVID-19 health crisis, Muhlenberg has been compelled to suspend all in-person classes and public events, including this production. We have contacted all patrons who have purchased tickets to the performance to offer credit or refund of the ticket purchase. If you have any questions, please email Scott Snyder, Marketing Manager.
by Euripides
Translated by William Arrowsmith
Directed by Matthew Moore
Choreographer: Karen Dearborn
Original Score by Ian Scot


Packed with high-stakes conflict, frenzied emotion, and choral passages of great power and beauty, The Bacchae endures as one of Euripides' greatest surviving works. Movement-driven and featuring a new original score, the production will unfold in a reconfigured (disfigured?) Empie Theatre with limited seating.
Dionysus, the god of wine, fertility, and theatre, arrives in disguise at his birthplace in Greece. As revenge for a personal sleight, he recruits the people of Thebes to his Dionysian cult. Fearing the ensuing disorder, King Pentheus imprisons Dionysus — and his misguided attempt to thwart the god's divine will leads to catastrophe.
for mature audiences